Bangkok, one of the busiest cities in Asia, is a food lover's dream come true. From Thai flavours to
Japanese ramen
and European favourites, it's got it all. I've never experienced so much diversity in one place. The sheer number of options spoil you -
Vietnamese rice rolls
, chicken popcorn laced with paprika,
Thai fish cakes
, Amazonian coffee, coconut ice cream with crepes,
calamari fritters
, salmon roll with crab meat and so much more!
The two tourist-rich areas of Bangkok, Siam and Sukhumvit, are where you'll find most of the small scale restaurants and high-end hotels. A meal for two in those areas can cost anywhere between 100 baht to 1000 baht. If you're hunting for authentic street food, you'll find hundreds of push-carts spread across the city: large steel pots with pork meat, crab curry, chicken stew, sticky rice, seasonal greens and gorgeous shrimp pad thai.
My latest trip to Bangkok inspired me to share 5 outstanding food experiences that I believe you must try:
1. Issaya Siamese Club
I can honestly say that I ate the best meal of my life in Bangkok and it was at Issaya Siamese Club.
After running through hundreds of food blogs and restaurant recommendations, we zeroed in on Issaya Siamese Club, the dream child of Chef Pongtawat "Ian" Chalermkitticha, Thailand's first International chef with a humble history. He started out by pushing food carts with his mother and went on to get a culinary school scholarship, a French fine-dining apprenticeship in Sydney's legendary Claude's and eventually opening many restaurants around the world.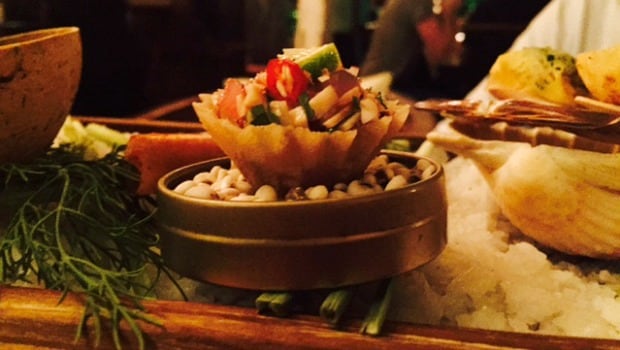 We ordered the tasting menu, because I believe that's what you should do at all great restaurants. It's curated by the chef himself and displays the best of what the restaurant has to offer. The food was a mash up of flavours and ingredients I love most: fish, pork, curry leaves, coconut and coconut flour, rice flour, sweet basil and kaffir lime. And then there were some surprises: scented mushroom oil, lobster custard, smoked salmon, melting eggplant, a seafood broth one could kill for and my favourite, chilli-tamarind dressing.
You'd expect the crowd at such a restaurant to be a bit conformed but it was like no other. There were travel junkies and food lovers wherever I looked. All of them content with what came on the plate and pleased with how the night turned out to be. And I couldn't agree more!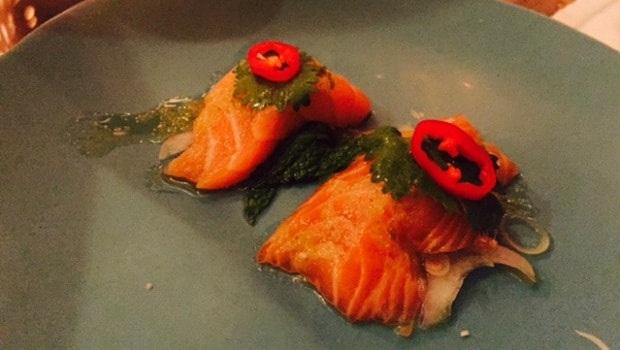 The smoked salmon came dressed with bright red chillies on a bed of soft and sunken artichokes that tasted better with each bite. The Masaman curry was something like I've never had before, deep, dark, boasting of coconut milk and something magical.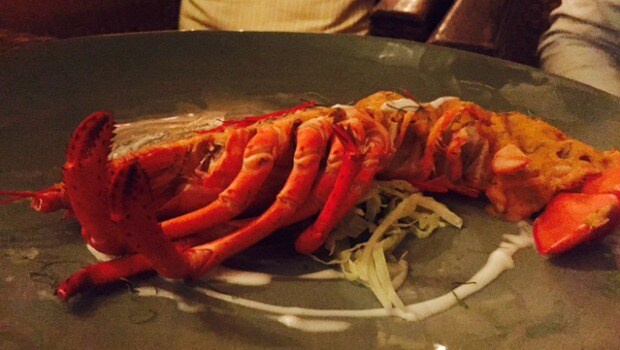 There it was - romance, art and intrigue sitting right in front of me.
2. Greyhound Café, 3rd Floor Siam Centre
I'm a huge fan of stand-alone restaurants because they have character and a story to tell. Then there are restaurants in malls which I find convenient but the food is often amiss. That was until I came across Greyhound Café, tucked away on the topmost floor of Siam Centre.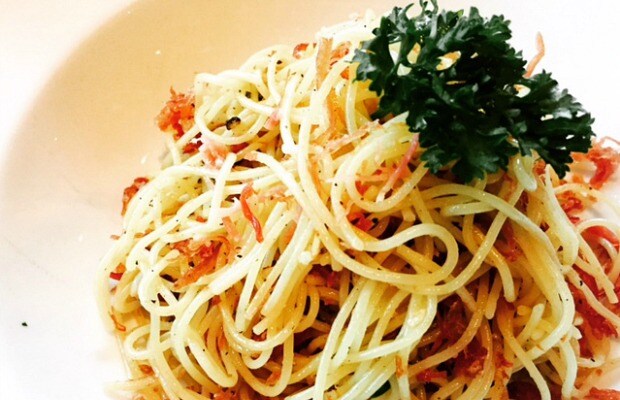 The architecture bold and edgy and the food, in a league of its own! We ordered the mushroom soup, Caesar salad and aioli pasta with fried bits of bacon. Sounds simple, right? It was anything but that. The mushroom soup was intense and so creamy, it went down without a thought. The garlic bread was crisp on the outside with a buttery centre and crisp bits of garlic stuck to the top. And the spaghetti was absolutely phenomenal! Thin strands of glistening spaghetti came rolled in a perfect circle - it was warm, filling, of the highest quality and downright amazing.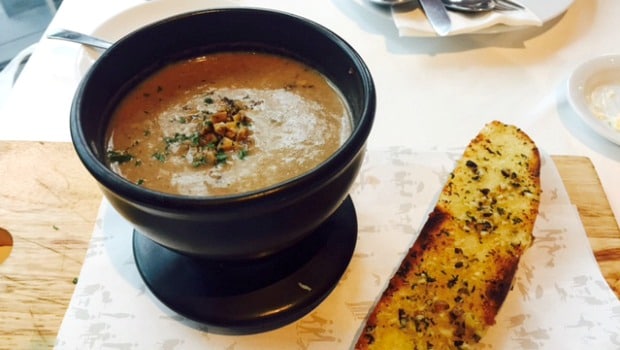 And then there was the coconut crepe, soft, creamy, reeking of coconut and one of its kind.
3. Coffee Club, Don Meung Airport
It's very rare that an airport restaurant makes it on a food writer's list and this is definitely a first for me. Tired from the long night I made my way to Bangkok's domestic airport.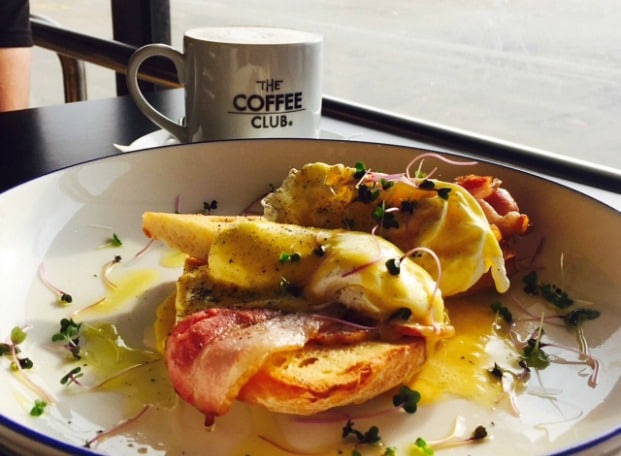 Flat White and Eggs Benedict with leg ham, this meal made my day! I went reminiscing about it for the next 4 days: that creamy hollandaise sauce, those tiny green fresh herbs and the drama of it all. Eating eggs and sipping on coffee while staring at the runway, pure bliss!
4. Mango Tango, opposite Siam Centre
From the moment you land at the airport till you take off, you'll come across hundreds of mango and sticky rice dishes, packed or otherwise. It's one of Thailand's most delicious desserts and trust me, it can never be bad but it can never be as great as the one at Mango Tango.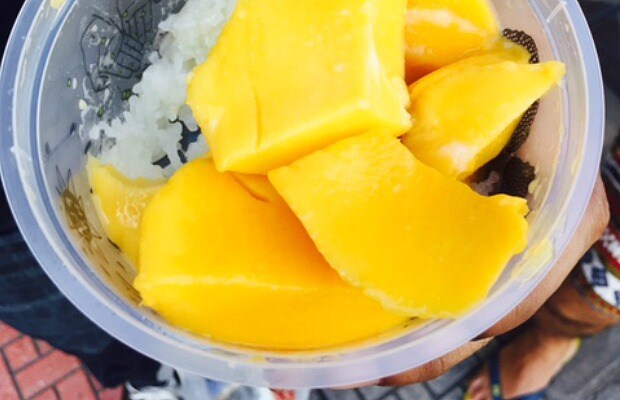 We were shopping in Siam when a large 3D mango lured us in. The place was sexy and had steel frames shaped like a mango hanging from the ceiling. The place was bustling and 10 people waited in line, and so did we. Here's why:
5 Iron Fairies, Khlong Tan Nuea
It's not the food but the cocktails that got us here. After stopping at multiple pubs, we found the one that we'd go back to over and over again. As soon as you step past the heavy drapes, you'll enter a dark and woody pub that looks like the Broomsticks Inn from Harry Potter. It's got tiny bottles with glitter of light put against walls, a creaky bathroom under the staircase like Harry Potter's room in the Dursley house. In fact, Iron Fairies started out as a fairytale book that the owner Ashley Sutton wrote himself and then opened a bar under the same name.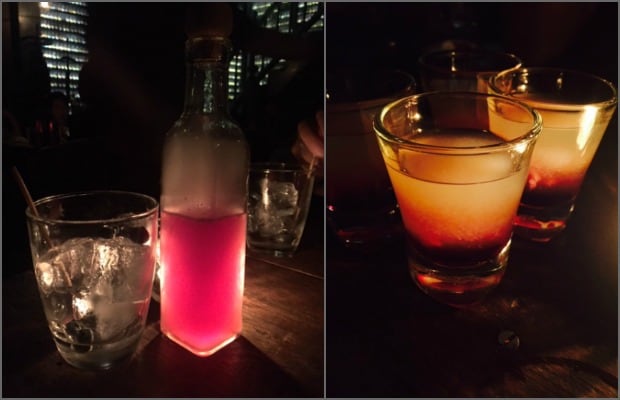 Pick any drink of the menu and you'll simple be amazed. If you're hungry then stick to the burgers because anything else will ruin your appetite for them.So the next time you're in Bangkok, keep this list handy. You can thank me later.