Photo credit: Instagram/vishwas_shivakumar
Come Tuesday and our hearts can't stop craving for the sweet boondis and boondi ke laddoo, especially the ones given as part of temple
offerings
. Said to have originated in Rajasthan, boondis are deep fried
chickpea
or gram flour droplets (boondi in Hindi means droplet), sweetened with syrup, and are an essential part of several auspicious occasions in many parts of northern India.Chef Sadaf Hussain, contestant of MasterChef India 2016 says, "The origin can be traced to cities of Rajasthan where the locals used fried chickpea flour, and added
sugar
, to make it a common snack. Rajasthan is also a hot place to stay, and hence the need of saving food for at least a week developed there. Locals used to make this and keep it stored. They further improvised to make it a
savoury,
and started adding salt and other spices to it."(Also Read:
10 Best Rajasthani Recipes
)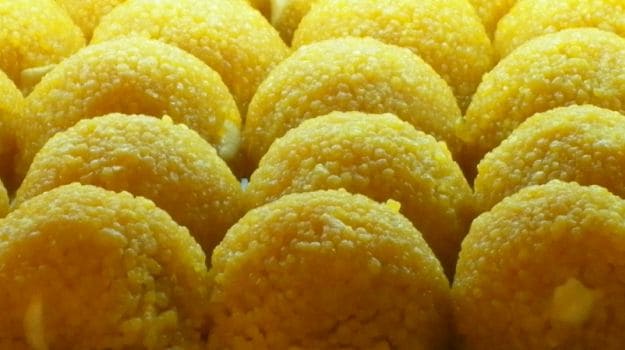 The savoury variation of the droplet-sized delicacy is called 'khara' or 'tikha' boondi. For the preparation of khara boondi, the batter is mixed with
spices
and salt before frying. In several preparations, crushed curry leaves and spices are added, and the boondis are consumed as a snack along with other namkeens like
lentils
and peanuts.Celebrity chef Akshay Nayyar, co owner of Kopper Kadhai, says, "Though chick pea flour is used in authentic recipe but gram flour (besan) is a very close alternative."The crispy boondis are also used in
jaljeera
. Another popular usage of the savoury boondis is in raita. A raita is a popular accompaniment to a typical north Indian meal. A boondi
raita
is made using yoghurt, boondi and seasonings of salt, chilli and other spices.Chef Sadaf says, "When I make raita, I soak the khara boondis first in water to make them soft and them mix with curd, chilli powder, roasted cumin powder, salt and un-soaked boondi on top for added crunch."(Also Read:
5 South Indian Raita Recipes With Beetroot, Gooseberry, Coconut and More
)
On experimenting with the drop-sized delicacy, Chef Sadaf adds, "People these days are using boondi to make
cheesecake
, jalebi and rabri, boondi pearls paired with fish, vodka and boondi water for pani puri, along with so many different variations."
Chef Gurpreet Singh from Punjab Grill shares, "A very versatile north Indian snack, Boondi is traditionally made with besan. Apart from snacks and sweets Boondi can also make way to the main course with the ever sumptuous and easy to make boondi ki sabzi, made of sautéed onions, tomatoes, chopped ginger, green chilli and
cumin
." Chef Akshay of Kopper Kadhai lists down some more variations of boondi like "Boondi and coffee gol gappas and Boondi caviars" popular in the business.
Tips to Make the Perfect Boondis
Boondis are prepared by pouring the besan through a perforated ladle into bubbling hot oil, and deep-fried till crisp. A method as simple as this can call for its own share of misfires too.According to Chef Sadaf, "I prefer adding
rice flour
in the gramflour to make it crispier. If you are trying it in your kitchen, ensure to heat the oil properly and use a perforated spoon to fry the boondis. The best way to make the batter would be to first make a fine paste, this will help remove all the lumps and then add water to thin it down."Follow these tips to attain perfectly crispy boondis:
To get a lump free batter, make a thick paste of gram flour by adding small amount of water and stir rigorously and consistently. Keep adding water until you get a smooth batter.
The temperature of oil is very crucial to get perfect boondis. Make sure your oil is hot enough by dropping a few little droplet-sized balls into the oil. If it comes up to the surface immediately, the oil is ready to fry boondis.
Once your first batch of boondis are fried, pick another ladle and drain them on an absorbent paper.
Store the unused boondis in an air-tight container in a cool and dry place.
For preparing boondi ke laddoo, dip these crunchy boondis in a sugar syrup and mould them into laddoos.
Here is a recipe of that'll help you mould some lip smacking Boondi ke Laddoos.
Ingredients Of Boondi Ke Ladoo
500 gm gram flour
1 liter water or milk
750gm ghee for frying
750 gm sugar
3 1/2 cups water
10-12 drops orange color
10-12 flakes saffron - soaked in little water
50 gm chopped cashew nuts
50 gm raisins
10 cardamoms - peeled
Boondi strainer or fryer of medium sized holes
How to Make Boondi ke Ladoo:
1. Prepare a thin batter with gram flour and water or milk. Heat ghee in a pan.
2. Fill the fryer or strainer with the batter up to the half.
3. Position it over pan and drain boondis in hot ghee by hitting the strainer on side of the pan, lifting up then again hitting. This process should be finished very quickly.
4. Fry them to golden color, drain and remove. Use up all the batter.
5. Prepare sugar syrup of one and a half thread consistency by boiling sugar and water.
6. Add saffron water and color to the syrup. Mix the boondis, syrup, dry fruits and cardamom.
7. After 10 minutes, sprinkle over a little hot water, cover and keep for 1 1/2 hour.
8. Prepare round balls with moist hands.