There's something about winter - the bite of cold in the air, the crisp mornings, the fresh green of the trees after the monsoon, the moth-ball soaked aroma of shawls and sweaters and scarves that have been trundled out of cupboards, the welcoming cups of
morning tea
, the warmth of your razai. And depending on where in India you are, bright snow to scrunch underfoot and little whorls of fog when you speak.
One of the great other pleasures of winter is the food; a time to feast, a time to yield to heavier, richer flavours and ingredients. Plates of undhiyoo; bajre ki roti soaked in ghee; gajar ka halwa spiked with raisins; steaming bowls of paya; vasanu and eeda pak, the warming fudges beloved by the Parsi community; the frothy cloud-like malaiyo of Varanasi that is mirrored in Delhi streets as daulat ki chaat; the sweet potato, the deep greens of palak, methiand sarson, sweet little pearls of ponkh, the array of red and orange carrots, and the ruby-shaded strawberries.
Cooking with Strawberries
Oh, those strawberries! They are one of my favourite fruits, perhaps because of memories clouded by weeks spent in Panchgani as a child, eating strawberries and cream for breakfast, and hankering for Mala's and Mapro's strawberry jams, jelly sweets and preserves.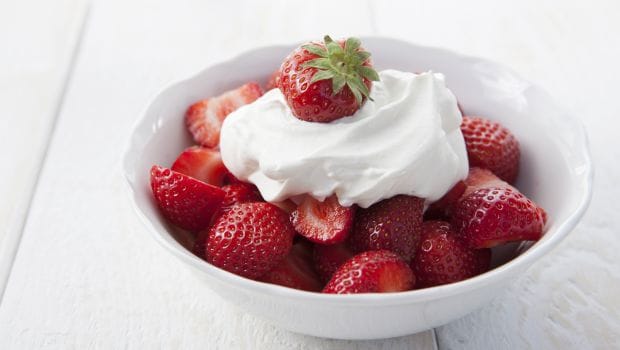 There are just a few things to remember when cooking with themStrawberries are extremely versatile- you can eat them fresh and sweet and straight out of the box, or you can smother them with sugar and cream for a more decadent fix, or you can cook them into pies and tarts and cakes and trifles and jams and jellies. They work superbly when added to Indian sweets such as kheer and kulfi, freshening and lightening the heavy sweetness. I also like to toss them into leafy salads with a crumble of salty goat cheese, for a burst of contrasting flavours.
There are just a few things to remember when cooking with them. First, bigger is not necessarily better. Sometimes, the smaller strawberries are the sweeter ones and the bigger ones taste (in the words of my mother) "like potatoes'.
It's easy to smother their delicate sweetness, so don't overload them with other tastes. A few things pair perfectly. Nigel Slater, for instance, suggests adding either pepper or a dab of dark, broody balsamic vinegar to coax the flavour out of the berry (they both work excellently). Heston Blumenthal, in his book Heston Blumenthal at home, similarly suggests pairing strawberries with red wine vinegar (and olives!) in his recipe for Strawberry Sundae. Sharp-tongued vinegar with sweet fruit is one of life's happiest marriages.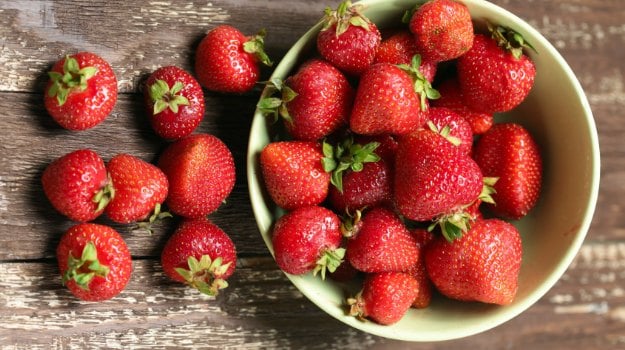 It's easy to smother their delicate sweetness, so don't overload them with other tastes A Brief History of Strawberries in India
Strawberries have always grown in the hilly areas of India, but it was probably the British who first took to cultivating them in an organised way, harking back to memories of England. In Portable Property: Victorian Culture on the Move by John Plotz, we hear of Harriet Tytler, who at the age of eight, imagines she has eaten the first strawberry plants in India in Lord Auckland's estate. This is most likely untrue, but the excitement in her retelling is worth reproducing here. "Two of the plants had one ripe berry each. Of course everyone was delighted at the novel sight. No one touched them, but all expressed the desire to be Lord Auckland (and so) to have the pleasure of eating the first Indian strawberries, " she marvels. Tytler was not to be put off by such niceties. Naturally, she plucked and ate them both.
Thanks to the English, Mahabaleshwar and Panchgani became a popular place for strawberry cultivation, with the British throwing strawberry parties every so often. The strawberry cultivation is a legacy that carries on until today - the joys of waking up on a wintry morning in Panchgani and diving into a bowl of freshly-plucked strawberries and cream, are indescribable.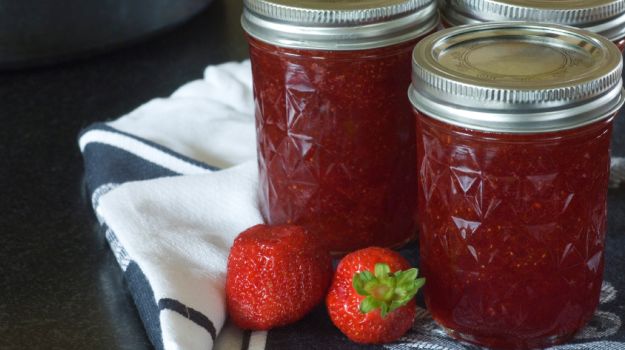 Strawberries have always grown in the hilly areas of India
Quick Strawberry Tart
Any Oat biscuits 250g
Butter 5 tbsp
Strawberries 250g
Caster sugar 1 tbsp
Vodka 1/2 tbsp
Whipped cream, to serve
Chop up the strawberries and mix in the sugar. Add the
vodka
, and leave in the fridge for several hours, thus allowing the strawberries to steep in the flavours.Meanwhile, smash up the
biscuits
to crumbs, and mix thoroughly with butter. Make sure the butter is softened. This is your tart base - gently press into a dish, and refrigerate until it has set. Just before serving, spoon the strawberries on the base, and add a dab of whipped cream on top, if you like.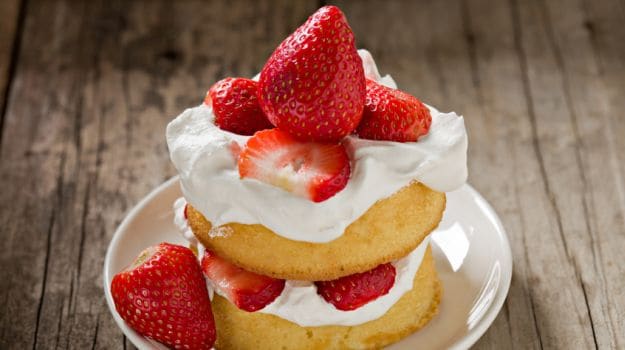 StrawberryStrawberry Barfi
Mawa 230g
Sugar 30g (or more depending on taste)
Strawberries, pureed 200g
Cardamom 1 tsp
Pistachios 50g
Melt some ghee in a saucepan, then add the mawa, strawberry and sugar, stirring until everything is perfectly blended. Add a teaspoon of ghee every so often, allowing it to come to a boil, then reducing it down until the liquids have evaporated. Take off the fire, adding nuts and cardamom, then smooth onto a tray and cool in a fridge. Carve into squares and serve.
Strawberry Kheer
Milk 500g
Basmati rice 30g
Sugar 2 tbsp
Strawberry puree 250g
Cinnamon powder a pinch
Almonds, roasted, to serve
Heat the milk to a boil, then add the rice and turn down the flame. Stir continuously until the rice is cooked (about 20-30 minutes). Take off the heat, stir in the puree and cinnamon, and garnish with nuts. Serve.
Before I finish, a few words of advice. It's best to wash your strawberries just before you eat them; wet strawberries become squishy and mouldy much faster, even if you pop them into the fridge (which you must. They last about five days in the fridge). For the same reason, keep their green stems on, storing them in a dry container that has ideally been lined with paper to wick away all possible moisture. It's the only way to give your berries a long, healthy life.