Summer is the season when guzzle down loads of summer coolers and cold beverages like fresh fruit juices, smoothies, iced tea and cold coffee. During the summer season, we all are well aware of drinking enough fluids to prevent dehydration. Keeping ourselves well hydrated is the key when it's hot; but it's not just only in summers, hydration is important to our health all year round. Our body comprises about 60% water. The functions of these bodily fluids include digestion, absorption, circulation, creation of saliva, transportation of nutrients, and maintenance of body temperature. Hence, it becomes extremely important to add a sufficient amount of water and fluids to our diet, especially during summer when our body needs a lot of water to avoid dehydration. The sun is harsh during summers, resulting in loss of body fluids, which leads to a condition called dehydration. If you are dehydrated, your body's ability to carry out normal functions is affected and you feel tired.
Importance Functions Of Fluids For The Body:
Fluids help move nutrients and waste through our body.
Keep our blood pressure normal.
Protect and cushion our joints and organs.
Control our body temperature.
Lower the risk of dehydration and heat stroke.
(Also Read: 5 Effective Herbal Remedies for Dehydration)
What Is Dehydration?
Dehydration is when we lose more fluid than what we take in. Below are some of the signs of dehydration:
Thirst
Dry lips and dry mouth
Flushed skin
Dizziness and fainting
Dark yellow, strong smelling urine
Low blood pressure and increased heart rate
You may be dehydrated even if you don't have any of the signs; therefore, it is important to drink fluids often even before you feel thirsty.
How To Get Enough Fluid?
The amount of fluids we need depends on our age, gender and level of physical activity. Remember that we will need even more fluids to stay hydrated in hot weather and also when we are physically active. Keep in mind that our total fluid intake can include water as well as milk, coffee, tea and juice. Coffee and tea are not dehydrating.
Here Are A Few Ways To Include Maximum Fluids In Your Regular Diet:
Early morning ritual of warm water and lemon: This is likely to detox the body and must be consumed first thing after we wake up. This detox drink helps soothing bowel and kick-starts the digestion process for the day.

Buttermilk: A tall glass of adequate curd and water can be a great way of keeping health in check, thereby, adding more fluid to our diet. One can add some mint leaves to spruce up the flavour.
(Also Read: 10 Best Buttermilk Recipes)
External supplements of soluble vitamin C tablets; for example, effervescents. Take 1 tablet daily, dissolve it in 200ml of water and drink it. One can add sabza to the regular water to reap the benefits of vitamin C. Vitamin C has several benefits apart from a glowing skin but helps to fight radicals from the body and keeps the flu and diseases at bay.

​Coconut Water: A go to fluid to get in all the minerals that the body requires.

Fresh fruit juices: Juicy fruits like watermelon, muskmelon, oranges etc. must be a part of the diet. However, juices of these drinks are equally beneficial.

Vegetable juices: A concoction of greens can be incorporated. For instance, bottle guard, curry leaves, coriander, spinach, mint leaves to make a holistic green vegetable juice.
(Also Read: 8 Best Green Juice Recipes)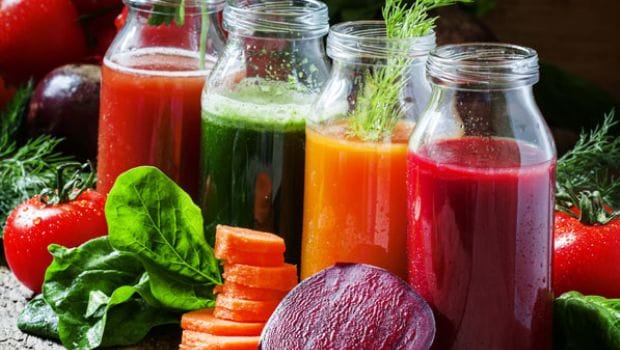 Sabza water: Sabza water can be consumed in any part of the day preferable in the first half so that the protein can be absorbed by the body efficiently.

A glass of flavoured water (this could be fruits soaked in water and water consumption): A jar with 2- 3 different fruit pieces, for example, watermelon, apple cut can be kept overnight to enjoy the taste of water better. Flavoured water is again a detox.

Mint concoction (especially during summers): Mint concoction with a spoon of jaljeera powder and lemon is again a hassle free way to incorporate fluids in your diet.

Milkshakes and smoothies: The smoothies can be different based on the fruits available and the season specific. It can be a simple banana granola smoothie with oats or Palak smoothie with water. This totally depends on the person to person.
About author: Swapnali Nikam is a nutritionist at One Life.


Disclaimer: The opinions expressed within this article are the personal opinions of the author. NDTV is not responsible for the accuracy, completeness, suitability, or validity of any information on this article. All information is provided on an as-is basis. The information, facts or opinions appearing in the article do not reflect the views of NDTV and NDTV does not assume any responsibility or liability for the same.