All that crumbles is not dust...I like desserts. But I don't have a voracious appetite for them like one of my friends who would eat an assortment of pastries as one of his meals (not encouraging that voraciousness though). I can experiment with my food - I love the coming together of distinct flavours that surprise and entice my taste buds - but never with desserts. Desserts are like salvation to my soul after the entire day's toil. There are a few things that make you go weak in the knees. Besides anything chocolate-ly my dreams are made of crumble, every single day!
It is believed that crumble came into existence during the World War as an easy and inexpensive way to replace pastry. The idea must have been to make something quick and easy with whatever ingredient and source of fat readily available. That is just a hypothesis, which has eventually led to many experiments and improvisations happening with the traditional recipe to arrive at the better crumble. I see it as a plateful of mess which is divine when it reaches your mouth. The best part of cooking crumble is the fact that you can keep the basics intact and introduce any fruit, flavour or ingredient of your choice.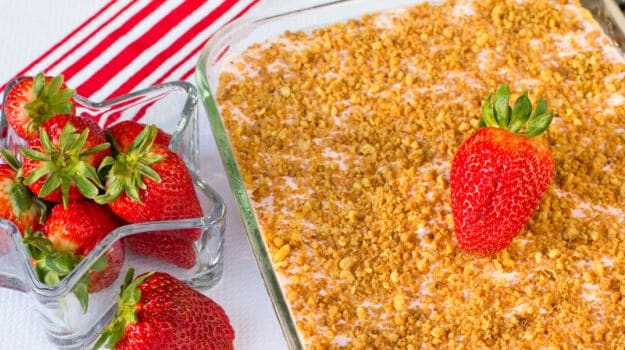 Essentially, the traditional crumble recipe would include just four ingredients - fruits, flour, sugar and butter. All one needs to do is to bring together flour and butter (blitz both in a food processor until the mixture starts resembling fine breadcrumbs. Add sugar to it and mix well. Next is prepping your fruit mix. You can start with apples. Take apples, core and slice them. You can either pour over some melted butter, sugar and cinnamon atop or orange juice and sugar. Now place your crumble mix atop the fruit mixture and bake for 40 minutes at 150 degrees C (oven needs to be pre-heated at 100 degrees C.
Dress it Up!
The new age crumble is of course a departure from the old-school recipe. It carries with it the classic technique but bold flavours and a delicate pairing of various ingredients. Not only can you add in more options when it comes to your fruit mix but also experiment with the very foundation - the flour. Ditch conventional and bring in oatmeal and a variety of flours to make your crumble. You can use little amount of juices to add flavour to your fruit mixture. Some of my favourite ingredients to experiment with would certainly include cinnamon, nuts, maple syrup, oats, cider and oh, salted butter, biscuits & cookies, chocolate chips, coconut savings, red wine and much more. You can even sneak in a little booze for an extra kick in your sugary delight.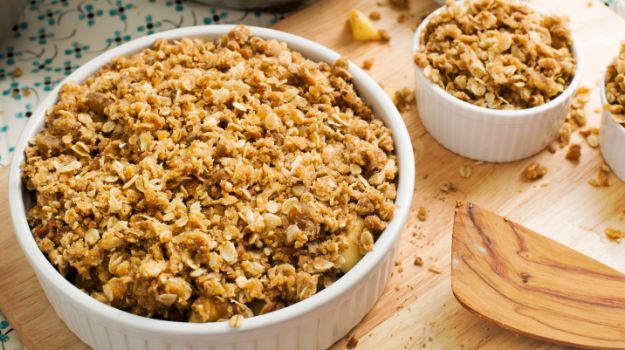 The Thumb Rules
Crumbles are fairly simple to make. You can experiment with the ingredients and flavours but you can't really de-construct the recipe and you shouldn't! Many recipes would ask you to bake your fruit mix for 5 to 7 minutes separately before giving it a final bake along with the crumble mixture - if some of the most celebrated food critics and chefs are to be believed, they leave their mixture as is! According to food columnist Henry Dimbleby, "Never cook the two parts separately or deconstruct the crumble in any way. This is an abomination." However, till date one of the best apple crumbles that I have eaten would certainly be the one that is cooked by one of my colleague's grandmother, and I must admit, it is beyond heavenly. She was a little reluctant in giving her secret away but gave in to the free-fall praises coming in her direction, "It is simple, just stew the apples. I stew them for 10 minutes along with some sugar and cinnamon. Everybody just loves this version of my crumble," shared Mrs. Jyotika Sawhney.

What Else to Keep in Mind?
Just few other things before you let loose reigns of your creativity and barge into your kitchen on a crumble escapade - it is advisable to mix your base together with your hands to achieve better consistency. Never cook any one part beforehand. Try chilling your crumble mixture for at least 5 - 7 minutes in freezer to achieve enhanced texture. Keep a check on sugar; you are cooking with naturally sweet ingredients.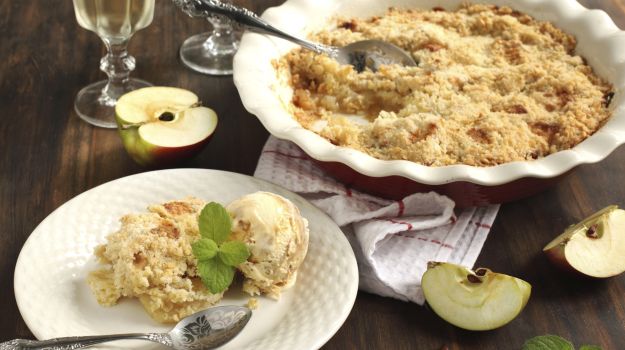 How to Cook: Apple Crumble and its Many Variants
Now that you have learned the basics, it's time to put it to practice. From the classic to the ones with other fruits, flavours and ingredients, we are sharing some of our best apple crumble recipes below.
Cinnamon Apple Crumble ready in just 25 minutes
Apple Cranberry Crumble - an exquisite marriage of apple and cranberries.
Apple Pear Crumble - done in just half an hour
Jowar Apple Crumble - classic recipe with a healthy spin
Oats Apple Crumble - Oats, apples with no flour!

Other Favourites
Strawberry Crumble - delightfully prepped by Chef Joey Matthew
Stone Fruit Crumble - Plums, peaches, berries, dates and much more with cinnamon and red wine, resist that!
Chicken Crumble - an offbeat hit, savoury version with chicken by Chef Manju Malhi.