Way before Pokeman and Harry Potter, there was a generation of Indians who had grown up on Amar Chitra Katha comics.I belong to that generation.As a child, I spent hours engrossed in the tales from Indian mythology and history told by the late Uncle Pai in his Amar Chitra Katha series of illustrative books. One of the most exciting set of stories was that of the Rajputs of Rajasthan and their stories of adventure and valour. Years later I went to Jaipur in
Rajasthan
on work. I was interested in seeing the forts of course, but I wanted to discover the local food scene too.
The day we landed we went to a fifty year old place called Santosh Bhojonalaya near the
Jaipur
bus stop and joined the locals in having a dish called
dal bati churma
. The smiling elderly waiter explained that we must crush the round wheat flour-based balls (
bati
), add the
dal
(lentils) to them, douse this with
ghee
(which made my city-bred weight conscious lady colleague cringe) and eat it. This was to be followed by the
churma
(a mix of crushed
bati
) and sugar. I was won over by the multi-textural and multi-sensorial experience of eating the
dal bati
. Being surrounded by my fellow diners at Santosh, locals waiting to catch long distance buses, made the experience so much more real and memorable.Later that evening we went to Chokhi Dhani. This is a sort of Rajasthani Disneyland meets a Suraj Bhansali set affair. It is located outside Jaipur city and consists of a faux village setting recreated for tourists. I had a
dal bati
there served by waiters with an exaggerated sense of hospitality. The
dal bati
seemed a bit different from what I had in the afternoon at Santosh and came with lots of bells and whistles in the form of myriad
chutneys
and
papads
on the side here.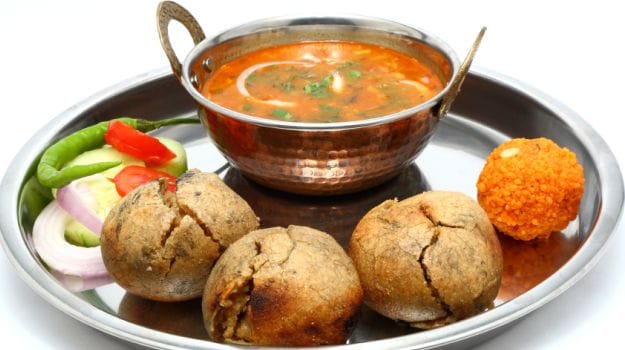 A few days later I went to the holy town of Pushkar from Jaipur. I gave the vegetarian restaurants run by expat Israelis and Italians in
Pushkar
(it's a meat and booze free town) a miss and went to a thirty year old restaurant called Mamta which was packed with local Indian pilgrims. I tried the
dal bati churma
there which was very different from the one I had in Santosh in Jaipur. The
bati
casing in Mamta was crisper and the
dal
was yellow coloured unlike the dark brown one in Santosh. Nor did it have the number of accompaniments which the more glammed up meal at Chokhi Dhani had.So I asked my friend, Khushboo Saboo, about why this was so.Khushboo is a former
Jodhpur
girl who lives in
Mumbai
now. She is a market researcher and food enthusiast who is a regular contributor to restaurant review aggregator websites. Though she has travelled across the world trying out new dishes, she loves her
dal bati
, and gets her mom-in-law to make it for her at least once a month in Mumbai. If the dish wasn't so heavy, or if her life was not so sedentary, she would have it more often.Khushboo told me about how the constituents of the
bati
could be different from house to house. That while wheat flour is used in most houses today, some still use the traditional favourite of
bajra
(pearl millets). She said that lentils used in the
dal
could vary from region to region. In the earlier days one would use
dals
grown near their villages,
moong
in some cases,
channa
in other. Today
panch dal ke mel
(mix of 5
dals
) is what's popular. There are variations in the
churma
too with some people even making rose and orange flavoured ones these days.Khushboo has grown up listening to stories told by her father about how the pilgrims and hunters of
Rajasthan
would have
dal bati churma
when on the move in the middle ages. Travelers would carry bucket loads of
dal
for their journeys. They would carry
bajra
too. When they would halt at night, they would make balls (
baati
) with the
bajra
and smoke these over fires made with wood foraged by the men in the group.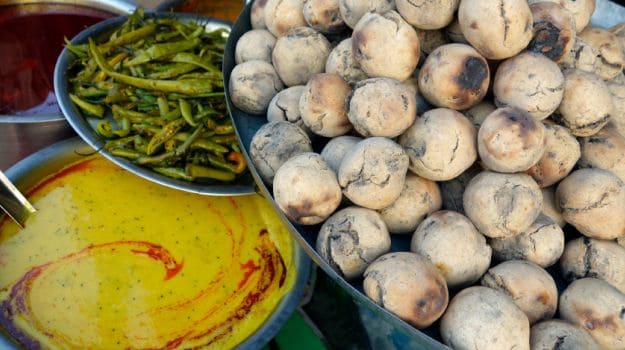 Ghee
would be added after the
bati
was crushed and mixed with
dal
. This format made it a one dish meal which was convenient to eat while traveling as one didn't need too many utensils. When the meal was over, some of the remaining
bati
would be crushed and sugar would be added to it on the same plates, to make
churma
.A sweet end to the meal followed by a deep sleep under the stars.The tradition of
dal bati
possibly dates to even before the Mughal era. There is a painting in the Umaid Bhawan Palace of Jodhpur of people baking their
batis
in Maharaja Jaswant Singh's
chita
(funeral pyre).The use of healthy grains like
bajra
, the protein shots provided by the lentils in the
dal
and nutritive and detoxifying properties of
ghee
were all prized for giving a healthy and nourishing meal for those on the move.This got me thinking about how evolved our traditional Indian food tech was. Today we have Indian food manufacturing giants borrowing foreign technology to make
instant noodles
in a cup for those on the go and we get excited about that. To me the entire thought behind
dal bati churma
as a food on the go, and its convenience and health benefits, is pretty fascinating and makes me feel proud about our native ingenuity.Ad legend Piyush Pandey, who grew up in Rajasthan, wrote in his book
Pandeymonium
, "All through my career, whenever I am in need for inspiration, I transport myself back to that cold Jaipur winter morning".Perhaps there are some lessons to be learned for today's food and beverage companies in the rich culinary heritage of Rajasthan.PS: Khushboo told me that
dal bati churma
is a dish that is usually eaten at home as it is too messy to eat in
restaurants
.
Disclaimer:
The opinions expressed within this article are the personal opinions of the author. NDTV is not responsible for the accuracy, completeness, suitability, or validity of any information on this article. All information is provided on an as-is basis. The information, facts or opinions appearing in the article do not reflect the views of NDTV and NDTV does not assume any responsibility or liability for the same.