Jamun Recipes: There's absolutely nothing that beats the joy of relishing a plateful of jamun to mark the onset of summers. With a deep purple hue, jamun is a fruit that holds many childhood memories to relish along with a sweet, sour and tarty flavour. The oval-shaped, pulpy summer fruit is packed with fond memories of childhood of many Indians. I remember how as kids my siblings and I used to pluck and collect jamuns directly from the jamun tree in our neighbourhood. We used to sit together and demolish loads of jamun in sunny days of our summer holidays. Not to forget, how our tongues used to have that deep purple colour post eating jamuns.


Apart from the summer vacations and plucking jamuns from jamun tree, quite nothing has changed. The love for jamuns, or black plums, remains intact as much as our ability to finish as many jamuns as you can imagine. Just that now we have also discovered the many ways to devour this delightful fruit. Did you know that jamun is one of the most versatile fruits out there? From flavourful sauces and chutneys to decadent desserts, jamun makes for a great ingredient for refreshing beverages too.


While all of this might make you feel guilty for indulging too much in it, various health benefits of jamun (black plums) might help you think otherwise. Before we share our interesting list of jamun recipes, let us have a quick look at the wonderful benefits of Jamun.
Jamun (Black Plums) Benefits
Rich Source of Nutrients: One jamun packs about 15 mg of calcium, 1.41 mg of iron and 18 mg of vitamin C besides being extremely rich in vitamin B and active phytochemicals such as polyphenols.
Fight Diabetes: Jamun fruit is known to be beneficial for diabetics. Both the seed and the fruit have substances called jamboline and jambosine that slow down the release of sugar into the blood while the seeds also increase the availability of insulin.
Helps In Weight Loss: Being low on calories, jamuns help in accelerating the weight loss process and the high fibre content keeps us satiated and full for longer time so that we don't indulge in our unwanted cravings. Jamuns also help in optimising digestion.
Minimises Risk Of Cancer: With the presence of phytochemicals like polyphenols that contain anthocyanin, black plums might help prevent cancer and even heart diseases.
Here Are 5 Best Jamun Recipes That You Can Try At Home:
Crisp from outside and melt-in-mouth soft from the inside, jamun pie has a thick crust of corn flour, chilled butter and castor sugar, with a filling of thick mixture of de-seeded and chopped jamun cooked in a saucepan along with sugar, cornflour, cinnamon and cardamom. Baked to perfection, this jamun recipe is perfect for a Sunday brunch with family.
Jamun Recipes: Serve this hot, with vanilla ice cream, or cold. It is a slightly more involved recipe, but worth the effort.
Healthy, refreshing and so delicious! Summer fruits like black plums go so well with salads when tossed with a tasty dressing of extra virgin olive oil, lemon, chilli flakes and a pinch of salt. Here is one salad recipe made along with the goodness of mango and cucumber.


(Also Read: 11 Best Salad Recipes | Easy Salad Recipes | Healthy Recipes)
Jamun Recipes: This quick, healthy salad makes a refreshing side to pork or chicken, the savoury heaviness of the meat soothed by the fresh flavours of the salad.​
Fresh from the freezer, popsicles or ice pops are a water or milk-based frozen sweet on stick. It is different from ice cream or sorbets, which are whipped before freezing - popsicles are frozen as is while at rest until a solid block of ice is formed. Popsicle is a must-have during the peak summer to beat the scorching heat. Here is a refreshing jamun popsicle with a tarty touch and the goodness of mint.
Jamun Recipes: Use the tarty summer fruit to create pretty purple-hued popsicles to impress your friends. Ridiculously easy to make, you can sprinkle some black salt or chaat masala too for a desi twist.
While jamuns are known to be a great dessert ingredient, they can also be used in making delicious sauces, just like this one! With a hint of spices like garlic, cumin and chilli along with sugar, the sweet and spicy jamun sauce paired with fish is a perfect snack to relish on a hot summer evening. Serve fish fillets or pomfret with freshly cooked thick jamun sauce.
Jamun Recipes: A simple recipe, which is the perfect treat for hot summer afternoon​.
With a refreshing mix of apple juice, soda and jamun, this mocktail comes with a boozy twist of vodka. Perfect for a summer party at home, you can even make an alcoholic version of jamun fizz by just adding vodka.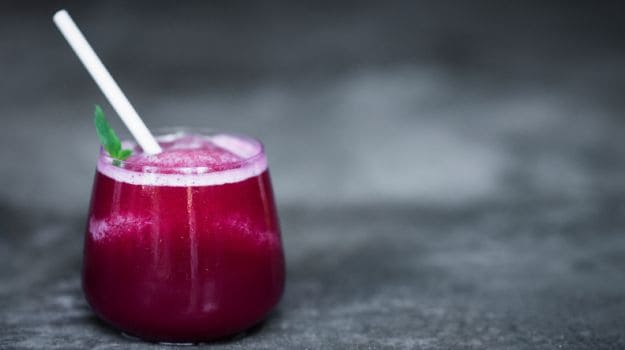 Jamun Recipes: This makes a wonderful, summery, light drink that can be served in both, alcoholic and non-alcoholic versions.​
Make the most of this deep hued, delightful summer fruit this season by trying these jamun recipes at home. Let us know your favourite one in the comments section below.
About Aanchal MathurAanchal doesn't share food. A cake in her vicinity is sure to disappear in a record time of 10 seconds. Besides loading up on sugar, she loves bingeing on FRIENDS with a plate of momos. Most likely to find her soulmate on a food app.