Here are our 5 best couscous recipes, and why you should include couscous in your daily diet.Couscous Recipes- Gone are the days when eating for weight loss was a bland affair. The 21st century is all about exploring a wide range of alternatives for regular energy dense, high calorie food items. If you are one of those who closely monitor their calorie intake and at the same time believe in not budging an inch when it comes to the taste quotient, this article is for you. By this time most of us have already unraveled the goodness of superfoods like quinoa, brown rice and many other millets like jowar, bajra, and ragi. This piece is dedicated to bring to spotlight another popular ingredient that has become mainstream over the past few years. Couscous can give any regular and standard recipe a nutritious spin without letting you down on the taste factor.Once extremely popularly in North Africa, couscous has now trotted its way to the global plate. Made from steaming durum wheat or semolina (suji, not only is this ingredient super easy to cook with but packed with health benefiting properties.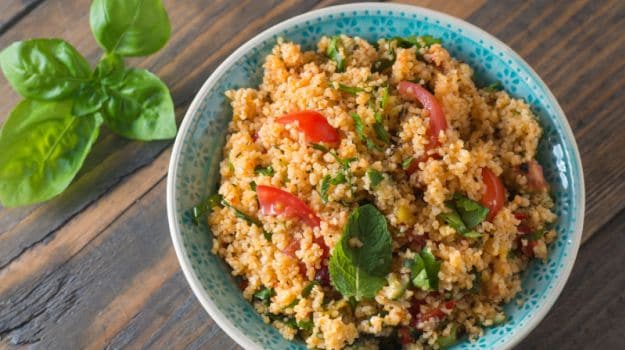 Why Include Couscous in Your Daily Diet | Benefits of Eating Couscous
Not only is this wonder ingredient great for weight loss but is also great from the overall well-being of our body. Couscous is enriched with selenium which constitutes an integral part of our body functions and development. It helps keep cholesterol level in check and maintain healthy heart. It is also loaded with anti-oxidants, potassium, protein, dietary fibre, niacin, thiamin, Vitamin B6, manganese, phosphorous, copper and magnesium.Apart from this, regular consumption of couscous will ensure the following:- Prevents arrhythmia (irregular heart beats), atherosclerosis (accumulation of fatty material in the inner arterial walls)- Prevents risk of heart diseases and stroke- Helps in building a stronger immune system and boosts metabolism- Selenium helps in making muscles stronger keeping a check on muscle weakness- Couscous is low in calories. Each cup is less than 200 calories- It is low in sodium, cholesterol and saturated fat- Rich in fibre, aids digestion, helpful in constipation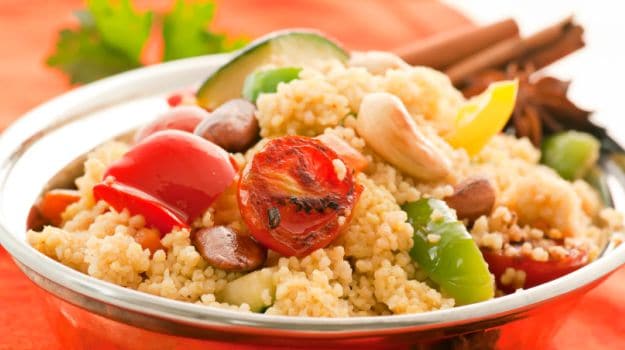 How to Buy, Store and Cook | Tips and Tricks
Couscous is readily available in the market these days. It can be stored at room temperature in a dark place away from moisture. Usually the ingredient, if stored properly, can last up to a year. It is easy to cook as well. Pour some water or stock in a vessel add couscous and let it boil till it soaks all water and becomes aromatic and fluffy. You can add your favourite veggies and meat to it and create a dish of your choice.
To give your culinary skills a bit of fillip, we bring to you some super-easy and mouthwatering recipes from our most celebrated chefs. Get cooking!

A healthy treat combining chicken, couscous and refreshing flavours of pomegranate, lemon, saffron, olives and mint.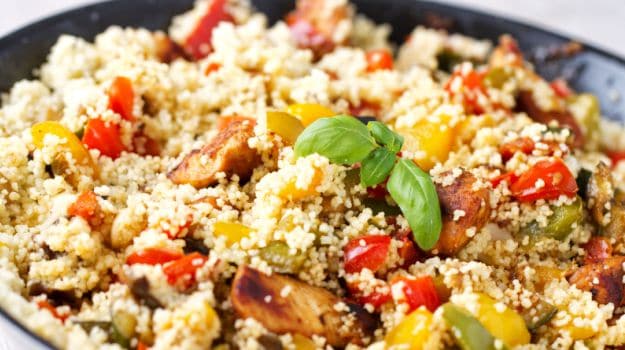 Dig in this healthy couscous with the goodness of pomegranate and mint.
A light and healthy preparation made with couscous and peppers, served with a creamy Tahini sauce and grilled vegetables.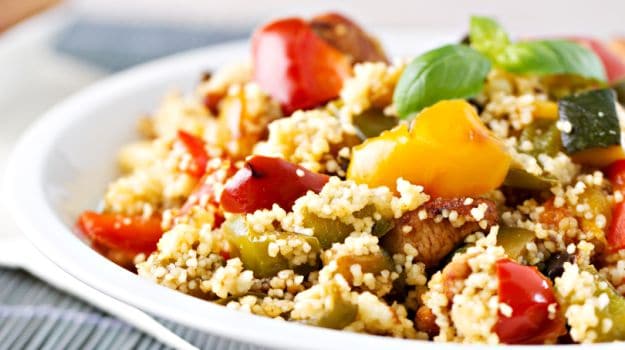 Couscous Royale.
Couscous in a desi avatar. Fried aubergines are teamed with couscous, perfect for anytime of the day.
A hearty salad made with couscous stirred in with onions, curry leaves, peanuts, served with grilled corn.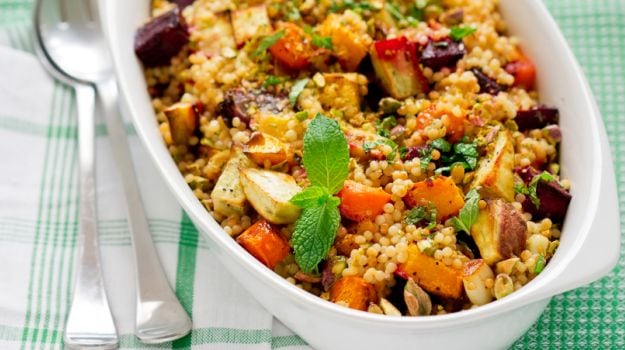 A hearty and easy to make salad.
Pieces of cottage cheese wrapped in a blend of cocuscous, breadcrumbs and fried to a golden perfection. Team these with a zingy plum chutney and you are ready to host a party!