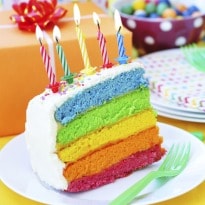 Cakes are the easiest desserts to please the sweet tooth. In olden days, fried bread was served as a cake-like dessert. Today, the bakeries are loaded with inventive varieties ranging from cheesecakes to sponge cakes. The tradition of the birthday cake dates back to the Ancient Romans. The word 'cake' is derived from the Middle English kake. Be it as a tea time treat or a celebration dessert, cakes have been an all-time favorite!

Seduction is an art these sweet fares have perfected through the ages and it's time to lose yourself to their charm. We've never met a problem that a proper dessert couldn't fix! Hit the sweet spot with these baked bites.

Stick your fingers in the most gooey and fluffy cakes ever. Here are our 10 best cake recipes which we think are a must try!


Flourless Chocolate Cake
Recipe by Joey Matthew

Intimidated by baking? Here's a terribly easy recipe with just five ingredients! It is made without flour but tastes as good. Topped with flaked almonds this one's a crowd pleaser.



Lamingtons
Recipe by Nishtha Asrani
Lamington is a type of cake native to Australia. Vanilla flavored sponge cake cut into cubes, dipped in a rich chocolate sauce and rolled in desiccated coconut.
Gluten Free Chocolate Cake
Recipe by Ruchira Hoon
For all the chocoholics - An irresistible cake made with dark chocolate and ground almonds. Smothered in a thick chocolate ganache. You can bake it in the oven or even pressure cook it. Made without any flour, this cake is as gooey as it can get!
Chocolate Lava Cake
Recipe by Vicky Ratnani
The quirky choco-lava cake recipe made with five simple ingredients. The flow of molten chocolate as you slice in makes it so decadent that you just cannot say no!
Eggless Atta Cake
Recipe by Poonam Gupta
Yogurt, cinnamon, nuts and all things good make for this tea treat. Just when you thought cakes cannot be healthy here's an egg-less recipe with good-for-you substitutes.
Chocolate Peanut Butter Cake
Recipe by Vicky Ratnani
A no sweat, egg-less treat. The nutty flavor of peanut butter with the crunch of chocolate chips make for a happy combination!
Coffee Cake with Mocha Frosting
Recipe by Divya Burman
Get your caffeine fix with this recipe! A delightfully moist cake infused with an intense coffee flavor and wrapped with a creamy coffee-dark chocolate frosting.
Moist Banana Cake
Recipe by Nishtha Asrani
A cake with moist, soft and fluffy textures. Perfect with your afternoon tea!
Lemon Drizzle Cake
Recipe by Felicity Cloake
A modern tea time classic. Soft sponge drizzled with a sticky, lemony syrup. Sweet and sour in one bite!
Picture Courtesy: Felicity Cloake, guardian.co.uk
Fudgy Chocolate Cake
Recipe by Divya Burman
This recipe is a dream come true for all the ardent chocolate devotees. A decadent chocolate cake layered with a chocolate fudge frosting and topped with a thick chocolate ganache. Slice in and teleport to heaven!
Related Links - Other 10 best recipes

Check out our 'dessert' categoryIndian Desserts: Never fail to impress

10 Best Indian Dessert RecipesFor the latest food news and recipes, like us on Facebook or follow us on Twitter and get the NDTV Cooks app for Android or iOS.