It is said that one's childhood influences mould the course of an individual's life. I inherited a rich legacy from my
parents
– a passion for food and the culinary arts. Growing up in Mumbai, I was always at the table when my parents had dinners for family and friends. And I helped as they spent days planning, shopping and preparing these feasts. Home was a place where
cookbooks
took up more shelves than novels and cooking shows took precedence over TV serials.Mine was a family that
travelled
the world on their plates. My father took me with him to new restaurants every week and I never missed a chance to peek into the kitchen and admire his idols – the chefs. My mom held different cooking classes at home and I was allowed to help out. The first time I actually made something was when I was around eight - chocolate popsicles that were hard as rocks and yet my father had them and encouraged me.Despite being a chef, I am very impressed by people who cook at home despite their hectic schedules. It isn't all that difficult, you know. Preparing
meals
at home is good for your health and your pocket too. But there is no denying the fact that with minimal free time and other priorities taking up space in our schedules, spending hours or even minutes in the kitchen isn't always at the top of our to-do lists.There are a few dishes that you can easily rustle up at home within 10 minutes. My secret is to always have the
refrigerator
stocked with some pre-cooked items - perhaps done in the morning or afternoon - so that the actual dinner preparation saves time. Here are five
European dishes
that are really easy to make. Do try them out and tell me how they were received on your table. Happy Cooking!
1. Shrimp and Salmon Mousse
Ingredients:
30 gm dill, finely chopped
100 gm cucumber, cubed
100gm smoked salmon, chopped
200gm shrimps
100gm crème fraiche
40gm Philadelphia cheese
1 lemon
Salt to taste
Method:
1. Cook the shrimps, then chill and dice.
2. Mix smoked salmon,
cucumber
and dill along with a dash of
lemon juice
. Check seasoning.
3. Refrigerate this mixture and place a quenelle on top of fresh salad leaves and shrimps, and garnish with fennel and pickled cucumbers. Serve chilled.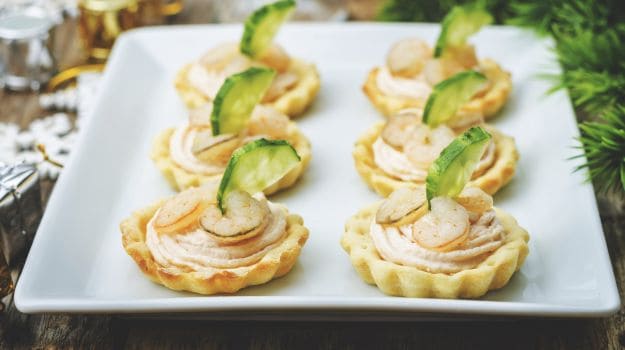 2. Pan Fried Polenta
This needs some preparation, though once the
polenta
is cooked, frying it is a matter of minutes.
Ingredients:

300gm polenta
900ml
vegetable stock
Few sprigs thyme
2-3 garlic pods
A handful of chopped parsley
Method:
1. Bring the stock to boil. Add the polenta and finely chopped
thyme
and
garlic
. Check seasoning.
2. Turn the flame low and let the polenta cook. Keep whisking. Once the polenta is cooked, pour in a container and set. Allow to cool down. Refrigerate for 1 hour.
3. Cut into wedges or as desired and sear in a pan with hot oil. Serve hot with mayonnaise.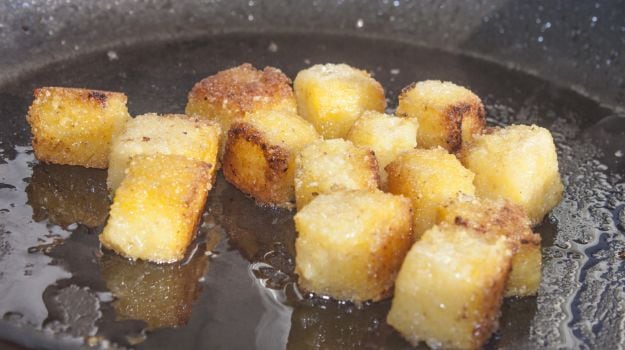 3. Steamed Garlic Edamame
Ingredients:
200gm edamame
4-5 garlic pods, chopped
30gm butter
Sea salt to taste
Method:
1. Blanch edamame in boiling hot water for a minute.
2. Meanwhile, melt the
butter
in a pan and add garlic, just as the butter starts foaming.
3. Drain the edamame and add to the butter once the
garlic
has browned a little bit. Toss thoroughly. Sprinkle sea salt. Serve hot. You may add a small splash of soy sauce and sprinkle some sesame seeds.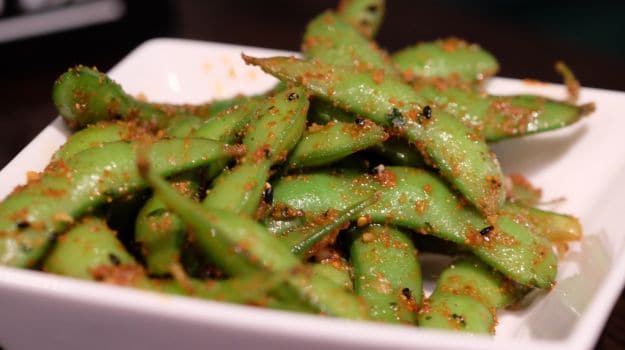 4. Caponata on Toast
Ingredients:
1 yellow zucchini
1 green zucchini
1 small aubergine
1 red and yellow peppers each
30ml olive oil
40gm shallots
500gm Pomodoro tomatoes
200ml red wine
Few thyme sprigs
2-3 garlic pods
Method:
1. Dice all the vegetables and sauté in a hot pan for a minute. Add half the
thyme
and season. Chill.
2. Heat a bit of oil in a pan and lightly sweat the
onions
. Add the pomodoro tomatoes. Bring the wine to a boil in a separate pan and add to the
tomatoes
. Add thyme and garlic.
3. Let this mix thicken out, by stirring. Now lightly fold in the vegetables and serve on top of toast with torn basil leaves.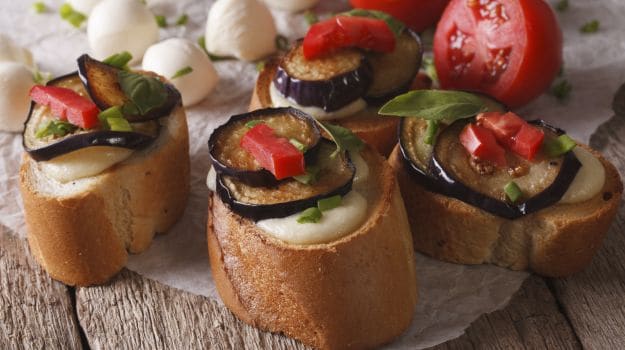 5. Gambas al Pil Pil
Ingredients:
50ml olive oil
90ml Pomace oil
200gm prawns
A pinch of paprika
A pinch of chilli flakes
10gm chopped garlic
5gm chopped parsley
20ml chicken stock

Method:
1. In a cast iron skillet, heat the oil and add all the spices and garlic. Increase the heat and add the prawns. Cook on both sides for a minute. Season.
2. Add a splash of the
chicken stock
and serve sizzling hot with a loaf of crusty bread.