Summers
are here, beckoning us to make a splash in the pool, visit the hills and of course, sip on dreamy, cool drinks all day long. When it comes to creating summer-inspired blends, always keep coffee handy. From granitas,
ice-creams
, kulfis to delectable
cocktails
and mocktails, coffee is versatile and blends effortlessly with most ingredients. This piece is all about using coffee to shake up a whole range of summer drinks.One might not believe but there exists an incredible world beyond your everyday cold coffees or
iced
lattes. Set out to explore the uncharted world of coffee-based drinks, using ingenious tips and tricks that make summer experimentation with coffee much more fun.According to Nitin Tiwari, chief mixologist at Ek Bar, Delhi, scorching hot and humid conditions of our country paved way to experimentations with coffee in cold beverages. "The idea was to incorporate the
flavour
to create summery,
cool
drinks. Therefore, in the beginning you had lots of 'cold' variants of the classic hot coffees – iced coffee, iced lattes, iced espresso, and iced long black to name some. A scoop of ice cream would often sit atop those iced creations," shared Nitin.
Ajay Nayar, North Brand Ambassador, United Spirits is a staunch believer of coffee's ability to work well with oranges. " The dominant flavour of coffee mixes well with the oils present in orange peel. It is a great idea to shake up a drink blending together
oranges
and coffee, and spiced with cloves," he shared.
Coffee also works magic with ice creams like Belgian chocolate, hazelnut, butterscotch and dark chocolate. Avoid using it with
strawberries
. When it comes to fruits, black currants, oranges and maraschino cherries are your best bet to work with. Spices like cinnamon,
clove
, star anise, mace and nutmeg also pair well with coffee."Coffee goes very well with vanilla. You can try switching sugar with
vanilla
syrup," said Vikram Pal, PCO, Delhi.
According to Varun Sudhakar from United Spirits, cold-pressed coffee should always be your choice when it comes to creating some seriously delectable cold coffee, "Cold-pressed coffee is far more flavourful since it's kept for a long period to brew. The result is rich and full. This can simply be mixed with ice and
sugar.
You can also add some chocolate
milk
and you're done," he noted.
Summer Experiments with Coffee

Before you get down to shaking up cool summer drinks, here are some coffee-pairing tips you should keep handy - - Flavours that you team with coffee depend upon the
roast
quality of the coffee.- Light roasts go well with
fruity
flavours.- Floral flavours go well with both light and medium roasted coffees.- Spices, citrus as well as acidic ingredients are best-paired with light roasted coffee.- Creating dark roast coffee blends are a no-brainer, team it with dark chocolate and bitter-sweet ingredient –
alcohol
is a very good choice for dark roast varieties.If you're already convinced to try experimenting with coffee at home, we have some delicious, fuss-free recipes listed out for you. Thank us later.
1. Minty Black
Rejuvenate with this aromatic, cool breakfast mocktail using coffee,
mint
and honey perfumed with orange peel.
Ingredients:
150 ml (1mug) home-brewed coffee
6-7 mint Leaves
1 Tbsp
honey
1 orange peel
Method:
Swirl honey and coffee together, bruise mint and drop it in a glass. Mix all the ingredients over ice in a tall glass. Garnish with mint sprig and orange peel.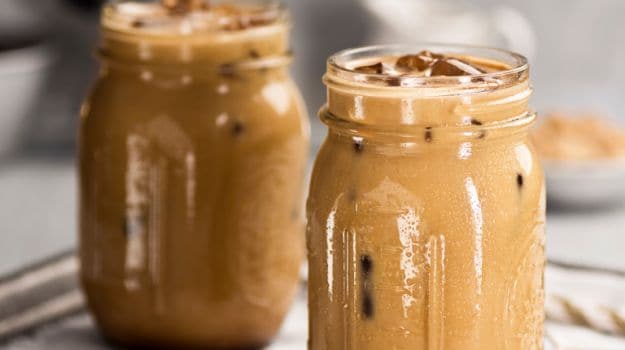 2. From the Alps
A super freezing version of cold coffee with the richness of
hazelnut
and nutmeg.
Ingredients:
100 ml coffee
20 ml hazelnut syrup
100 ml
milk
Vanilla ice cream to top up
Nutmeg to garnish
Method:
Blend together all the ingredients with ice, pour into a tall glass. Add half a scoop of vanilla ice cream and grate some nutmeg over it.
3. Shake it
A sinful summery shake with the goodness of chocolate and coffee.
Ingredients:
150 ml home-brewed coffee
100 ml milk
2 pieces
chocolate
Method:
.Blend all the ingredients till the chocolate mixes well. Pour it over ice in a tall glass and garnish with a piece of chocolate.
4. Mocha Cooler
A scrumptious cooler made with the flavours of strong black coffee, cream and chocolate ice cream.
5. Coffee Granita
This classic three-ingredient recipe that is sure to battle the sweltering heat.