'Must eat' lists are always a tricky proposition. We're bound to leave out iconic dishes especially in a large state like Andhra Pradesh where each region offers a cornucopia of culinary treasures. And then there is that standard myth about Andhra cuisine that almost every dish is guaranteed to drill a hole in your tongue because of their fiery spice levels. While that might hold good for some dishes, there's enough Andhra cuisine where subtle flavours come to the fore.

My earliest references of Andhra cuisine go back to my paternal village in West Godavari district (not far from Rajahmundry). Add to that is North Chennai's long list of Andhra restaurants with culinary traditions that date back to a time when large parts of Andhra Pradesh and Tamil Nadu were part of the same region - Madras Presidency. We therefore pick ten dishes that are a great starting point for you to explore Andhra cuisine:





1. Kandhi Podi





Most friends of mine from Delhi will demand that I take them to an Andhra restaurant that serves 'gun powder', their definition of a spicy powder. It's true that the podis (powders) are one of the best known elements of Andhra cuisine. The pale orange Kandhi Podi (Red gram powder) combines split red gram, Bengal gram and roasted gram and can be stored for months. Restaurants like National Lodge in Chennai have acquired a hallowed reputation for their Kandhi Podi. Add some of this powder to piping hot rice and a dollop of ghee, and there's probably no better way to start your Andhra meal.

(Looking for healthy oil and organic ghee? Shop on SmartCooky.)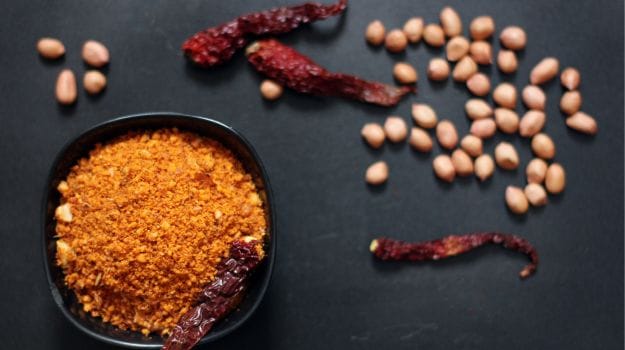 2. Gongura Pachadi
Just like the podis, the pachadis (chutneys) are a quintessential element in Andhra cuisine and can either be mixed with rice or served as an accompaniment for dosas or idlis. There's a variety of interesting chutneyslike the Vankaya (brinjal) Pachadi or my favourite Allam (ginger) Pachadi that is terrific with dosas or pesaratu. But nothing is more unique than the spicy Gongura Pachadi that's crafted with spinach (sorrel leaves). I remember looking forward to a large porcelain jar of this pachadi every summer along with a jar of avakkai (mango pickle).

(For interesting pickles and chutneys, shop on - SmartCooky.)


3. Ulava Charu
This is among the state's most popular dishes and halfway between a rasam and a traditional soup. The Ulava (horse gram) Charu might be associated with the Guntur and Krishna districts but is a delicacy that is savoured across the state on special occasions. It's usually served with rice and with a dollop of cream - Andhra's outstanding dairy produce (from set curd to home-made ghee) doesn't quite get the national attention it truly deserves.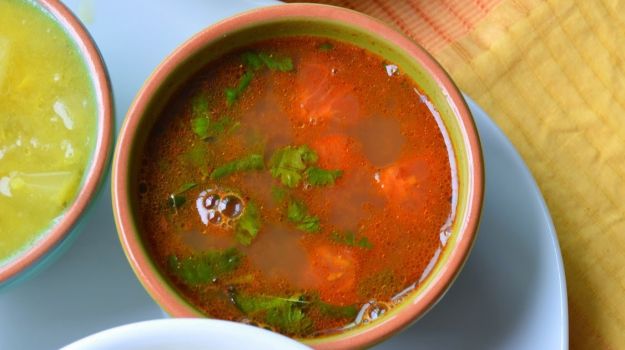 Image credit: www.tamalapaku.blogspot.in

4. Pesarattu
At a time when carb-free diets are officially a thing, the pesarattu makes a compelling case for a breakfast or anytime snack. While this dosa variant does use a small amount of rice flour, it's almost entirely dominated by moong dal. There's also an interesting version (often called MLA Pesarattu) where the pesarattu is stuffed with Rava Upama.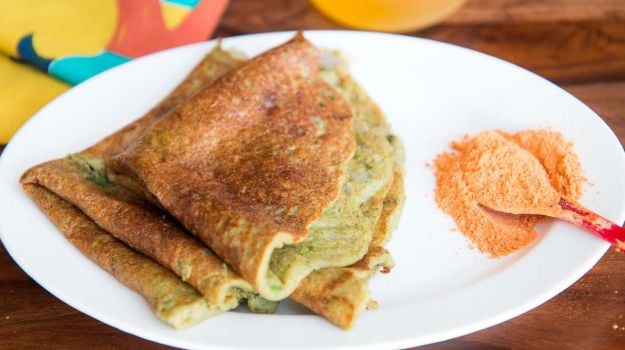 Image credit: www.archanaskitchen.com

5. Ragi Sangati with Natu Kodi Pulusu
It's tough to pick Andhra's most popular Chicken dish. There's the Guntur-style Kodi Vepudu that gets its rich flavours from the dry Guntur chilli, garlic and coconut. And then there's Ragi Sangati (Ragi Balls) served with the Rayalseema-style chicken gravy made with free range chicken. This gravy features a medley of spices including star anise and poppy seeds and tastes equally delicious with steamed rice.


6. Akura Pappu
There are few cuisines in India that make spinach taste more delicious than Andhra cuisine. The Akura Pappu combines the goodness of spinach with the protein content of a conventional dal. The Pappus (dals) bust the myth that all Andhra cuisine is fiery and boast of a tangy flavour from the tamarind in the mix.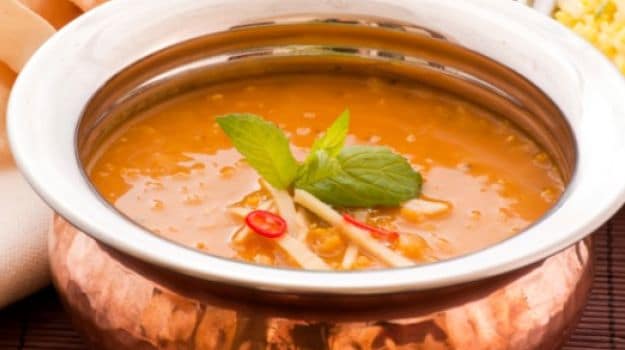 7. Royyala Veppudu
It is strongly associated with the Nellore region in the Southern tip of coastal Andhra Pradesh, a region known for high quality shrimps. Royyala Veppudu (prawn fry) is relatively easy to fix and doesn't go overboard with the spice mix allowing you to enjoy the flavours of the prawn.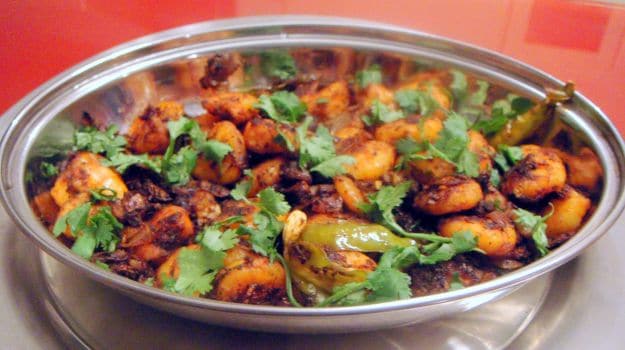 Image credit: www.ammamaandme.wordpress.com

8. Gongura Mamsam
One of the state's most popular lamb dishes that tastes delicious with steamed rice but works well with chapatti or dosa. The dish is an explosion of flavours that combines the sour taste of the gongura (sorrel) leaves with red chilli and mutton. It's not uncommon for this dish to feature potatoes and also coconut milk that lends a rich texture to the gravy.

9. Gutti Vankaya Koora
It is arguably Andhra's best known brinjal dish and quite similar to the Bagara Baingan that is a popular accompaniment for biryani. This flavoursome dish combines peanut with red chillies and the wonderful flavours and textures of brinjal equally scrumptious with steamed rice and bajra or jowar rotis.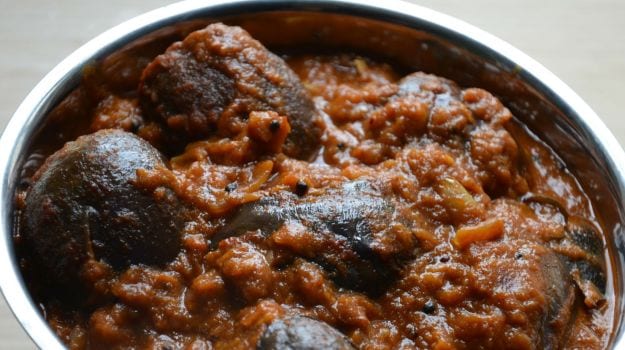 Image credit: www.susrecipes.blogspot.in

10. Poothareku
Andhra cuisine has its share of payasams (kheer) and semolina-based desserts (ladoos and pudding) but nothing quite matches the unique appeal of this sweet dish that can be traced back to the East Godavari district. Derived from the words 'pootha' (coating) and 'reku' (sheet), you can be forgiven for mistaking this sweet for paper rolls in terms of appearance and texture. Rice flour and ghee combine to create the thin film (it requires great skill) that is usually stuffed with powdered sugar or jaggery (some modern versions even feature chocolate!)

About the Author:
Ashwin Rajagopalan is a cross cultural training expert and lifestyle writer. When he's not writing about food, he thinks about gadgets, trends and travel experiences. He enjoys communicating across cultures and borders in his weekday work avatar as a content and editorial consultant for a global major and one of India's only cross cultural trainers.
Disclaimer:
The opinions expressed within this article are the personal opinions of the author. NDTV is not responsible for the accuracy, completeness, suitability, or validity of any information on this article. All information is provided on an as-is basis. The information, facts or opinions appearing in the article do not reflect the views of NDTV and NDTV does not assume any responsibility or liability for the same.
About Ashwin RajagopalanI've discovered cultures, destinations and felt at home in some of the world's most remote corners because of the various meals I've tried that have been prepared with passion. Sometimes they are traditional recipes and at most times they've been audacious reinterpretations by creative chefs. I might not cook often but when I do, I imagine I'm in a cookery show set - matching measuring bowls, et all!