The
galauti
is actually a simpler
kebab
to make than that Avadhi/Dilli special-the
shami kebab
. The
shami kebab
involves minced meat and
chana dal,
cooked with whole spices tied in a muslin cloth (
potli masala
), then grinding the two together, shaping them and then cooking the
kebab
. It is a dual process of cooking. The
galauti
involves just one-time cooking, so it is less labour-intensive and easier to do in commercial set ups.
The Avadhi biryani, on the other hand, exemplifies the art of subtle spicing. Much less robust than the biryanis of other regions-including Hyderabad, where stronger Deccan spices are used, it's edge comes from each grain of rice being flavoured perfectly. The Avadhi biryani is a pucci biryani - where rice and meat are cooked separately and then layered to cook again on "dum", so that flavours intermingle. (The Hyderabadi biryani, on the other hand, is a kachchi biryani, where all ingredients cook together.) But the biryani is a later day invention. It is really the pulao you should seek out, a far more elegant dish.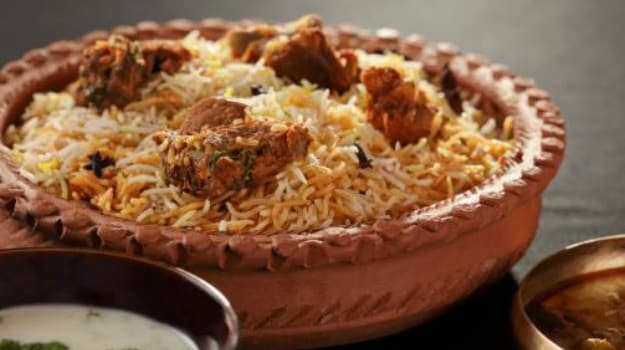 Awadhi Biryani
The main distinction between a biryani and a pulao is that in the later, rice and meat cook together. The spicing is also more subtle and restrained and there is no question of bunging in all sorts of "extra" ingredients like dried fruit and rose water to rev up the dish. In that sense, the pulao is a purer dish focussed on basic ingredients. Chef Gulam has now recreated a doodh ka pulao - cooked in just milk and what we call "white masala", aromatic but subtle spices, including white pepper instead of the deadly peeli mirch that goes into many Avadhi creations.
Cooking on dum is a distinctive Avadhi technique. Ironically, it was not a courtly tradition at all, but a common man's creation. Food-meat, rice, vegetables, spices-were all bunged into a pot (during the building of the Imambara in Lucknow, the story goes, when armies of workers had to be fed) and the meal slow cooked on fire. The technique caught on and dishes were refined for upper class homes. Recipes like shabdeg-where meat is cooked with turnips-or others where meat is cooked with plums, apricots and so on (the Persian influence is quite evident in the cooking with fruit) were a result of this inventiveness. Scenting the qorma with rose water or meetha itr (perfume) is also an Avadhi speciality, and shows up the Persian influence on the cuisine.
Food cooked for the common man in the bazaars also meant that the size of the sheermals and other breads is pretty big. "There was no point making dainty bits; you can't cook like that for huge numbers", points out chef Gulam. These breads were cut in pieces and sold, or given to people as the carb base for the kebab protein, ensuring a wholesome meal. It is nuggets of information like these that help us appreciate and understand why dishes are cooked a certain way.
So, the next time you order a kebab or reach for a bite of sheermal and qorma, remember the history behind it. A food story is not just a string of words, it helps give meaning to our everyday experiences!

Disclaimer:

CommentsThe opinions expressed within this article are the personal opinions of the author. NDTV is not responsible for the accuracy, completeness, suitability, or validity of any information on this article. All information is provided on an as-is basis. The information, facts or opinions appearing in the article do not reflect the views of NDTV and NDTV does not assume any responsibility or liability for the same.