My first encounter with
macarons
was a few years back at food writer and blogger, Rushina Munshaw Ghildayal's home. Those were the early days of food blogging. A group of us, all food
bloggers
in Mumbai, had met up at her place for a book launch, which was followed by dinner.
Rushina introduced us to a soft spoken, young girl with a huge smile, who took out a pink box at the end of the dinner. She opened it and pointed at some biscuit-like treats inside and said, "Please try them, they are macarons and I baked them".
It sounded like she said 'macaroons' but they looked different from the chunky, chewy macaroons that my late father-in-law used to love from the Irani bakeries of Mumbai.
I took a bite of the bright orange-coloured biscuit treat that the girl had offered. My first taste sensation was that of a thin biscuit-y layer which was rather airy, and it then gave way to a refreshing fruity flavour. The jelly filling inside was a bit tangy, a tad granular and sweet too. It was different from anything I had experienced before.
This, I got to learn, was a passion fruit macaron, and the girl was Pooja Dhingra. She had just returned to India after studying pastry making abroad in Le Cordon Bleu. She was just setting up an enterprise called Le 15 Patisserie in Mumbai, and had one store counter to sell macarons. Macarons were fairly new to Mumbai at that time. Since then, Le 15 Patisserie has grown from strength to strength and Pooja is often hailed in the media as the macaron queen of India.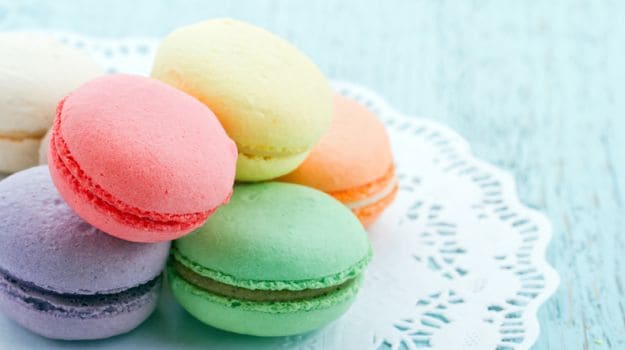 Macaron in the Spotlight
That was the time MasterChef Australia used to feature macarons in their show, especially in the challenges laid out by Aussie chef Adriano Zumbo. I went to Australia soon after that. Though I missed going to Zumbo's patisserie, I went to the Lindt & Sprungli café in Sydney where I had my first taste of macarons other than the Le 15 ones. They tasted pretty similar.
This was also roughly around the time when my wife had gone to Cannes for the first time to attend the Cannes Lions International Advertising Festival. She tried macarons at various places there and enjoyed the ones at a shop called Jean Luc Pele the most. She came back with a box of colourful macarons for me.
I continued to experiment with various flavours, while my wife had zeroed in on dark chocolate as her favourite flavour. In fact, that's her favourite flavour when it comes to any dessert and over the years, it has become my favourite too, thanks to her.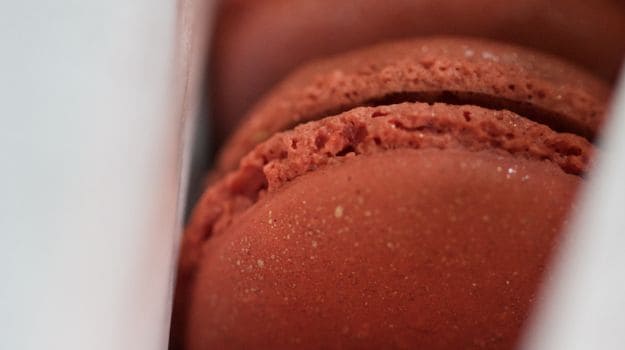 Macarons Around the World
Since then, we have continued our macaron adventures wherever we have travelled together. There is a pretty patisserie called the Bake Shop in Prague where we have had macarons and coffee in the evenings. The year after that we were at Florence on our anniversary and bought macarons from a shop called Rinaldini, near the Duomo, to bring in our anniversary. The elderly Italian lady in the shop pronounced it as 'ma - ka - roonee' and insisted that the Italians were the ones who invented macarons and that the French had stolen the idea from them.
I smiled and indulged her.
A year later my wife and I were in France together. Being in Cannes, we headed to Jean Luc Pele, but I found the meringue casing of the macarons a bit chewy. The macaron I fell in love with, and the one that set the standards for all the macarons that followed, were the dark chocolate macarons at an upscale patisserie called Lenotre in Cannes. The meringue casing was light and airy and dissolved in my mouth to reveal the most tantalising and intense, creamy dark chocolate filling.
We then moved onto Paris where we had macarons everywhere! We tried some really good ones in local boulangeries or bakeries, and then, some not so good ones in vans selling crepes and ice creams. An interesting textured one (the surface of the meringue was granular) was at the Maxim outlet near the Sacre Couer cathedral, which had a great chocolate filling,
We went to Laduree for macarons as suggested by half the people we knew, while the other half had said it was over-rated. We sat at the grand Laduree café at Champs Elysees and had macarons along with coffee and looked on to the never-ending queue of people buying macarons there. In my opinion, the macarons at Laduree were competent but not mind blowing; the chocolate filling rather thick and dense. What you should buy there are the dark chocolate slabs that they serve with coffee.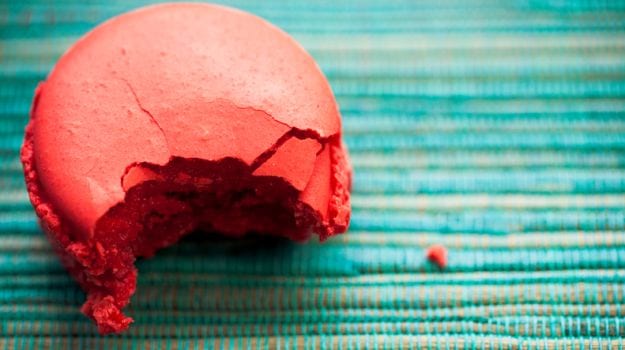 Making Macarons
The Gods of macarons smiled upon us towards the end of our Paris trip, and we got to attend a macaron making class hosted by Le Cordon Bleau. The class was conducted by Chef Christien Ollivier who is from Britanny in France, and has worked in
hotels
across the world. He was very comfortable in English and witty too, besides being an engaging
teacher
.
He deconstructed macarons for us and made them look easy to create. I asked the chef about the parameters to judge a good macaron to which he replied that preferences differ from individual to individual, and there is no right answer according to him. He prefers the one where the biscuit is chewy and the macaron has sat in the fridge for at least six hours so that the filling can seep into the biscuit and add in flavours.
"The heart of a macaron lies in the filling," he said. "They taste the same without it."
I, on the other hand, like macarons which are freshly made, where the filling is soft and the biscuit not chewy.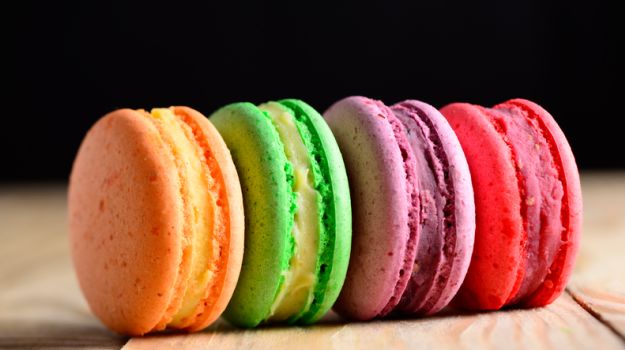 Before we left, chef Ollivier told us his version of the history of macarons, which I thought I will share with you. According to the chef, macarons originated from the chunky biscuits in Iran.
"Iran!" I exclaimed, "that explains why my wife likes macarons so much. She is Parsi and macarons must be a part of her food DNA!"
"Well, from Iran they came to Europe via Africa, thanks to the Italians," said the chef. So the lady at Rinaldini in Florence was right! Then, according to the chef, the folks at Lindt & Sprungli in Zurich were the ones who made macarons with jam fillings famous.
Chef Ollivier then said, with a twinkle in his eyes, "Mr Laduree somehow got the recipe from Sprungli, and opened his macaron store in Paris with Pierre Herme." They split later, and now, there is a Pierre Herme chain too though we could not locate it in Paris.
One could always research about the history of macarons in books and the Internet, but chef Ollivier's story telling skills won us over.

Macaron – Tips and Tricks
Coming back to Mumbai, my wife remarked one evening while we were having chocolate macarons from the Le 15 Patisserie store close to our home, "there are many reasons to go back to Paris, but thanks to Pooja, macarons are not one of them."
So what are macaroons, you may ask. Some say it is the English way of spelling macarons, but it also refers to the meringue-based chunky biscuits often made using grated coconut. You get them across bakeries in India, now to varying degree of competence.
Here are some important tips from chef Ollivier for those who want to bake macarons:
1. Never use almond flour which has corn starch mixed in it.
2. You can't make macarons in humid conditions, so if in Mumbai, bake it in an air-conditioned environment.
3. If making macarons at home, and in small batches, use fresh egg whites and not industrial ones.
4. Always use salted butter and the best quality butter that you can get your hands on.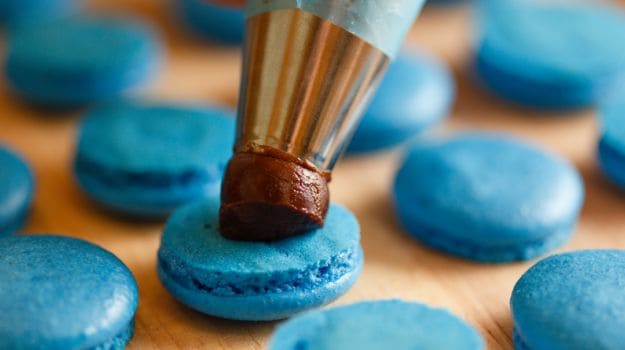 About the author:
Kalyan loves to eat and he loves to talk about all that he eats. His wife urged him to start writing about it, otherwise she would have to hear it all. He blogs as 'finelychopped'. According to a 2016 report published by Indian Cuisine RR, Kalyan has also been rated as 'top Indian food influencer on Twitter'.
Disclaimer:
The opinions expressed within this article are the personal opinions of the author. NDTV is not responsible for the accuracy, completeness, suitability, or validity of any information on this article. All information is provided on an as-is basis. The information, facts or opinions appearing in the article do not reflect the views of NDTV and NDTV does not assume any responsibility or liability for the same.