Blueberry is a hidden gem from the berry fruit family whose origin can be traced back to North America. With a sour and tarty flavour, blueberry is most often used in desserts and sauces to neutralise the sweet taste. While in India, blueberries don't enjoy the same attention as other berries and as it does in other parts of the world; however, it is slowly catching up in the form of fusion recipes and culinary experiments. You might be surprised to know that blueberries besides being a great addition to desserts, smoothies and ice-creams, is a proud member of the exclusive category of Superfoods, and so it goes without saying that it comes with a whole lot of health benefits.


Blueberry fruit might still be an unusual ingredient but it has been used since ancient times in stews, soups and meats where its tarty flavour blends equally well as in desserts. In earlier times, Native Americans used to refer blueberries as 'star berries' since it was believed to be a gift from the Great Spirit. Certain parts of the plant were used for their medicinal properties, including the leaves - which were made into tea. It was considered to be a blood purifier, and the juice of the berries was said to treat cough and cold. Even today, when blueberries are available in the fresh form as canned, dried and as compotes, it boasts of many health benefits.
Let's Look At Some Of The Health Benefits Of Blueberries:
1. Immunity Booster: Blueberries have flavonoids, which are known to have anti-inflammatory properties that can significantly reduce the risk of catching cough and cold.
2. Rich In Antioxidants: Powerhouse of antioxidants, blueberries are rich in anthocyanin that is also responsible for the deep blue colour and also helps in removing free radicals from the blood, thus preventing the body from diseases such as cancer.


3. Reduces The Risk Of Heart Disease: The presence of antioxidants helps in keeping a check on cholesterol levels. Various studies have revealed that these components also help improving the blood fat balance, preventing clogging in the arteries. Besides this, the flavonoids also help in lowering the blood pressure and cutting down the risk of heart diseases.


4. Boosts Brain Health: The miraculous components found in blueberries works to improve the memory besides slowing down age-related cognitive diseases. These berries also lower the risk of oxidative stress in our nerve cells, hence making them function smoothly.


From cheesecakes to ice creams to cakes and dips, blueberries work just perfectly with all things sweet. Let's look at the best of blueberry desserts that you can prepare at home and reap in the benefits!


(Also Read: 11 Best Easy Dessert Recipes | Popular Dessert Recipes)
5 Best Blueberry Dessert Recipes You Can Make:
A guilt-free blueberry sweet recipe made with the goodness of oats, in canola oil with agave nectar. Perfect dessert for a high-tea party or for your next Sunday brunch, this is an easy and quick blueberry recipe to prepare at home. Topped with strawberries, this pie is baked to perfection and then lathered with a sweet and tangy blueberry mixture.
Healthy Blueberry Desserts: A dessert that banishes a lot of the bad and keeps a lot of the good.
Soft, creamy, crunchy from the base and absolutely delicious, this blueberry cheesecake is baked and is stuffed with mouth-watering cream cheese filling. It is topped with a sweet and tangy blueberry mix. This can be a great option to bake for a birthday party at home!


(Also Read: 10 Best Cheesecake Recipes)
Blueberry Sweets: A killer dessert for any occasion!
Who doesn't love pancakes for breakfast? Now, move over the regular pancakes and try this sinful blueberry pancake made with soya flour, soya milk, sugar alternative and blueberries! It isn't just a delicious treat but a healthier alternative too.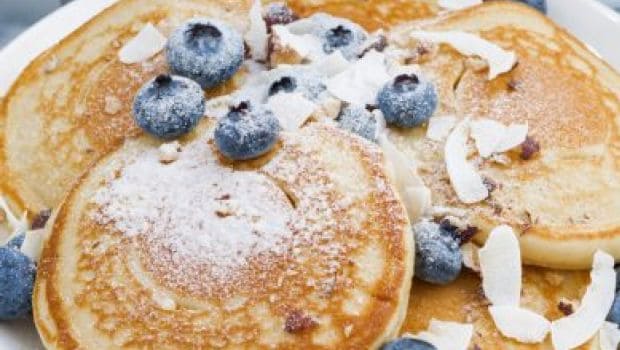 Blueberry Sweets: This one is a filling, healthy yet a delightful eat for those morning treats.
This one is a decadent treat to the taste buds and a perfectly satiating dessert for all those with a sweet tooth. A combination of chocolate, blueberry and almonds, here is a delicious cake recipe, topped with chocolate mixture and sifted cocoa. A rich dessert that might require time and effort but would be worth all of it!
Blueberry Sweets: A perfect sweet treat to prepare for your next dinner party at home.
Craving ice lollies packed with decadent flavours? Here's a lovely vegan popsicle recipe that you may prepare at home without any hassle. Blueberry coconut popsicle is made with coconut milk, almond milk, blueberries and a hint of maple syrup that is sure to get your taste buds crave more. In not more than half an hour, you can prepare these popsicles at home and surprise your family post dinner.
Blueberry Sweets: Keep cool this summer with this healthy, vegan dessert.
Now, that we've got you covered with some of the most delicious blueberry recipes, try these at home and let us know your favourite one in the comments section below.
About Aanchal MathurAanchal doesn't share food. A cake in her vicinity is sure to disappear in a record time of 10 seconds. Besides loading up on sugar, she loves bingeing on FRIENDS with a plate of momos. Most likely to find her soulmate on a food app.