Images via ZomatoThe tables are set, menus are revamped and the food is ready to be served. High-on-vibe and low-on-the-pocket, South campus eateries are all set to welcome freshers and old loyal customers alike. These cafes and restaurants fit perfectly - like a jigsaw puzzle - in those compact streets, with peppy decor to grab your attention.
Streets of Satyaniketan and hubs like Hauz Khas have lots to offer. From smoked and spicy tandoori momos to stupefying 25 variants of Maggi noodles, mouth-watering shawarma and much more, the list is simply exhaustive and studded with bold combinations to appeal to the newbies on the campus. Then, there are pizzas and pastas accompanied by a wide range of milkshakes or Virgin Mojito and other mocktails served chilled in the trendsetting mason jars. Expanding the list further, are our Amar colony ke Chole Bhature, and Sanjay ke chur chur naan situated around the corner of Moolchand Metro station.
Just so you don't miss out on the best, we give you top 10 places to visit in and around south campus this college season.1) Big Yellow Door: This place needs no introduction. Not only is the restaurant a hit among the college crowd but attracts customers from elsewhere as well.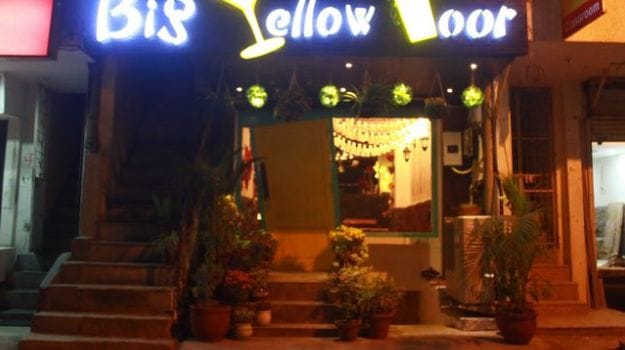 "Our emphasis on hard work, prompt service and maintaining the quality of food keeps us strong. We have footfall of 100+ people daily, so if we are doing great it's all because of the good word that the brand enjoys," Manager Kishan Gupta.
BYD Cheese "BOMB" Burger, Butter Chicken Pizza and Baked Nachos are some of the bestsellers one can try here along with the Rocky Road Shake and the Kit-Kat Shake.
Cost for two people: Rs. 600/-
Address: H 8, Satyaniketan Road, Opp. Venkateshwara College, South Moti Bagh, New Delhi

2) Scooter on the Wall: The cafe actually has a shiny, silver scooter adorning its wall! On the busy streets of Satyaniketan, this automobile-inspired cafe sets itself apart with its fusion food, continental dishes and a versatile menu. Their menu is studded with interesting food items named in a way to make a mark on your mind.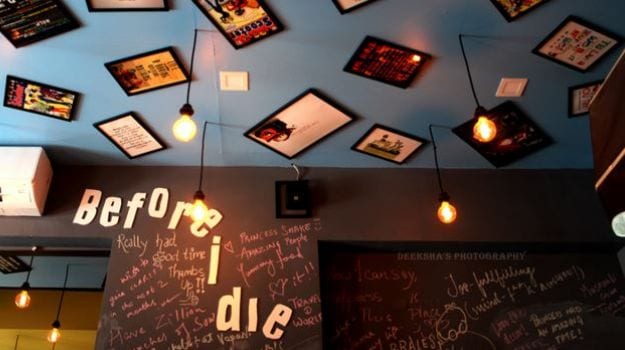 It is well known for its wide range of shakes. Lamb burger and lemon grilled fish are the highlights. "Our Menu is quite unique, it's a fusion of Indian and Continental food, we also offer steaks, this truly sets us apart," says the owner, Sachin Arora.
Cost for two people: Rs. 800/-
Address: 123-124, Ground Floor, Satyaniketan Road, New Delhi

3) QD's: The place is well known for its tandoori momos , but if you wish to live dangerously, try the lemon chicken fry and burnt garlic fish. QD's provides you with appetite-filling Indian cuisine. A wide variety of platters is available here, from Butter Chicken to Dal Makhani.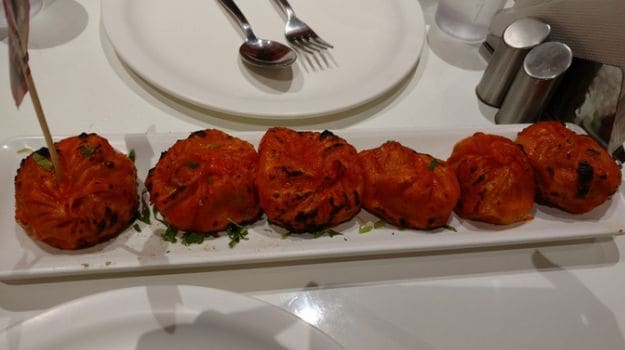 Image Credits: Mansi Malhotra/www.foodiye.com

Cost for two people: Rs. 700/-
Address: 294, Satyaniketan, South Moti Bagh, New Delhi

4) Woodbox Cafe: The wooden décor of the café does justice to the name. Situated at the end of the street of Satyaniketan, this cafe shouldn't be missed.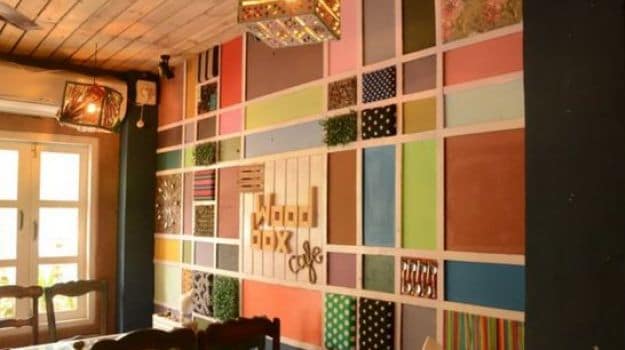 'Mother of Chicken Burger' is a must try here. The humongous burger stuffed with sliced chicken and accompanied by fries and coleslaw is a meal for two. Strawberry- Oreo shake shouldn't be missed either.
Cost for two people: Rs. 750/-
Address: Shop 18, Opposite Venkateswara College, Satyaniketan, New Delhi

5) Echoes: Eat. Engage. Energize. This is a cafe with a cause, highly appreciated for its innovative attempt. It is managed by differently- abled staff. They have switches on each table which light up the bulb and people can communicate their order with the help of placards.


Mac and Cheese Balls, Mexican Pizza topped with nachos and Choco Death Shake served with a smile are best loved by the customers.
Cost for two people: Rs. 500/-
Address: Satyaniketan, South Moti Bagh, New Delhi

6) Diggin: A restaurant with versatility, a variety of delicacies adorns its menu. From Seafood Risotto, Fried Prawn Calamari, Zucchini fries to All Pork Sandwich, Bacon Strips and more, soak in the beautiful ambiance with golden flex light glowing all over the place, making it look like fairyland. Take a sip of the Mint Oreo Shake with Hazelnut Pie to complete your meal.


Cost for two people: Rs. 1,350/-
Address: No.1 & 2, Anand Lok Shopping Centre, Opp Gargi College, New Delhi
7) Hunger Strike: Synonym for Tandoori Momos. If you like those stuffed little dumplings with spicy red chilli chutney, head this way, please. This place is a must for you. Sometimes it's not about the elegance, the pomp and show, but lip-smacking food coming your way upright and straight. If you happen to pass by this joint, do not skip the tandoori chicken momos.


Cost for two people: Rs. 500/-
Address: C-9, Amar Colony Main Market, Lajpat Nagar-IV, New Delhi
8) Old Town Cafe: A small little down to earth cafe. It is famous for its cupcakes. After tiring college classed, this cute little place will treat you with refreshing coffee. Grab a quick bite of sandwiches or waffles and you're good to go.


Cost for two people: Rs. 800/-
Address: 111, Shahpur Jat, Siri Fort, Near SBI, New Delhi

9) The Bounty: In the middle of all the Italian, continental and western food fair, the bounty will cater to the traditional North Indian and Chinese food lovers. The restaurant is liked by students and loved by families alike. Try out their Chicken Drums of Heaven and assorted Indian breads. Finish your meal with the ever-green Indian dessert, Kulfi.


Cost for two people: Rs. 700/-
Address: 282, Benito Juarez Marg, Satyaniketan, South Moti Bagh, New Delhi

10) Young, Wild and Free: A warm and cozy place which not only takes care of your food but also brings back your childhood. Grab a book to read or play a game of Ludo or Spellex with your friends, this place has a cool vibe. Sultan of Swings, Turkish Chicken and Cloud no. 9 are some of the bestsellers here.

Cost for two people: Rs. 500/-
Address: 1st floor 13, Satyaniketan, Moti Bagh South, New Delhi