Eggplant Recipes: A not-so-popular vegetable, aubergine in England, melanzane in Italy and brinjal (baingan) in India, eggplant is a teardrop-shaped, glossy vegetable that belongs to the nightshade botanical family. Just like many names, eggplant is native to many countries. From India, Burma to China, eggplant is popular across Europe as well. While many of us would think of eggplant to be a vegetable but it is actually a fruit that is usually cooked as a vegetable for a savoury dish.


Due to a slightly bitter and acidic flavour, eggplant recipes are not preferred by many. But cooking it the right way may change your perception for this delight. If you've grown up in an Indian household, you would be well-versed with the smell of burning or roasting the eggplant, which is done to make it soft from the inside. It results in a mushy pulp that is used to make the Indian main course dish baingan ka bharta.


While Indian eggplant recipes are usually prepared for main course, you would often find other cuisines using it for everything from breakfast to accompaniments. From delicious aubergine dips, eggplant stews, croquettes to salads, the list is endless. There are many creative ways to cook eggplant. If the versatility isn't enough to embrace the deep purple-coloured vegetable, the benefits would definitely make you fall for it.
Here are some amazing health benefits of eggplant that makes it a great choice for your next meal:
1. Aids Weight Loss: Being low on calories and carbs, eggplant might just be the perfect dish to prepare if you are aiming for weight loss. Saponin present in it is also known to prevent fat accumulation, which may aid in the process of weight loss.


2. Heart-Friendly: Presence of anthocyanins, a pigment that imparts the purple colour in eggplant, help in functioning and strengthening of heart.


3. Rich In Antioxidants: Anthocyanins also help in fighting free radicals in the body preventing the growth of cancer cells.


4. A Natural Laxative: Being extremely rich in fibre, eggplant also aids in the functioning of our digestive system by acting as a natural laxative.


All these and more health benefits can surely give you reasons to cook and eat eggplant. And for cooking eggplant into delectable recipes, we have got you the best of eggplant recipes that you can try at home.
Here are 5 Best Eggplant Recipes To Try At Home:
A Sicilian eggplant recipe with the flavours of carrots and celery, caponata has fried eggplant sautéed with onion, capers, tomato puree and vinegar. It is simmered in wine and a dash of cocoa till thick in true Italian way. Caponata gets better if you chill it overnight and serve the next day.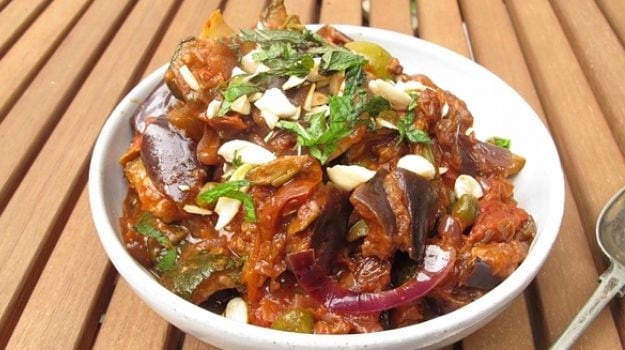 Eggplant Recipes: Caponata is a fried eggplant stew known to have originated in Sicily, Italy.
A true blue Indian dish, bagara baingan masala (baghaar-e-baingan) is a Hyderabadi special that is served along with biryani as a side dish. Deep-fried eggplant cooked in tangy, spicy gravy with a myriad of spices. It is a perfect curry dish to serve with biryani or rice for your next meal.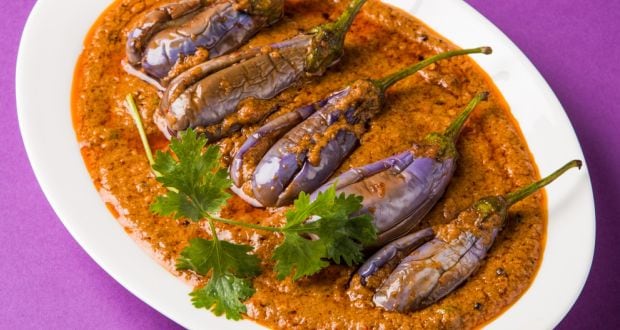 Eggplant Recipes: Fried eggplant in flavourful gravy, this is also popularly prepared in the Andhra region and called as Gutti Vankaya Kura.
A mouth-watering Chinese dish! With the goodness of veggies and cottage cheese stuffed inside, eggplant is deep-fried and tossed in the delicious sauce prepared with garlic, ginger, onion, oyster sauce, rice wine, chilli, vinegar, sichuan pepper, tomato ketchup and stock water. Pair this with rice for a hearty Chinese meal.
Eggplant Recipes: A delectable stuffed eggplant recipe to spruce up your next meal.
A typical Indian eggplant recipe, baingan ka bharta is one of the most common eggplant dishes that is prepared across Indian homes. Smoked eggplant mashed and cooked with a host of spices, tomato, onion and yogurt. Serve with piping hot parathas.
Indian Eggplant Recipes: This baingan recipe is quick, easy and too delicious to ignore!
A winter delight, charred eggplant soup has a variety of spices and herbs blending well with the flavour of grilled and mashed eggplant. Cooked in tomato water and seasoned with salt and black pepper, it is then blended into a thick soup.


(Also Read: 11 Best Soup Recipes - A Meal in Minutes | 11 Top Soup Recipes)
Grilled Eggplant Recipes: Eggplant seasoned and char grilled, combined with tomato water and other seasonings to give you a tasty soup.
These eggplant recipes are sure to make for a delicious meal when cooked well. Try at home and let us know your favourite one in the comments section below.
About Aanchal MathurAanchal doesn't share food. A cake in her vicinity is sure to disappear in a record time of 10 seconds. Besides loading up on sugar, she loves bingeing on FRIENDS with a plate of momos. Most likely to find her soulmate on a food app.