How can we ever say no to
crispy, steaming hot dosas
or those
feather-light idlis
, soul soothing
sambar
, stews and
avial
?
South Indian food
has always delighted me, even though I grew up in Uttar Pradesh. I believe I have a karmic connection with South India through its food. It has never failed to excite my taste buds and awaken my senses to its bold flavours, always making me crave for more. From
Kerala
and
Tamil Nadu
to Karnataka, Andhra Pradesh and Telangana, all of South India strikes a perfect balance when it comes to creating their culinary jewels - vegetables, meat and seafood, all assume central character in
South Indian cooking
. While the
Malabar cuisine
is studded with brilliant seafood specialties,
the vegetarian fare
served in the Udupi region of Karnataka could very well be food of the gods. Geography, culture, as well as the availability of regional ingredients segregate these states in terms of their culinary techniques and practices. Kerala makes extensive use of
bananas
and
coconut
in their preparations.
Curry leaves
and mustard seeds are used generously across states. Interestingly, ingredients peculiar to a region render its cuisine a special and unique identity.
Guntur
chillies and
gongura
leaves go into making some seriously lip-smacking
Andhra specialities
while
kaplasi
, a rare spice, adds magic to the most
celebrated Chettinad food
of Tamil Nadu.All in all, South Indian cuisine is a mega exhibition of regional food cultures, all distinct and full of variety. The dishes are prepared in such a way so as to ring all the right notes. From a
fiery Andhra pepper chicken
,
gongura mamsam
, to dreamy, edible threads that make a plateful of
idiyappam
, joyously paired with
kadala curry
. You also have a
never ending list of dosas
and their many regional variants accompanied by delectable chutneys and
pachadis
. And to bring the gourmet affair to a sweet end, you get a range of sweets and oh, not to mention the
delectable payasams
!If you love South Indian food and live in the Northern part of the country, you are certain to miss those exquisite flavours in your daily meals. For all those hopelessly in love with good food, authenticity is never to be compromised upon. We have good news though, we understand your plight. Here is a
curated list of places
that will serve you traditional South Indian delicacies right here in the Capital city. While some of them may be well-known food chains, others are local, low-scale traditional eateries nestled in the busiest corners of the city. Some were obvious choices for the list, a few others were discovered by me and my friends while on a passionate hunt to get a taste of traditional South India.
Each one of these is my personal favourite. I go to these to dig in to some comforting South Indian meals that are exceptionally satisfying. Just in case you have a certain favourite that you think should've been featured on the list, do share it with us in the comment box below.
Carnatic Cafe
If you dream of CTRs
benne dosa
from
Bengaluru
, this is the closest you can get to it in Delhi. This small eatery is bursting with aromas of typical Udupi delicacies. Each and every item on the menu is a must try. High on the taste quotient and fairly reasonable on the pocket, this place is charming and the kitchen, excellent.
Image Credits: Zomato/Ankita
What I love the most: Ragi dosas, Bombat, Malleshwaram Dosa
Cost for two: Rs 600/- approx.
Where: Ground Floor, India Mall, Community Centre, New Friends Colony, New Delhi
Mahabelly
I really cant stop raving about this restaurant. Not only do they get their food right, they have an ambience that will make your meal quite an experience. I frequent this place quite often and have a set order now that I have tried almost everything on the menu. Apart from getting a bite of authentic Kerala food, you can also sip on some of the finest alcohol from their Mala-bar.
What I love the most: Prawn Polichathu, egg appam, shaapu meen curry, filter coffee. You can also try the unlimited thali served every day between 12.30-3.30 pm.
Cost for two: Rs 1000/- approx.
Where: MA-A05, Ground Floor, Restaurant Block, DLF Place Mall, Saket, New Delhi 110017
Saravana Bhavan
You will have to struggle quite a bit to get in, but once you are in, you will have a one-of-its-kind, lip-smacking journey. From sensational
dosas, upma, uttapam, idli, idiyappam
to
payasam
, shakes and much more on offer, Saravana Bhavan serves you flavours from Tamil Nadu that will be embedded in your memory.
Image Credits: Zomato/Amit Chauhan
What I love the most: Idiyappam with side dish, filter coffee, thali, mysore pak, onion rava masala dosa
Cost for two: Rs 600/- approx.
Where: Outlets in Connaught Place, Janpath and Select City Walk, Food Court
Coast Cafe
A trendy joint tucked away in Hauz Khas, Coast Cafe offers you Malayali food along with continental dishes and a selection of beverages. The quality of food here is impeccable. The ambience is hip and the food is soulful.
Image Credits: Zomato/Pranav Singh
What I love the most: Malabari prawn curry, appams, mutton sukha, Malabari Parotta, Kerala Grilled Chicken
Cost for two: Rs 1500/- approx.
Where: Coast Cafe Hauz Khas Village, Delhi NCR, India address, H-2, 2nd & 3rd Floor, Hauz Khas Village, New Delhi
Andhra Bhawan
For the love of fiery Andhra fare, we suggest you eat your heart out at Andhra Bhawan. More of a canteen, Andhra Bhawan is bustling and you may have to share a table or wait in line for one. The menu is fairly limited but the
thali
makes up for it. Though getting in can test your patience (quite literally), eating here can be quite an experience in its own.
What I love the most: South Indian unlimited thali with mutton fry on the side, Hyderabadi Dum Chicken Biryani
Cost for two: Rs 400/- approx.
Where: 1, Feroze Shah Road, New Delhi
Dakshin
Dining here is splendid. This fine dining restaurant will not let you down - right from its ambience, service and stellar dishes on the menu to the flavours seeped into each preparation, dining at Dakshin is a must for anyone who loves traditional South Indian food. The menu is quite extensive, giving you ample options to choose from the best loved Chettinad dishes, Andhra specialties and Kerala dishes to the yummiest lots from Karnataka.
What I love the most: Almost everything here is spectacular; however, you must try the following: Meen Varuval, Dakshin Yera, Chettinad Chops, Bendakai Pulusu, Ghongura Mamsam, Badam Halwa
Cost for two: Rs. 4000/- approx.
Where: Sheraton New Delhi Hotel, District Centre, Saket, New Delhi
Naivedyam
With six operational chains sprawled across the city, the restaurant delights you with a wide range of rice based as well as
rava dosas
. You can also try their
uttapams,
traditional rice preparations, signature
thalis
, and
payasams.What I love the most: Naivedyam Maharaja Thali, Bisse Bile Bhat, Appam Kurma, Holige
Cost for two: Rs 800/- approx.
Where: Multiple outlets
The Toddy Shop
A person who holds deep affinity towards Kerala food won't take any messing around with it - I happen to belong to that very category. Enchanting yet intriguing, The Toddy Shop might be difficult to locate in the ever-busy HKV, but once you visit it you are sure revisit. With simple decor, the restaurant promises you a memorable, Malabar meal.
What I love the most: Chemeen Moilee with Appam; Pothu Erachi Varattiyathu; Kothu Porotta; Kozhi Varathadu
Cost for two: Rs 1500/- approx.
Where: 1-A, 2nd Floor, Hauz Khas Village, New Delhi 110016
The Malabar Experience in Bustling Govindpuri
A couple of small eating joints here specialize in authentic Malabar cuisine. Eden Garden and Kerala Food Channel cater to the nearby Malayali population and other Kerala food lovers in this part of town. If you happen to visit the bustling area anytime soon, look out for these small eateries to gorge on some feather-light Malabar
parottas, appam, idiyappam, kadala curry
, egg and chicken roast,
erachi
curry and - my favourite -
kattan kapi
and
chai
(Kerala black tea and coffee). Dining here would cost two people close to Rs. 300 (a steal).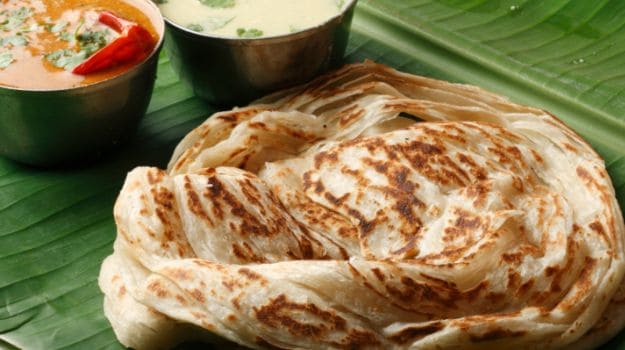 Image Credits: iStock
Eden Garden: 58, Main Central Market, DDA Flats, Kalkaji, New Delhi 110019
Kerala Food Channel: 1220/52, DDA Flats, Ground Floor, Near Bus Stand, Kalkaji, New Delhi
The list above includes restaurants that serve only South Indian food. There are many other restaurants in the city which don't do mainstream South Indian cuisine (or have an array of cuisines on their menu) but have a few delicacies on offer that are simply outstanding. Some of the most noticeable ones that we recommend include
Pondicherry Fish Curry at Cafe Lota
,
Sri Lankan Prawn and Idiyappam at Farzi Cafe CP, Kerala Fish Curry in Coconut Milk at Indian Accent
and
Pandi Curry at Ek Bar.