The name Lavaash brings to mind the
Mediterranean
region, the blue and white hues of this
restaurant
reinforcing the same. However, the moment I heard that the food was Armenian with
Bengali
influences, it left me puzzled. And as I journeyed through the meal, along with Chef Saby's anecdotes about his childhood, it helped me glimpse through the unique culture of Armenia, which isn't too known in India.The Armenian community in
West Bengal
reportedly goes back 300 years. Growing up, Chef Sabyasachi Gorai (known popularly as Saby), studied in schools run by Armenian staff and never really thought too hard about it. It was only when his father published a book in 2013 that all these memories came flooding back. Months of research later, this talented young chef, known for transforming the kitchens at Olive and SodaBottleOpenerWala, decided to start off on his own. The result is a bright and delightful space sprawled all over Ambavatta One, Mehrauli.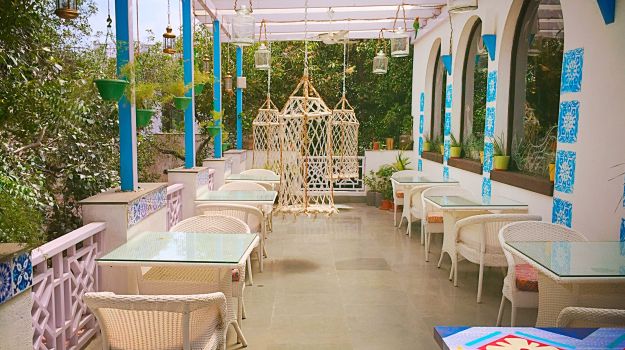 Lavaash, run by Chef Saby and Chef Megha, is not just another pretty
restaurant
in the area. Pretty it is, undoubtedly, with the bright peacock motifs, hues of blue and white and a stunning outdoor seating space that would be just lovely in the winters. But it is more than just a pretty face. It has a soul which attempts to connect the chef's life journey, his interactions with the Armenian community, his skills honed in some of the best restaurants in India and bring all of that together on a plate for the diner.The menu is extensive and has a decent splattering of
appetisers
, small plates, a section called Tolma not Dolma (it literally says that), main course and dessert. Though the restaurant boasts of a beautiful bar section, the liquor menu is very limited as of now. We were offered a choice between
Sangria
and
Scotch
, Delhi's weather suggesting we stick to the former. Of the Cherry Sangria, Pomegranate Sangria and the Red Grape, the Cherry White Wine Sangria stood out. All of them looked gorgeous, garnished with long
cinnamon
sticks. The perfect start to a relaxed Sunday lunch. Chef Saby shared that he does plan to build on the sangria menu and add a couple more varieties before delving into other
cocktails
. We look forward to that.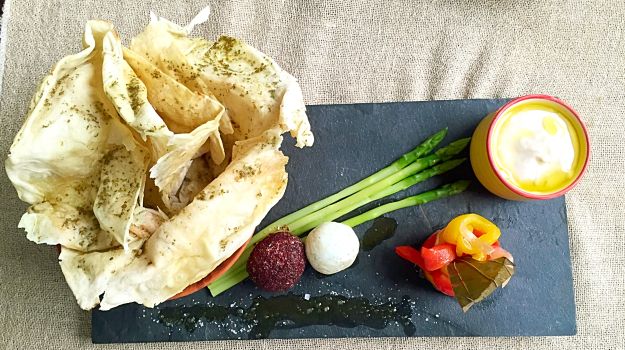 The Asparagus and Labneh
We started with the Lavash (freshly baked, crispy, scrunched up bread) served with white bean
hummus
(Rs.200). Unlike the better known chickpea hummus, the Armenian version was smoother and yet had the perfect sesame kick from the
tahini.
The Asparagus and Labneh (Rs.350) offered two varieties of
labneh
(which is essentially a dip made with hung-curd) creatively rolled into balls. Served with lavash, roasted
peppers
and
asparagus
, it did not live up to the standard set by the hummus. I would also have preferred the asparagus to have more of a bite and not be so limp, so that I could enjoy it with the
labneh
.The Peasants Wrap (Rs.300), on the other hand, was absolutely delicious. Light lavash rolls, perfect for a light snack or to accompany your drinks, these were sprinkled with an outstanding spice-mix which deserves a special mention. Reminiscent of Kolkata, albeit with the chef's twist, another great dish was the one called 'My Egg Devil'. Saby's take on the
devilled eggs
, this one is a technical masterpiece with a perfectly gooey soft-boiled egg coated with chicken mince, crumbed and fried crispy. Served with
kasundi,
which complements the dish perfectly, it is a visual masterpiece as you slice through the egg, as well as a treat for your taste-buds. One can only imagine the R&D that would have gone behind perfecting the temperature and the technique to ensure that the egg remains soft boiled while the chicken mince cooks perfectly. A must-try.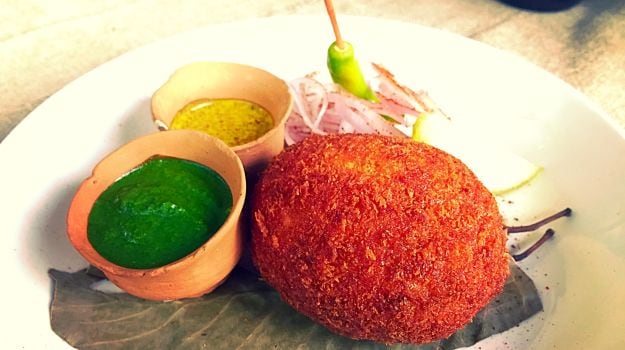 My Egg Devil
For mains, we tried the Mutton Rezala (Rs.400), a white
gravy
dish that is flavourful and soothing. Pair that with the Buttered Govindbhog Rice (Rs.100), the traditional
rice
from West Bengal, add a bit of
kasundi
for flavour and you have yourself a winner.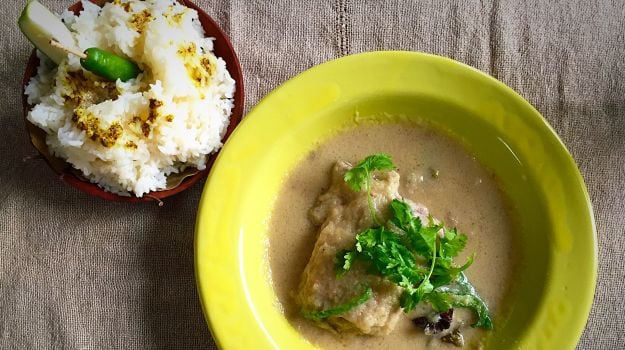 Mutton Rezala
The lovely vibe of the place also suggests that you could drop in only for
wine
and
dessert
. Though the dessert menu is fairly limited and predictable, we suggest you skip the Chocolate Mousse and instead go for the upside-down Orange Pound Cake (Rs.350) served with Nolen Gur Ice Cream. The cake is moist and dense with tart caramelised orange slices cutting through the rich and exceptional
Nolen Gur Ice Cream
. The perfect end to a delicious meal.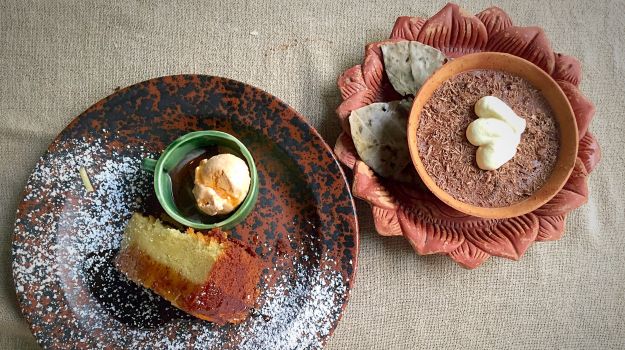 Orange Pound Cake and Chocolate Mousse
The area around Qutub Minar has become synonymous with aesthetically beautiful restaurants which unfortunately often disappoint the palate. Lavaash, thankfully, promises to break that stereotype. With its bold interiors, subtle flavours, atmospheric outdoor seating and owners who are passionate about every plate that leaves the kitchen, it is a refreshing addition to Delhi's eclectic dining scene. There may only be 200 Armenians left in India (most of them settled in Kolkata), but by offering their food and culture to diners on a plate, Chef Saby has successfully ensured that their legacy shall live on, strong and proud.
Meal for 2
: Rs.2,500 (without alcohol)
Location:
In the same complex as En and Manish Malhotra's boutique, within Ambavatta One, almost opposite Qutub Minar.
Must Haves
: My Devil Egg, Peasant Rolls and the Orange Pound Cake. Do not forget to season your food with the kasundi as well as the Lavash spice mix.
We look forward to
: Nippy evenings during Oct-Feb when one can enjoy the sprawling terrace with stunning views of the Qutub Minar.
Disclaimer: NDTV Food reviews anonymously and pays for meals.