It's no secret that
Parsis are fond of their food
; no Parsi can resist a tasty morsel no matter where it comes from. Accordingly, they have negotiated their complex identity by plucking and borrowing from various traditions and cultures, shaping their cuisine accordingly into a hybrid fusion. Nowhere is this more apparent than in their snacks, with its strands of
Gujarati
,
Maharashtrian
, British and Dutch food. So entwined were the Parsi identities with their snacks that they even adopted surnames such as Cakewala, Confectioner and Paowala.One of the most famous bakeries,
Dotivala
in Surat, is perhaps the most eloquent example of braiding together two culinary cultures. Surat, once inundated by Dutch colonies looking to trade, boasted of a bakery run by five Parsis,
baking all manner of goodies
for the homesick Dutch. Well, the Dutch scooched over when the British came by, but the bakery stayed open, baking the bread and biscuits and
cakes
that it always had. Demand fluctuated and the old, hard bread, became more popular than the soft fresh one, eventually transforming into the rusk-dry Irani khari biscuit. In its wake came the sweet, rich
nankhatai
biscuit, which the Dotivalas also invented. The
nankhatai
itself was born from the Scottish shortbread that was then adulterated with crowd-pleasing flavours such as cardamom, cashews, almonds, and pistachios.Bhicoo Manekshaw, in
Parsi Food and Customs
, writes "From Surat, we get the
khari pur ni biscot
(light flaky, salt biscuits),
batasa
(crisp round biscuits - sweet or salted with a cumin flavour),
nankhatai
(a rich shortbread) and macaroons with
almonds
and
cashew nuts
which are small, round and delightfully crisp." All of these are taken as part of afternoon tea, a most English gastronomic ritual in itself.Pune too, is home to
many biscuits
beloved of the Parsis. "A visit to Pune is incomplete without buying the famous Shrewsbury, ginger and butter biscuits to take back home," she writes in 1996, but it remains true to this day. However, if you, like me, are a Mumbai-dweller, there is no better than
Paris Bakery
in Dhobi Talao for its Parsi biscuits. Paris makes light, papery rusk and
khari
biscuits but it is most famous for its
maska batasas
, which, as their name suggests, are drenched in butter, with a sprinkle of jeera. The health-conscious can try the regular
pani na batasas
, but they don't hold a candle to their buttery brethren.Pune's famous ginger biscuits make their foray into Mumbai at quaint old
Yazdani Restaurant and Bakery
, also in Dhobi Talao. Yazdani's
ginger biscuits
are laced with a heavy hand of ginger, then baked in a large wood-fired oven and eaten with a cup of steaming chai.
RTI (Ratan Tata Institute)
has various branches across Mumbai and are the purveyors of some of the most delicious snack items. At RTI, you find all snacks beloved of all Parsis -
almond macaroons
,
cheese straws,
nankhatai
,
bhakras
(a crumbly, sweet, fried bread to be eaten at tea time), dense, rum-soaked cake balls,
chapat
(pancake; see recipe below) and
khari
biscuits. RTI also sells my favourite chicken crust
pattice
(Parsi grandmother-speak for patties), although they aren't strictly patties but rather more like tiny pies; a creamy chicken filling wrapped in flaky pastry crust is my idea of heaven.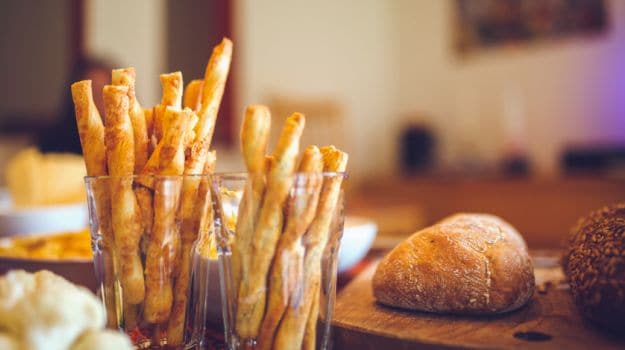 You also get exquisite chicken pattice at
PAC
, a tiny stall in Grant Road. PAC stands for Parsi Amelioration Committee and their freshly-made concoctions are sold out within hours. PAC also sometimes has
patrel
, which is a lot like the Maharashtrian
aloo wadi
and the
Gujarati patra
- a spiral of steamed, stuffed
colocasia
leaves. Bring it home and crisp it on the
tawa
, then eat. Also try the dense
kumas
cake and the sweet date-filled
ghari.
RTI and
Belgaum Ghee Depot
(in Nana Chowk) are both suppliers of the
dar ni pori
- stout flaky pastry, stuffed with sweetened
dal
mixture and flavoured with
elaichi
and
jaiphal
. The thing is to eat them hot and fresh.This leaves us with the
popatji
, which is a peerless Parsi fritter that is unfortunately, not quite as robust in Parsi memories as the ones I've mentioned above. The
popatji
is similar to the
bhakra
, but it isn't quite as dense. In fact,
popatji
are far lighter, sweet and not very heavily fried. They are best eaten fresh off the stove. Another snack that has fallen somewhat off the radar is
hariso
, which is a sweet made with cracked wheat and nuts. Then there are also the coconutty dumplings we call
khaman na larva
and
sadhna
, which is a steamed cake made with rice flour and toddy and served with cream or
hariso
. At one point,
my favourite snack
used to be my great aunt's
kera na karkaria
(a sort of fritter, made with bananas), which cannot be bought from a shop - they must be made at home and eaten right away. Here's a recipe to try at home -
Chapat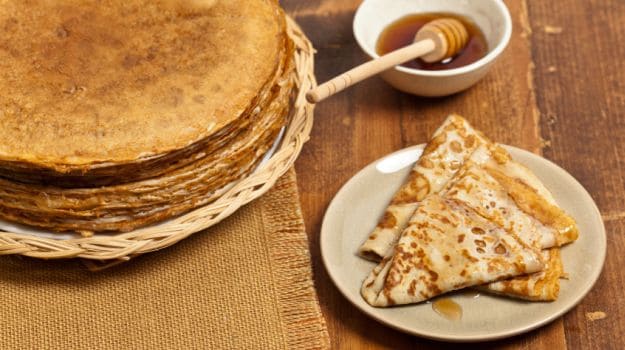 Ingredients:
3 eggs
1 cup maida
1/2 coconut
10/12 almonds
3 tsp powdered sugar
1 and 1/2 tsp rava
1/2 tsp
ghee
+ for frying
1/2 tsp elaichi + jaiphal
Method:
1. Melt the 1/2 tsp ghee on the fire. Add 1 cup water in the grated coconut to extract thick coconut milk (the first extraction).2. Blanch and peel almonds, chop finely.3. Beat eggs, then add sugar. Then add maida and rava and mix.4. Add in the melted ghee and coconut milk, a little at a time until fully mixed. When the mixture thickens to that of a dosa mixture, add the almonds and spices. Cover for 1 and 1/2 hours and set aside.5. Heat a tawa lightly, then add ½ tsp ghee. When it melts, spread the ghee around. In a small ladle (kacchi) spread the batter like a pancake. Keep the flame low. When the bottom layer reddens, turn over and cook. Then fold pancake in half and then into a quarter and serve.
About the author:Meher Mirza is an independent writer and editor, with a focus on food and travel. Formerly with BBC Good Food India, she loves anime, animals and artsy things but also comics, technology and death metal.Disclaimer:The opinions expressed within this article are the personal opinions of the author. NDTV is not responsible for the accuracy, completeness, suitability, or validity of any information on this article. All information is provided on an as-is basis. The information, facts or opinions appearing in the article do not reflect the views of NDTV and NDTV does not assume any responsibility or liability for the same.