Every year during the holy month of Ramadan, Old Delhi becomes a delightful paradise for food connoisseurs. The charming lanes of old Delhi during Eid is filled with a mesmerizing, hearty aroma of delicacies like lip-smacking biryani, drool-worthy kababs, dulcified sharbats and more. Old Delhi, during Eid, transforms completely into a festive masterpiece where one can experience the true essence of Eid-ul-Fitr. Ramadan, which is the holy month of Islam is celebrated wholeheartedly worldwide with lots of zest and enthusiasm. 30 days of both fasting and feasting ends with a lavishly luscious celebration of Eid-ul-Fitr, which is a festival of breaking the fast (Roza). Eid is a festival that marks the end of the holy month of Ramadan and is celebrated with family, friends and of course, loved ones; making it one the most celebrated festival across the world.


Make this Eid, a special one by heading to the very famous and fascinating eating joints of Purani Dilli for some soulful feasting:
1.Haji Mohd. Hussain Fried Chicken
Fried chicken and KFC sounds synonymous, doesn't it? But, not really for us Delhiites because we have Haji Mohd. Hussain Friend Chicken, which has been dishing out fried chicken in Delhi far longer than KFC. This 40-year-old eatery is located in the hustling, bustling lanes of Jama Masjid and serves the best fried crispy crunchy chicken in the city. It is served best with tantalising tangy masala chutney and onion rings. During the holy month of Ramadan, keema goli is one of the most savoured festive additions to the menu, which are basically delectable minced meat balls and are relished mostly during iftaar.
A Plate of hot spicy fried Chicken
​
2.Aslam Chicken Corner
We Delhiites can never have enough of butter chicken. We love butter chicken to an extent that it now has become an unannounced staple delicacy of ours.


This particular eating joint located in Jama Masjid has been Delhi's favourite for more than 18 years. The uniquely distinct method of preparation and a lavish mélange of ingredients makes it a mouth-watering savoury.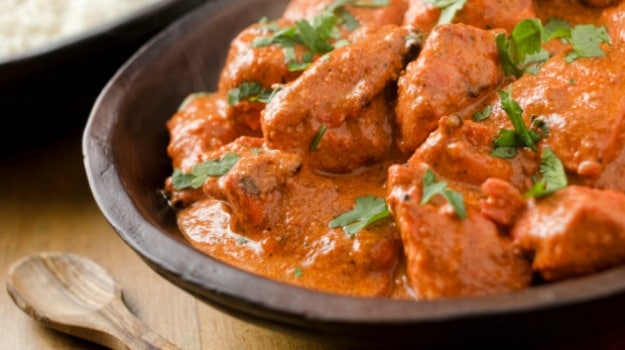 Dreamy creamy butter chicken
3.Kebabs at Qureshi
Simmering aromatic taste of these succulent kebabs can be therapeutic for not only a foodie's taste buds but also for its foodie soul. And, kebabs at Qureshi never disappoint in satiating our cravings. Located right opposite gate no. -1 of Jama Masjid, which is enormously famous for seekh and boti kababs, this age-old eating joint is quite affordable and crowdy especially during Eid.
Grilled succulent kababs
4.Changezi Chicken
Marinated roasted chicken shredded into boneless pieces dipped in a drool-worthy spicy flavoursome tangy gravy of yoghurt, tomatoes and onion is what Changezi Chicken. The popular eatery, Changezi Chicken, was established as Hotel Maidah years back. The name was later changed because of the enormously increasing popularity and demand of their signature dish i.e. changezi chicken. Located in Churi Walan Gali, Daryaganj, this place is famous for its various mutton, beef and chicken delicacies like beef biryani, paya nihari and various chicken dishes as well.
Changezi Chicken
5.Laung Churey Kabab
All you vegetarians out there, we understand your struggle to find something toothsome and vegetarian at the same time during the lavish feasting of Ramadan or Eid. Your struggle is over now because we have got you an escape. Now, hog on some hot piping vegetarian meals with a great taste.. Confused?


An old, little stall near Chitli Qabar, which is nearly 20 years old, sells some delightful mouthwatering vegetarian kebabs made up of besan (gram flour), maida (all-purpose refined flour), onions and a mélange of spices. These are best served with some spicy chutney made up of red chillies. The rates are quite cheap - just 20 bucks for a plate of piping hot kebabs. This place is usually over crowded during Ramadan and Eid.
Delectable vegetarian Kababs
​
6.Nawab Quereshi's Watermelon Shake
Famously known as 'Pyaar Mohabbat Sharbat', this refreshing cool drink is a concoction of fresh milk, rose syrup and freshly cut watermelon cubes, giving it a delightful freshness. This pink coloured refreshing drink costs just Rs. 10 per glass and is filled with the aromatic essence of love, affection and fun. It is not only available during Eid but is available all summer long near Jama Masjid.
Refreshing rosy pink sherbet
​
7.Pehalwaan Biryaniwala
Popularly known as Biryani Mirch Masala, this eatery is located right opposite the very famous Ameer Sweet House in Haveli Azam Khan. Everything about this eating joint is unique. The shop opens at around 5 pm and sells biryani till 2 am in the morning. The lip-smacking biryani is prepared by the popular 'dum' method and is served best with some tasteful raita and onion rings.
Aromatic Scrumptious Chicken Biryani
8.Al Jawahar
Authentic Mughalai food at Al Jawahar is all you need to celebrate the festival of Eid. Located near Jama Majid, this legendary eating joint is a suitable place for Epicureans. Enormously famous for its mutton and chicken delicacies, Al Jawahar is known for its distinctly prepared mutton stew, which is slightly spicy with a hint of strong flavoursome spices used. It also serves some scrumptious sheermal(a sweet bread), chicken mutton korma, chicken jahangiri, and the list goes on. The place has a proper dining space and is quite crowded during Eid.
Marinated chicken
​
9. Karim's
We all are aware of the city's most famous Mughal culinary destination. Yes, it's the famous Karim's Hotel. This historic iconic restaurant is located near Jama Masjid and is popular all around the world for its authentically rich Mughlai delicacies. Kheer Benazir, Kababs, Bharatiya Pattal are a few dishes for which, you cannot beat Karim's, both in terms of authenticity and ethnicity.
An iconic restaurant serving the best of Mughal Cuisine
since ages.
10.Giani Di Hatti
Beating the heat with rabrifalooda at Giani Di Hatti during Eid is deeply rooted within the feasting culture in Delhi.The shop is located on Church Mission Road, near Khari Baoli and is visited humongously by ice-cream lovers during summers, especially. Served in tall glasses, falooda along with some rich nutty rabri on the top is loved by all.
Beat the scorching heat with the drool-worthy Rabri faluda
​
Ramadan is all about fasting and feasting and celebrating mankind and kindness all over the world which is culminated with the festival of Eid. Celebrate this Eid, feasting in the charismatic lanes of old Delhi, hogging on some delectable kebabs or digging in some scrumptious shahi tukda.


Have it all and enjoy to the fullest with your family and loved ones.
Eid Mubarak 2019!