An eastern Indian kitchen is rarely complete without this spice mix on the shelf; not that we add it in everything, but most dishes would be considered incomplete without it. A five-spice mix, it's called the
panch phoron
in Bengali and Oriya, and is quite commonly used in Bangladeshi, Bhojpuri and Maithili, Bengali, Oriya, and Assamese food. Comprising entirely of seeds, this
spice mix
has fenugreek
(methi),
nigella
(kalonji
), cumin (jeera), black mustard
(rai)
, and fennel (
saunf
).
In Bengal, however, the black mustard is sometimes replaced with radhuni (not to be confused with celery seeds), and black cumin seeds replace nigella. However, in some places where radhuni is not available, celery seeds are used to replace it. While the mix requires equal parts of all the spices, some households are known to tweak the ratio, depending on their taste buds.
What's quite unique about this spice mix is that it's almost always used whole, although it can be roasted and ground to make chutney, especially with mangoes, dates and tomatoes, or whole green olives. But more commonly it's used in vegetables, fish curries, dals, and even in shukto and pickles. Whatever the dish being made, the other ingredients are always added later.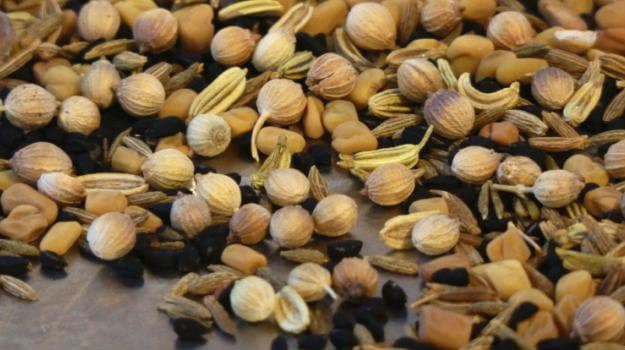 Panch phoran
A Sprinkle of Spice
What's quite interesting is that one can add panch phoron to something as simple as a stir-fried sweet pumpkin and potato dish, and get beautiful flavours and aroma from it. The flavour of panch phoron is distinctive, yet rarely does it overpower the dish. Some of the vegetables that go really well with panch phoron are potatoes, brinjal, mixed vegetables, spinach, drumstick, pumpkin, and even hyacinth beans.
A light fish curry made withCatla or Rohucan bring out the true flavors of the panch phoron because you see, each seeds has its distinct flavour - cumin is earthy, fennel is aromatic and sweet, mustard is pungent and strong, nigella is peppery, and fenugreek is slightly bitter - which when combined lends any dish more character. For example, something as basic as masoor dal can become extremely flavourful when roasted panch phoron is added to it.
Incidentally, there are some dishes in which you can consider adding roasted and crushed panch phoron. For example, in eggs, lamb or even pork curry. If you're making soup, you can use it as part of the cooking process or as a garnish too. Sprinkle some over sausages as you cook them, or if you're making a relish with strawberries, or raw mango.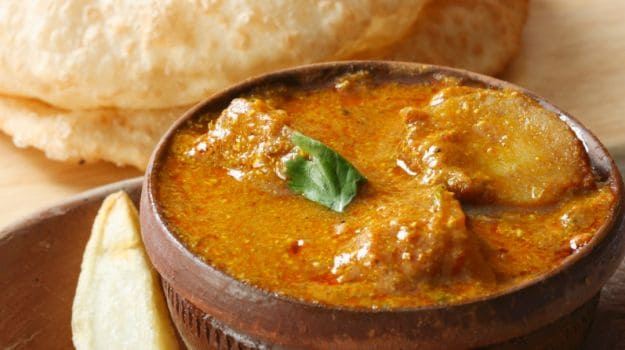 Panch phoran pairs well with potatoes
The Health Mix
Now who'd have thought that a spice mix could come with health benefits as well? But the fact of the matter is each of the seeds in the mix brings with it quite a few advantages. In fact in Ayurveda, the five spice mix is given a lot of credit for bringing good health.
For example, cumin seeds stimulate the secretion of enzymes in the pancreas, thus enabling proper digestion. They're also known to clean the liver of toxins, and are rich in iron. Mustard seeds also improve digestion, and are a good source of selenium and magnesium. While selenium helps those who suffer from rheumatoid arthritis and asthma, magnesium keeps blood pressure in check. Mustard seeds also contain omega 3 fatty acids, iron, calcium, zinc, manganese, magnesium, and protein.Fenugreek seeds are brilliant for those with diabetes. In fact diabetics are often asked to soak these seeds overnight and chew them in the morning. It lowers blood sugar levels in the body, and helps to slow down the absorption of sugar in blood. They also help to lower triglycerides. Plus fenugreek is rich in iron, and potassium.
Fennel activates the circulation of oxygen to the brain cells, is diuretic in nature and helps to flush out toxins from the body. It's rich in Vitamins A and C, and contains calcium, iron, magnesium, potassium, zinc and phosphorous.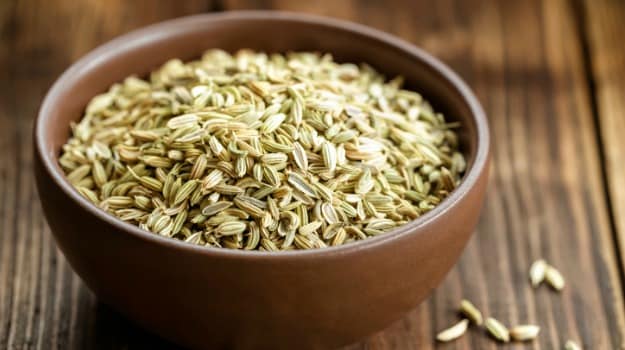 Fennel seeds
Nigella seeds are rich in beta-sitosterol, which is known to have anti-carcinogenic activity, and they also help to reduce gastro-intestinal disorders. Plus it's anti-bacterial, apart from it containing the essential oil - Nigellone - that purifies the stomach, and fuels the secretion of bile.
To make this spice mix at home, all you need is equal parts of all the seeds. While you can buy the spice mix in the market, it makes sense to buy individual seeds and mix it at home so you can decide if you want to use a little less of one, and more of another. And always store it in a cool dry area. Spices mixes such as these are prone to get damp. And if you roast and grind them, make it fresh each time you want to use it.
Disclaimer:
The opinions expressed within this article are the personal opinions of the author. NDTV is not responsible for the accuracy, completeness, suitability, or validity of any information on this article. All information is provided on an as-is basis. The information, facts or opinions appearing in the article do not reflect the views of NDTV and NDTV does not assume any responsibility or liability for the same.