A beautifully baked fish makes for a simple and quick dinner on a day when you're lazy but craving something delicious. We know how terrible meal planning, cooking and cleaning can be on a hectic day. So to help, we've pulled out our best baked fish recipes that use few ingredients and fewer utensils - a win-win situation. Not to forget, they are healthy too.

But first, let's learn how to bake fish to tender perfection. Before you begin your baking lessons, let's get one thing straight - baking is not the same as grilling or roasting. All three are dry heat cooking techniques that use hot air to conduct heat. While roasting adds a rather crisp texture to the meat, grilling and baking are comparatively healthier methods of cooking. They allow the fat to cook out and drip away. Baking is a slow-cooking, low-intensity method and it takes longer than grilling. Here are some important tips to keep in mind for a perfect golden baked fish -





1. If the fish is frozen, allow it to thaw in the refrigerator before you use it.





2. For fillets, preheat the oven at 230 degree Celsius and for dressed fish, the heat should be a bit lower about 175 degree Celsius.





3. Rinse the fish and then let it dry. Place the fish in a single layer in a greased pan.





4. If you are baking fish fillets, tuck in any thin edges. Fish steaks or fillets take about 6 to 10 minutes to bake.





5. You can brush it with some olive oil, pesto or home-made tomato to keep the fish moist.





6. To check whether the fish is baked, insert a knife inside the meat and twist it a bit. For doneness, the fish should begin to flake and the milky white fish juices will ooze out.

Baked Fish Recipes





Now that you know all the secrets, it's time to experiment. Presenting, our 10 best baked fish recipes that you'll want to bookmark for life.





1. Khud-Style Baked Indian Basa
Recipe by Chef Aditya Bal





Basa fish marinated with spices, coriander seeds, fennel and hung curd. It is then wrapped in a banana leaf and baked golden.

(Buy interesting baking products on SmartCooky!)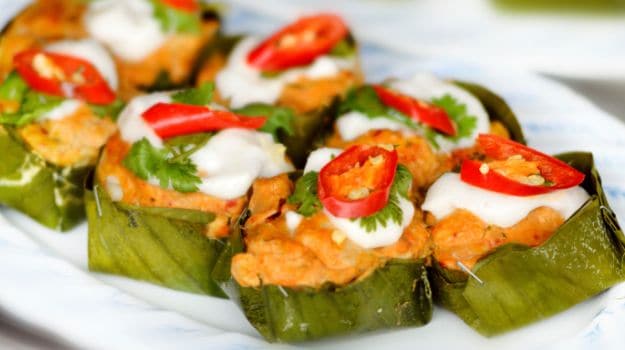 2. Salt Crusted Baked Snapper
Recipe by Chef Vicky Ratnani
Tender fish topped with a delicious sauce with flavours of lemongrass and jaggery.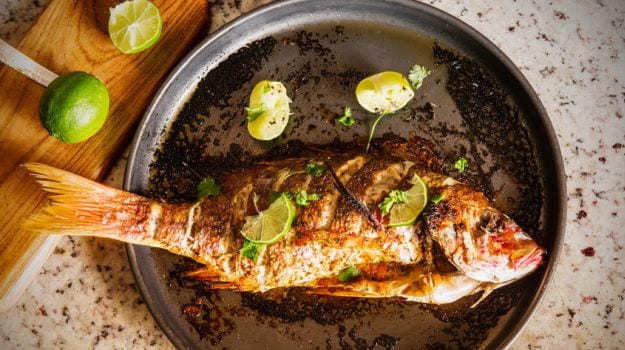 3. Beetroot Crusted Rawas
Recipe by Chef Vicky Ratnani
Take your weekday dinner up a notch with these easy and delicious recipe that's ready in 30 minutes. What's more? With the goodness of beetroot it is super healthy.

(For healthy oils and fats, shop now!)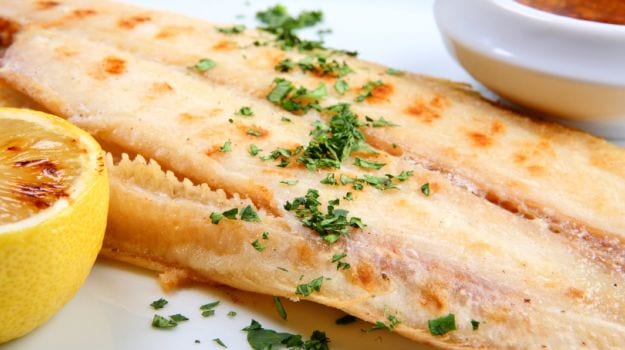 4. Fish Fillets with Warm Parsley Sauce
Recipe by Chef Divya Burman
A light and lovely fish coated with walnuts and breadcrumbs and served with a freshly made herb sauce.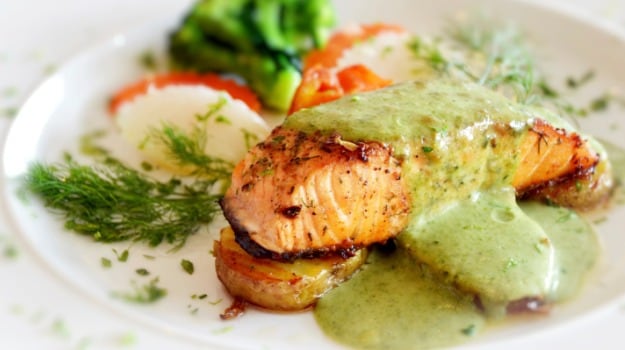 5. Machchi ke Sooley
Recipe by Chef Aditya Bal
A beautiful Rajasthani recipe in fish fillets, red chillies and tangy mango powder. Simply put everything together and let the oven do the hard work.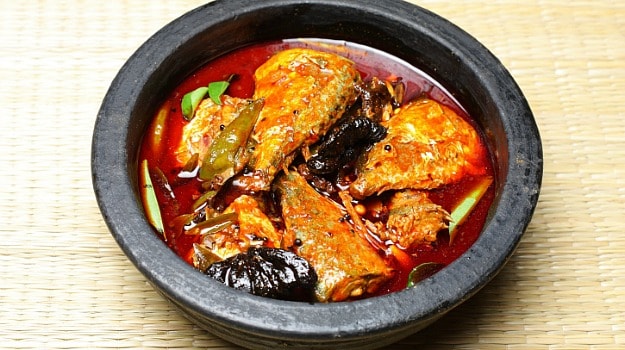 6. Baked Nut Crusted Fish
Recipe by Chef Jaydeep Mukherjee, Indigo Deli, Mumbai
A recipe to use when you're in the mood for something fancy. Replicate a restaurant favourite in your very own kitchen.

(Looking for organic nuts and seeds to add to your baking? Shop now!)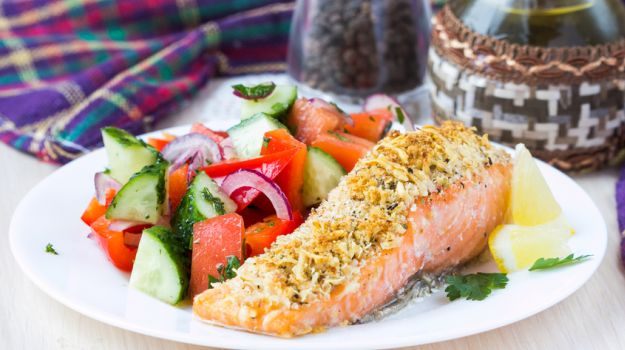 7. Algerienne Fish
Recipe by Chef Niru Gupta
A delicate baked fish recipe, fillets marinated in lime juice and dressed in a fresh tomato flavour.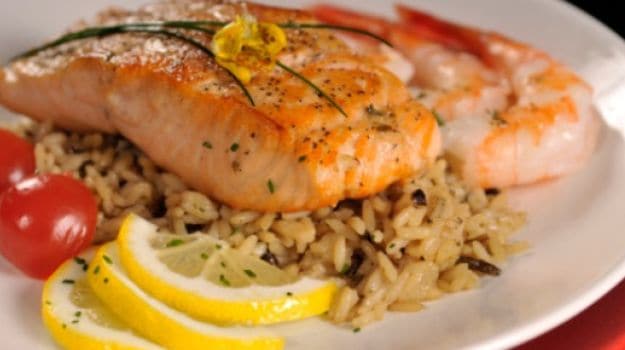 8. Salmon Fillet with Vegetables
Recipe by Chef Marcus Mathyssek, Hyatt Regency, New Delhi
Salmon fillets wrapped in fresh herbs and then bathed in an impressive white wine and butter sauce. Served with a side of seasoned steamed vegetables.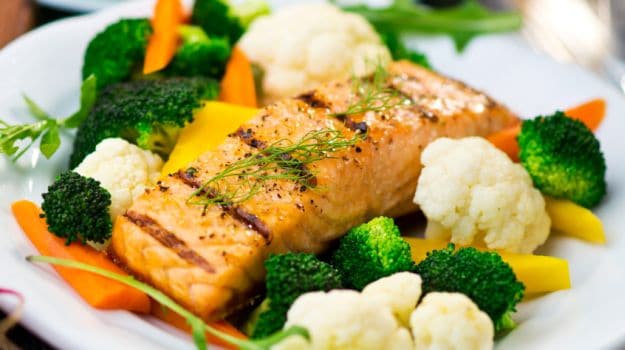 9. Fish Andlouse
Recipe by Chef Roopa Gulati
Tender fish spiced up with a tangy tomato sauce with fresh basil and thyme. A complete meal for busy weeknights.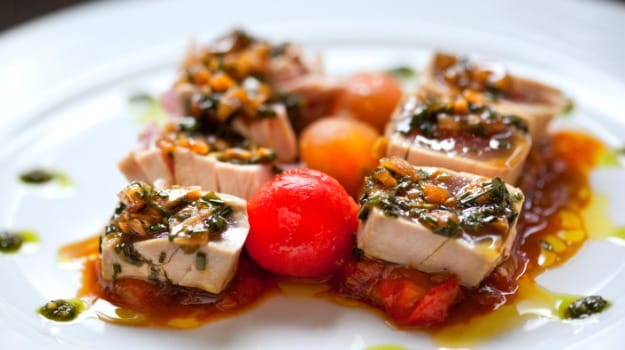 10. Baked Fish in White Sauce
Recipe by Chef Niru Gupta
A cheesy concoction of fish baked golden along with in a white sauce made from scratch.