To call Kerala India's spice hub is not an exaggeration. This is where Vasco da Gama landed in the quest for India's prized spices. Despite the abundance of spices in the state, you will rarely find any local dish with a spice overkill. Like some of the great Asian cuisines, Kerelan cuisine requires an acquired taste for the uninitiated. The interplay of flavours and textures are unique among Indian cuisines; it takes a while to come to terms but once you do, you'll probably be hooked. Fresh coconut, curry leaves, green chillies, shallots, coconut oil and a subtle dose of spices are almost always in the mix.


From the rich culinary traditions of the Malabari Muslims in the North and the outstanding credentials of the vegetarian wedding cooks in Thrissur and Palakkad to the scrumptious beef and seafood mainstays of Central Kerala's Syrian Christians and the flavoursome chicken dishes in Thiruvananthapuram, Kerala is truly a gourmand's delight. With so much variety across each of its regions, it's impossible to compress the state's 'must try' dishes into a short list; we provide some pointers where to begin:
1. The 'Chips'
For many people outside the state, Kerala's chips varietals are usually the first point of food reference. There are plenty of variations that include raw jackfruit or thinly sliced tapioca almost always fried in fragrant coconut oil. There's also the sweet (Sarkara Upperi/Sarkara Varatti) banana chips coated in jaggery - a special around Vishu (New Year). But it's the ubiquitous raw banana chips (Ethakka Upperi) usually available round the year, that win our vote. The sliced raw banana is soaked in turmeric and salt water before it is fried thus lending the chips its yellow hue.

Banana chips is the most famous snack from Kerela.

2. Appam and Stew
This is the one dish I recommend for the uninitiated, largely based on my own discovery of Kerala food. It's impossible not to fall for a well-made appam - soft in the centre and crispy as you approach the ends. The Vella Appam tastes best with the stew (either meat or Pachakari - vegetables), rich in coconut milk and mildly spiced with ginger and green chillies. A breakfast favourite in many Syrian Christian homes but an anytime meal at most Kerala restaurants.
Appam and Stew

3. Malabari Biryani
Kerala's most iconic biryani: Kozhikode and Thalassery may be 70 kms apart but are united by their love for good biryani. There are subtle differences between these two versions which 'non-Mallus' will struggle to spot. The biryaniis cooked with Jeerakasala - a small grain rice varietal used almost exclusively in the Malabar region. The biryani does not use turmeric or any colouring agents - the fried onions lend it its light brown tone, and the addition of mild spices. Aside from the meat versions, the Seer Fish and Prawn Biryanis are both delicious too.

(Also read more about the delicious Malabari Biryani here)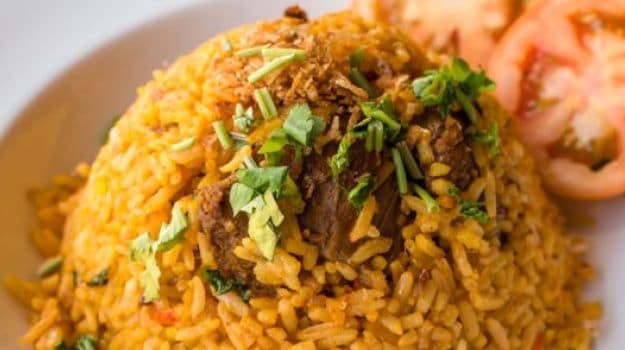 Malabari Biryani

4. Karimeen Polichatu - Seafood Lovers' Delight
Kerala shares many similarities with many South East Asian cuisines; this exquisitely crafted dish is a fine example. Karimeen (Pearl spot) fish is pan fried for just over a minute and combined with a fiery masala (with shallots, curry leaves, ginger, garlic, tomato and green chillies) and then wrapped daintily in banana leaf packets and then cooked on a skillet or tava. Aesthetics might not be a big part of many Indian cuisines but Kerala is among the notable exceptions.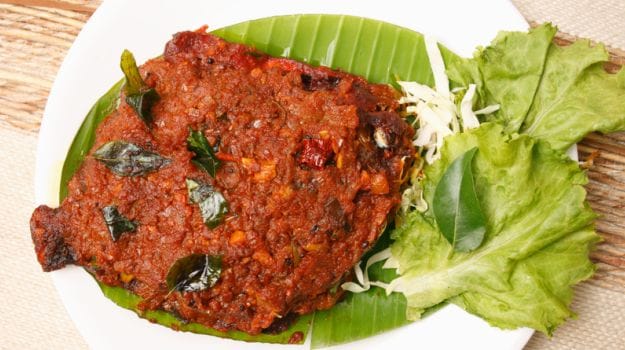 Karimeen Polichatu
5. Meen (Fish) or Chemeen (Prawns) Moilee - Kerala's Emblematic Sea Food Dish
There are many theories that surround Kerala's best known seafood dish. Some say there's a Portuguese connection, while many others point to South East Asia - the dish is mighty close to a fragrant Thai curry with a coconut milk base, except that the basil makes way for curry leaves and turmeric. Tastes equally good with fish or prawns and best with rice.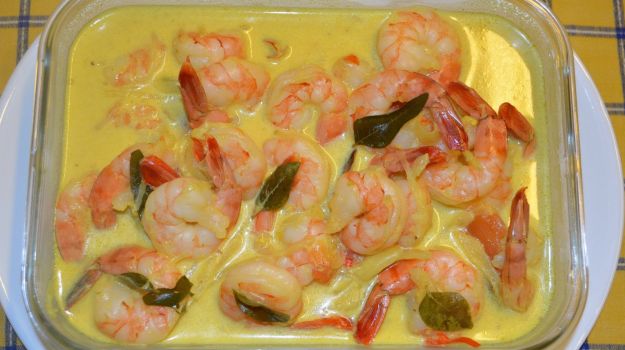 Meen Fish Picture credit: www.syrinje.blogspot.in
Kerala's celebration banana leaf meal - Sadya, is a regular feature at Hindu weddings and festivals. The Sadya brings together an assortment of accompaniments and gravies - Avial is among the most popular dishes in a Sadya. My personal favourite is the Theeyal that literally translates into 'burnt dish' (just like a burnt Burmese fried rice). This thick, dark brown gravy finds the perfect balance between the roast coconut and tangy tamarind gravy. The shallots can be substituted with bitter gourd or even prawn.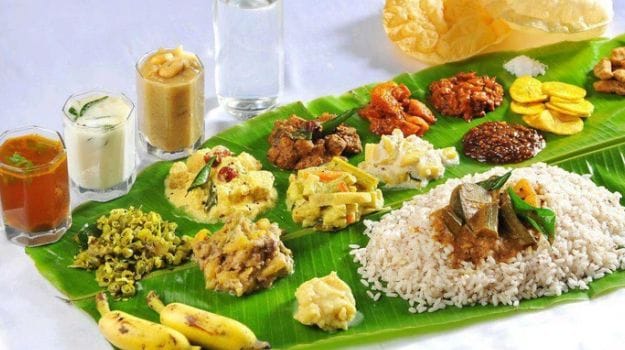 Ulli Theeyal. Picture credit: www.migrantmallu.com
7. Erachi Ularthiyathu
This is one reason I always look forward to be invited to one of my Kerala Christian friends' home. A specialty from the state's Kuttanad region and Central Kerala, this stir-fried beef preparation works equally well with steam rice or flaky Malabar parottas. There's also Idi Erachi that's prepared with air-dried beef that's almost as tasty.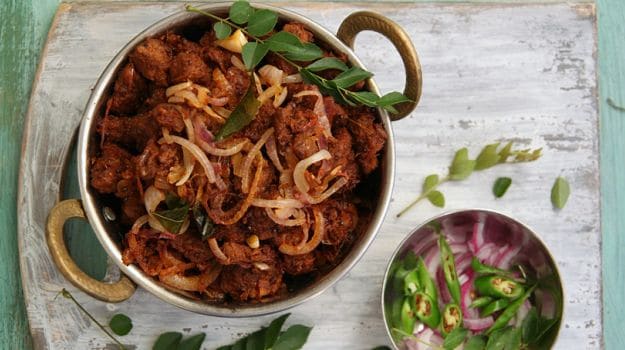 8. Thiruvananthapuram-Style Kozhi Porichathu
Kerala's foodscape might be dominated by formidable dishes from the Malabar region and Central Kerala but no list from Kerala is complete without this dish from the state's capital. Deep-fried chicken coated in a ginger-garlic paste with fennel seeds, chilli powder and curry leaves; scrumptious.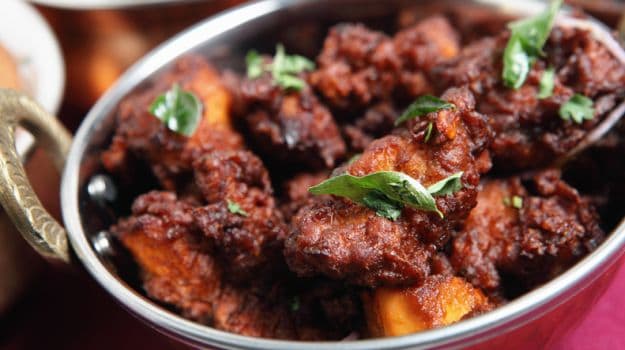 9. Paal Ada Payasam

There are some dishes that don't quite taste the same outside Kerala, Kerala's tastiest Payasam (kheer) is a prime example. Your best bet is to be invited for a Hindu wedding in the Palakkad-Thrissur-Ernakulam belt where this payasam is cooked in large quantities over wood fires till it almost turns a pale pink. It's also common for homes to attempt this laborious cooking process in brass urlis (traditional vessels). No spices or saffron, just slow boiled milk with sugar; bliss!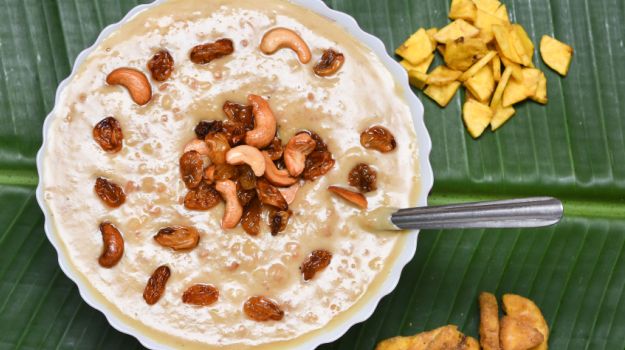 10. One for the Road - Sulaimani Chai

Kozhikode's food culture has been influenced deeply with its long standing Middle East connections. The Sulaimaani is an Indian black tea like no other - crushed cardamom, grated ginger, tea powder and jaggery come together with lemon and tea powder. It's not just refreshing at any time of the day but a great (non-alcoholic) digestif after a heavy meal.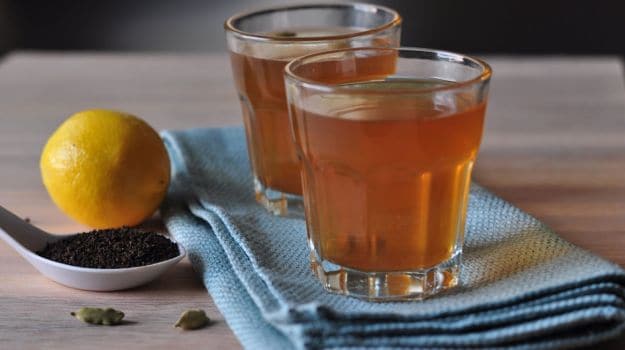 Picture credit: www.zestysouthindiankitchen.com
About the Author:

Ashwin Rajagopalan is a cross cultural training expert and lifestyle writer. When he's not writing about food, he thinks about gadgets, trends and travel experiences. He enjoys communicating across cultures and borders in his weekday work avatar as a content and editorial consultant for a global major and one of India's only cross cultural trainers.
Disclaimer:
The opinions expressed within this article are the personal opinions of the author. NDTV is not responsible for the accuracy, completeness, suitability, or validity of any information on this article. All information is provided on an as-is basis. The information, facts or opinions appearing in the article do not reflect the views of NDTV and NDTV does not assume any responsibility or liability for the same.
About Ashwin RajagopalanI am the proverbial slashie - a content architect, writer, speaker and cultural intelligence coach. School lunch boxes are usually the beginning of our culinary discoveries.That curiosity hasn't waned. It's only got stronger as I've explored culinary cultures, street food and fine dining restaurants across the world. I've discovered cultures and destinations through culinary motifs. I am equally passionate about writing on consumer tech and travel.