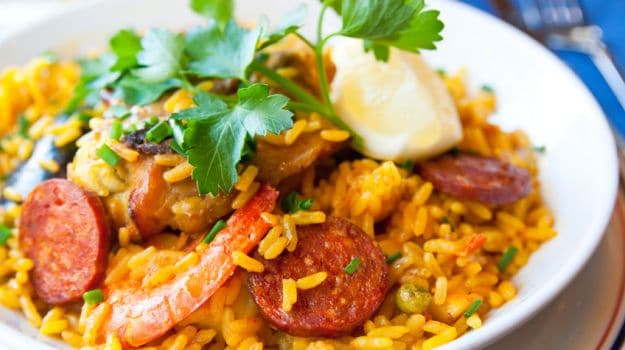 Outside of Spain, paella is usually associated with seafood but what is the original paella all about? Should it have seafood or not?
I put this question to Carmen Pauline Rios Benton. Carmen and her father had taken me on a food trail in Barcelona earlier where we visited her father's favourite haunts from his growing up years. Carmen told me that paella was originally a farmer's dish so it was unlikely that it would have had seafood in it. She pointed out that it represents the paradigm of a Mediterranean
diet
: olive oil,
cereal
vegetables, pulses and a small amount of animal protein to ensure that it is a healthy and balanced dish.
Suprio Bose who works with the Catalan Government, and is a food blogger too, connected me with Ms. Marisol who is from a small town called Nules, 50 km from Valencia. She was extremely emphatic that a paella should NOT have seafood. She's grown up having paella. Paella is made every Sunday at her house, through the year. 'Sunday is family day,' said Marisol. According to her, the key ingredients of a paella are chicken, rabbit, pork ribs, Jewish artichokes, red
pepper
, kidney beans,
tomato
, garlic, olive oil and salt.
So I turned to Shawn Hennessey who runs the Sevilla Tapas tours and had taken us on a fantastic tapas trail in Sevilla. She said that discussion on paella can turn pretty controversial in Valencia. There will be folks who will say that paella with any seafood or
onions
is not 'authentic'. According to them, rabbit and/ or chicken, flatbeans, garlic, tomato and
saffron
are key. Yet, she once met a chef from Valencia who said that anything made in a paella pan can be called paella!
Though the majority agreed on the 'original' paella not being a seafood dish, my search for a definitive answer still remained inconclusive.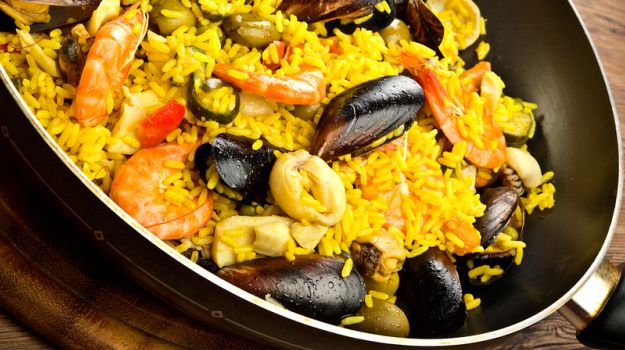 The fact that the paella is a rice based dish and is flavoured with saffron, is what makes it familiar to our Indian palate and which is perhaps why Harshad's parents liked it so much. The texture of the rice is a bit different from what we are used to, as it is not pre-soaked in water before cooking, unlike in India. The
rice
is added at the end, which gives it a bit of a bite. However, the high starch content in the rice and the seafood and
meat
broth in which it is cooked, gives it a buttery after taste. In a traditional paella, you could get some crunchy bits of rice. This is called soccarat, which like the tahdig in the pilafs of Persia, refers to the burnt bits of rice scraped from the bottom of the flat pan in which the paella is cooked and is much sought after.
People often jokingly say that risotto is almost an Italian khichdi but if you ask me, it is actually the paella which is closer to our Indian food, viz the
pulao
, with its saffron base. The pulao was brought into India by the Mughals and then morphed into the biryani as many food historians will tell you. The paella too has a Muslim origin, as the growth of rice in Valencia is ascribed to the Arab rule of the province. However, it is said to have started as a common people's dish, unlike the pilaf or pulao which was more of a royal dish. There is another way in which that a paella connects Spain and India. Unlike in Northern European countries, which are more individualistic, in Spain people get together as a family to share meals just as we traditionally do in India. Paella is a dish which is always meant to be enjoyed in a large group.
Unless you are a food pilgrim, chances of your going to Valencia on your first Spanish trip is low. There's plenty else to see in the country, what with Alhambra, gothic churches,
olive
farms and cities like Madrid and Seville. You do get paella in restaurants across Spain of course, just as you will get a Hyderabadi biryani in Chandigarh or in Goa. In most restaurants, menus will point out that paella servings are for at least two people. This is because there is a certain minimum size to the flat pans in which paella is cooked (which is a bummer if you are alone). The word paella is said to have come from the Latin word for pan (patella).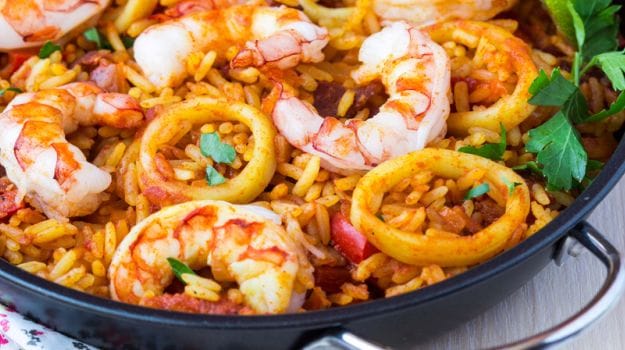 Back to whether paella should ideally have seafood or chicken, it may have crossed your mind if there can be a
vegetarian
paella too. On another trip to Barcelona, I was invited home for a Sunday lunch by Manel Casonovas, who was the Director of Gastronomy for Barcelona Tourism. "This is personal and not official, you come and we will cook together," Manel told me on the phone. I jumped at this opportunity, especially as Manel is a trained chef too. I reached his apartment on the following Sunday afternoon and Manel tossed me an apron and we began to fry ham and
cheese
croquettes together. "I have made a vegetarian paella as my elder daughter has turned vegetarian," said Manel from the kitchen, when I took a break and shared some
wine
and fresh mussels and clams with his charming wife and daughters on the patio. Out came a beaming Manel with a large paella pan. The rice was artistically decorated with large prawns with tails and heads intact!
Be very very specific about what you mean when you tell someone in Spain that you want vegetarian food. Lines may be a bit blurred there.