There are few things in life that are better than a thin, buttery and soft crepe – top that with gooey chocolate sauce,
strawberries
and some whipped cream, and you'll quickly find yourselve in food heaven. Picture this - you wake up to a beautiful sunrise, surrounded by the stunning view of snow-capped peaks, as you sit in the balcony of a tiny cottage and the chilly air gives it the perfect backdrop. There, you nibble on hot-off-the stove crepes, doused in honey with dash of lemon to cut through all the sweetness. Mmm.'Crepe' is the French word for
pancake
. It's derived from the Latin word 'crispus' which means curled. Crepes are known to have originated in a quaint little town in the North-west region of France known as Brittany. They were originally called 'Galettes' which translates to flat cakes, based on their appearance. Almost every country has its own version of the crepe, however it is in Brittany that the techniques and tools to make crepes were developed that later transformed into an art form.In the early days of the crepe, white flour was a novelty not many could afford. The cheap and affordable alternative was buckwheat, also known as "ble noir" (dark wheat), owing to the black specs that are often found in it. White flour crepes were introduced only at the turn of the 20th century. White flour crepes are as thin as
buckwheat
crepes but softer as a result of the eggs,
milk
, and
butter
used to make them.Crepes can be called the food world's equivalent of X-Men's blue fiend, Mystique. They can take on any shape and form, and adapt themselves to any recipe, meal or filling. Ditto Mystique. They can be stuffed and savoury or sweet and simple. This easy-going nature of crepes, is what makes them so unique and drool-worthy. Back in the day, savoury crepes were usually made with buckwheat flour and traditionally eaten with buttermilk accompanied by a bowl of cider. They were usually filled with meat, ham, sausage, cheese or fish.Dessert crepes are preferred and more universally consumed than savoury crepes. They're mostly made with white wheat flour and the fillings range from anything between simple honey and maple syrup, to strawberries and whipped cream, or like the orangy Crepe Suzette which is one of the most famous crepe dishes in the world. In a restaurant, a
Crepe Suzette
is often prepared in a chafing dish in full view of the guests. It is served hot with a sauce of sugar, orange juice, and liqueur (usually Grand Marnier). Brandy is poured generously over the crepes and then the whole dish is set on fire or flambeed. This spectacular show results in the most perfect harmony of flavours. The zesty orange flavour works perfectly with the sticky sugary sauce - and what isn't better with alcohol, right?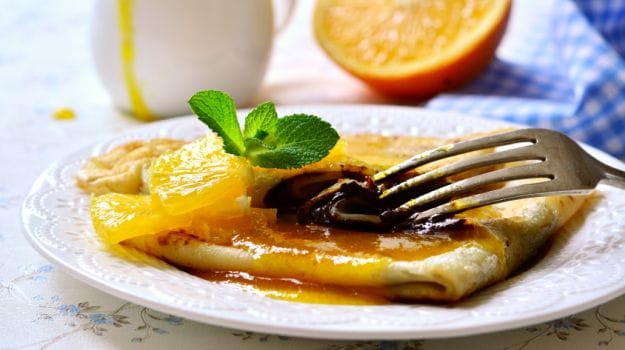 Legend has it, that this slice of heaven was created
accidentally
by a fourteen year-old assistant waiter, Henri Carpentier in 1895, at the Maître at Monte Carlo's Café de Paris. He was making a dessert for the Prince of Wales, the future King Edward of England, whose guests included a beautiful French girl named Suzette, when his carefully prepared dish caught fire! This mistake by an innocent 14 year-old (although it's under debate whether it was little Henry or the Head Chef) went on to become the
greatest crepe recipes
of all time.The
French
may have created the original crepes but its variations have been around for just as long, celebrated and enjoyed by foodies across the world. Almost every country or region has developed a 'crecipe' but you'll be surprised by how many you already know of. Tortillas are the staple food of the Mexicans and probably the most popular variation of the crepe. Tortilla was a name given by the Spaniards, to the unleavened flat bread they found in Mexico. These are made with corn flour, and can be stuffed with anything - from
guacamole
to cheddar cheese or
peanut butter
and jelly. Interestingly, our very own
Dosa
is a form of a fermented crepe made from rice batter and lentils. This much loved South Indian dish is typically stuffed with flavourful mashed potatoes, onions and spices. Another one - Okonomiyaki is a Japanese savoury pancake that contains a variety of ingredients. The name is derived from the word "okonomi," meaning "what you like" or "what you want", and "yaki" meaning "grilled" or "cooked." Okonomiyaki is mainly associated with the Kansai or Hiroshima areas of Japan, but it is widely available throughout the country. The batter is made of flour, grated nagaimo (a type of yam), water, eggs and shredded cabbage, and usually contains other ingredients such as green onion, meat (generally thin pork belly), octopus, squid, shrimp, vegetables, konjac, mochi or cheese. As delicious as they sound, crepes are really easy to make at home. Chef Antonia Achache from Suzette Creperie & Cafe in Mumbai suggests two simple tricks to follow for perfectly crisp crepes every time. "Once you make the batter for the crepe, do not use it immediately. Let it rest for a couple of hours to get that perfect consistency that one looks for in a crepe. Secondly, try to achieve the highest temperature and the hottest flame possible before pouring the batter into the pan, This was it will cook and brown evenly," she says.Try your hand at some of our best crepe recipes which when done right will win the person behind the spatula praises and envy.
Chocolate and Banana Crepe
Recipe by Chef Ritu Dalmia
Because you can never go wrong with gooey chocolate and fruity bananas.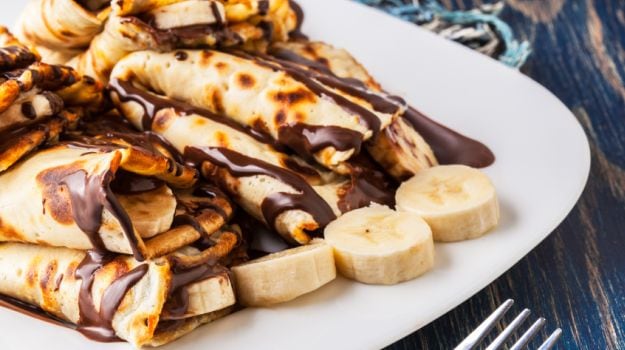 Broccoli and Cheddar Cheese Crepes
Recipe by Chef Vicky Ratnani
Layers made of thin crepes, smeared with sauce, one over another, sprinkled with grated cheese, bread crumbs and melted butter, baked golden.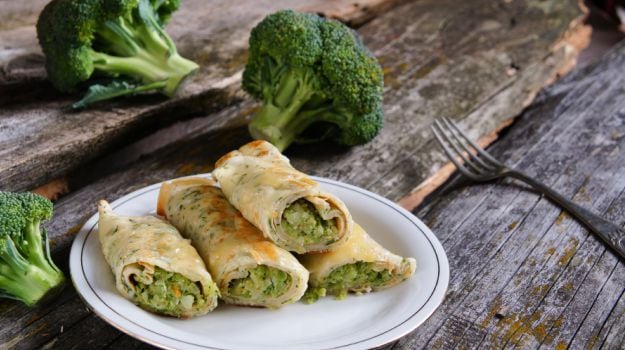 Disclaimer:
The opinions expressed within this article are the personal opinions of the author. NDTV is not responsible for the accuracy, completeness, suitability, or validity of any information on this article. All information is provided on an as-is basis. The information, facts or opinions appearing in the article do not reflect the views of NDTV and NDTV does not assume any responsibility or liability for the same.