Delhi is a treasure trove of good eating places. The city comprises not only the best of cuisines and dishes from around the country but around the whole world as well. The walled city, or now commonly known as old Delhi, is undoubtedly a foodie's paradise. From morning tea to delectable desserts, the narrow streets of old Delhi have a lot to offer. To put it in other words, you can roam the buzzing markets and narrow streets of old Delhi and eat all-day-long.(Also Read -5 Must-Try Places In Delhi To Eat Street Food)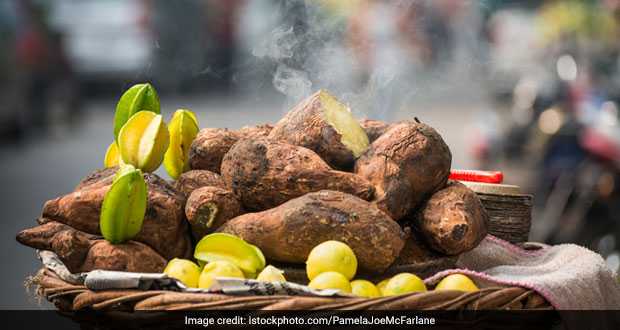 Delhi is a treasure trove of good eating places

So, to save you from all the troubles, we've prepared a culinary itinerary that will guide you to the most intricate delicacies in old Delhi. The wide-spread itinerary will also take you across some of the most important historical markers that have shaped the history of the world.Pull up your socks, tighten your laces and step out to the buzzing old Delhi.
There is no better way to start off your day than a piping hot cup of
tea
. The morning tea refreshes your body and prepares you for the day to come. A small stall in old Delhi, located just next to a hotel called 'Seema Lodge', prepares a creamy cup of tea which is sure to rejuvenate you.
(Also Read -Best Outdoor Restaurants in Delhi: Dining Under the Stars)
From the tea stall, you can stroll down to Jama Masjid, which is at a short walking distance. Observe the beauty of the place and the peacefulness it brings along.As the day rises, prepare your tummy for an early morning snack. There is nothing better than bingeing on flavourful kachoris with spicy potato curry. Jung Bahadur Kachori Wala, situated in the buzzing, narrow yet world-famous street,Paranthe Wali Gali, is the master of kachoris. The kachori and spiced-curry are made fresh and seasoned with coriander and chillies on top. If you go to Jung Bahadur Kachori Wala, be sure to carry a water bottle because the curry is really spicy and hot. Brownie point, if you happen to be a spice junkie!(Also Read -Kachori Wale at Hanuman Mandir (Anil Kachori Wale): The Iconic 40 Year-Old Kachori Corner of Central Delhi)


A small plate of kachori is evidently not enough to fill your stomach. So it's now time for a proper breakfast. There a number of age-old shops on this narrow street, some even decades old. The piquant aroma of fried bread along with blossoming spices is sure to tantalise your taste buds. You can try an array of paranthas in the ParantheWali Gali. Choose any paratha shop there, as they are equally good. Go for an aloo or gobi paratha if you wish to stick to the basics. However, if you are someone who wants to try something new, then go for their rabri parantha. Filled with sweetened condensed milk, this variation of paratha is for all dessert lovers.


By now, you'd see the market buzzing, the cars honking and the sun in its full glory; a scene that will make anyone thirsty. There is no better way to beat the heat in old Delhi than a chilled, thick and tall glass of lassi- a savoury or sweet yoghurt-based drink.Amritsari Lassi Wala at Fatehpuri Chowk is the best when it comes to Lassi. You can choose from a variety of flavours such as mango, kesar and rose among numerous others. You can also visit the Fatehpuri Mosque, which is hardly 10 meters away from Amritsari Lassi Wala.(Also Read -7 Places In Delhi That Serve The Best Lassi)

As you're about to take a leave from the Fatehpuri Chowk, don't forget to pay a visit at Chaina Ram Sindhi Confectioners, who are very famous for their karachi halwa. Karachi halwa is a sweet and chewy dessert, which is loaded with the goodness of almonds, pistachios and other dry fruits.(Also Read -10 Best Dhabas in Delhi That You Would Love to Stop By)

So much walking in the streets is evident to set you in need of a snack. There is no better thing to savour as an afternoon snack than melt-in-mouth dahi bhalle that are dunked in chilled curd. Natraj Dahi Bhalle Wala is said to be the best in the business. The fried moong dal bhallas are soaked in rich curd, which is just of the right consistency. On top of it is the sweet red sauce and the hot green sauce. The garnishing of pomegranate seeds make this delight even more appetising. Natraj Dahi Bhalle Wala is very close to the Chandni Chowk metro station. It is also within the walking radius of Gurudwara Sis Ganj Sahib, a historic landmark built in the year 1783 to honour the martyrdom of the ninth Sikh Guru, Guru Tegh Bahadur.

The best place for a hearty lunch in old Delhi is the famous Kake Di Hatti. It is a bit far off from the metro station and the market, so you might want to hop up on a rickshaw. The place is famous for its giant and tasty naan bread, which is loaded with butter. The sabzis anddals are equally tasty and have good portions of butter.(Also Read -Chawla De Mashoor Special Naan: The Best Place to Eat Amritsari Chur-Chur Naan in Delhi)

Give a perfect end to your hearty meal and head to Giani's Di Hatti. Try their rabri faluda and satisfy your sweet tooth cravings. You can also try daulat ki chaat; however, it is only available in the winter months as it requires a low temperature to maintain its cloudy and airy form. This airy dessert is mildly sweet and has a melt-in-mouth texture. You can find many street vendors and hawkers selling daulat ki chaat and each one is equally good.(Also Read -The Magic and Mystery in the Making of Daulat ki Chaat)


There are a number of snacks and dishes that can possibly claim the spot of the perfect evening snack in Chandni Chowk but Japani samosa made it to our itinerary. Japani samosa is neither Japani nor a samosa; it is a kind of layered puff pastry that has a bit of spicy potato filling at its centre. It is served with spicy chholey curry, a sweet sauce and pumpkin pickle. The best place to find Japani samosa in old Delhi is Manohar Dhaba, situated between the Old Lajpat Rai Market and Moti Cinema on Diwan Hall Road.(Also Read: This Crispy Japani Samosa Is Chandni Chowk's Hidden Gem​)

Now it is time for a hearty dinner. The best place for dinner in old Delhi is Karim's. Situated near Jama Masjid, the place is renowned for Mughlai food, which is undoubtedly delicious. The place specialises in kebabs, meats and other non-vegetarian dishes, which are still prepared the same way as they were once prepared in the Mughal courts. It totally lives up to the hype that revolves around it.

Before you plan to end your day, head down to Kuremal Mohan Lal Kulfi Wale in Chawri Bazaar for a good dose of dessert. It is the oldest place in Delhi to serve kulfi. Other than their plain rabri kulfis, you can check out their stuffed kulfis and fruit kulfis for which they are famous for. The place shuts down at 10:30 in the night, so you may have to make your way quick.(Also Read -Kuremal Mohan Lal Kulfi Wale: An Over 100-Years Old Kulfi Joint in Old Delhi)

And that concludes a perfect day for a foodie through the narrow and buzzing streets of old Delhi.