Any reference to the
Kashmiri
cuisine will invariably bring to mind
Wazwan
. But as connoisseurs of good food are aware, there's a mind-boggling variety of traditional bakery products available in the state.
Very few outsiders would know that the Valley bakes products, known for their unique taste, prepared in a traditional tandoor by bakers called "kandhurs". These professional bakers are in the trade for generations. For instance, there is choatt, flatbread with thick edges and furrowed surfaces, and lavaasa, a lighter variation of pita bread which the locals enjoy with salted tea called noon chai.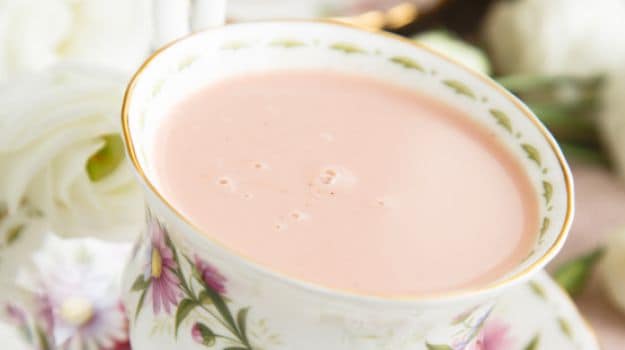 Noon chai
Kandhurs prepare bread in tandoors, imprinting their fingertips on the dough before putting it in the oven. They use long iron rods to pluck out the hot choatt from the tandoor's inner surface.
Lavaasa, being lighter and thinner, is prepared by placing it on a round mound of cloth filled with cotton, a round, pillow-shaped surface. The lavaasa is stretched upon it and then pasted on to the hot oven.
"Lavassa is a paper-thin blistered naan. One can also apply butter or jam to it before eating," Ghulam Muhammad in central Kashmir's Budgam district, better known as Gull Kandhur, shared.
Some lavassas are soft while others are crisp. It is also eaten as a wrap around barbequed mutton.

Lavassa
Chochwour, a bagel-like bread -- generously daubed with sesame seeds and given a glazy look by rubbing it with pasteurized butter -- which is another favourite of Kashmiris and is preferred with afternoon tea.
Other delicacies include British-era puffs, patties, cream rolls, pastries, stuffed kulcha (oven baked), mittha bundhh (sweet bun) and bundhh (salted bun).
"There are many types of traditional breads like baqerkhani (more like puff pastry, baked in layers and often served with the famous Kashmiri saffron-flavored kehwa), katlam (usually crispy and thin) and sheermaal, a dry, crispy bread with a long shelf life," said Mushtaq Ahmed, a seventh generation traditional baker who runs a bakery shop in Chadoora town of central Kashmir.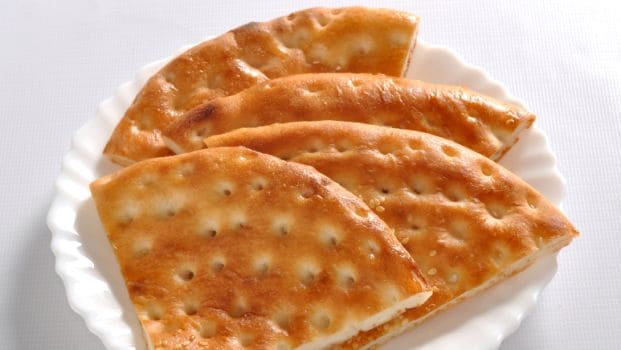 Sheermal
Besides these breads, consumed on a regular basis, Kashmir's bakeries are also famous for specialties like kulchas, modur kulchas, telvarus, khamira rotis and khatais, most sought after on various occasions.
Kashmir, in fact, has a bread and bakery product for every season and every occasion, be it a wedding or a birthday celebration.
"There are nearly a dozen versions of sweet, salty or bland kulchaas (small, hard dry, crispy bread, usually round in shape decorated by placing a peanuts in the centre) which are served on special occasions, including during mourning. Kulchas will always be in demand" said Gulzar Ahmed Sofi, who runs both a traditional and a modern bakery in Budgam.
Sofi said traditional Kashmiri bakeries are irreplaceable when it comes to special occasions in the Valley.
"Modern bakeries just won't make the cut. You cannot serve chocolate pastry and stuff like that during Kashmiri weddings, or any other ceremony for that matter," he added.
The roath (Kashmiri dry fruit cake) is a delicacy, usually prepared on auspicious occasions such as Muharram. The evolution of the Kashmir bakeries owes itself to historical influences.
According to local historians, the rulers of Central Asia brought along a change during their reign in Kashmir when different varieties of baked products were introduced in the Valley.
"It was during the golden era of Kashmir, when Ghiyas-ud-Din Zain-ul-Abidin, known as 'budshah' ruled, that bakery touched its zenith," poet and oral historian Zareef Ahmad Zareef noted.
Thus, while modern culture has touched and changed almost every aspect of life in Kashmir, the traditional bakeries have withstood the onslaught of modernity and held out against pizzas, burgers and pastries as well as sweets from other parts of the country.