There's nothing more inviting than hot South Indian breakfast: strong filter coffee, piping hot
sambhar
, lumpy
coconut chutney
with little bits of coconut,
gunpowder
and golden-crisp
dosa
! I love
dosas
and in fact I'm planning to make one tonight. And it's not just because they taste divine but also because they're really fun to make: Right from grinding down the
urad dal
and rice, letting the white stuff ferment to running your ladle through the batter checking for lumps, it's almost therapeutic. After your pour the batter down a hot sizzling pan, even the wait to figure whether the
dosa
will stick or not is delicious!But what if you want home-made dosa on the fly? Is it really just a weekend affair? No, it doesn't have to be and I'm going to tell you why in just two words '
Oats
Dosa
'. It's not just healthy because it's got good-old-oats but it's also really easy to make, needs a few ingredients, a hot pan and about 30 minutes tops.
Oats dosa looks a lot like Rava Dosa, with holes of different sizes (almost like a net) and tastes like a cross between rava, oats and regular dosa. Before we get to the recipe of Oats Dosa, here are some dosa making tips you should probably get familiar with:
1. Make sure you grind the oats really fine.
2. Don't use cold dosa batter. Leave it out at room temperature before you cook. If the batter is too thick then add some hot water in it. This will also bring the batter to room temperature.
3. Make sure the pan is really hot before you pour the batter. Check this by sprinkling a drop or two of water on the pan and watch it sizzle.
4. Don't seal the container carrying the dosa batter.
5. The batter shouldn't be too thick or too runny or the dosa might turn out to be too dry.
6. Add little sooji or besan to make sure the dosa isn't too white and turns out golden-crisp.
Oats Dosa Recipe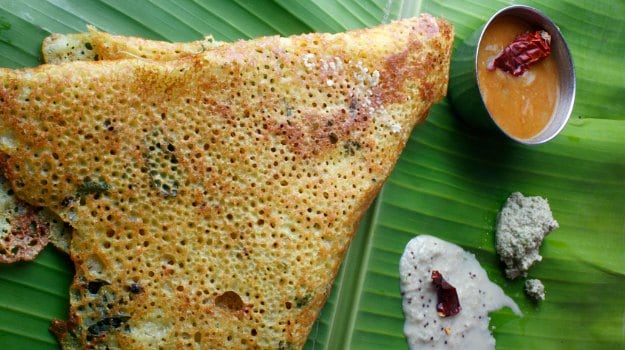 Ingredients:1/2 cup instant oats/quick cooking oats
1/4 cup semolina (rava)
1/2 cup rice flour (You can also use whole wheat flour or all purpose flour/maida)
1.5 cups water
1 large onion
1 large green chilli
2 Tbsp grated coconut
Ghee or oil
Salt to taste
2 Tbsp yogurt
1 Tbsp coriander leaves/curry leavesMethod1. Grind the quick cooking oats till it's really fine and powdery.
2. Add the rice flour, semolina/rava and the yogurt.
3. Add the water, slowly so that you can keep track of consistency and know when to stop.
3. Add the onions, chilli and coriander/curry leaves (or both). If you don't like raw onions, I recommend you saute the onions first.
4. Let the batter sit for 20-30 minutes.
5. Pre-heat the tawa and drizzle some water on it to check if it's hot or not.
6. Drizzle some ghee or oil on the pan and spread it across the tawa. Pour some of the batter in the centre and using a serving spoon, spread it around. Let it sit for two minutes and turn over when cooked.
7. Serve with fresh coconut chutney.