Pandi Curry, kadambuttu and Akki Roti: Image via Prarthana BidapaA few months ago, I was foraging for food near Wicklow village, about an hour away from Dublin. This was not some desperate attempt to find survival food but a structured walking tour to hunt for food in the woods engineered by Chef Evan Doyle, one of Europe's champions of Wild Food, who also runs one of the only organic restaurants in Europe. Restaurants like his Strawberry Tree and the iconic Noma in Denmark have made foraging one of hottest food trends of the 2010s. In just a couple of hours I returned to his kitchen with a rich bounty that included wild mushrooms and wild garlic. Closer home there are many communities who have traditionally hunted for food and made the best of locally available resources long before foraging became cool.
Coorg's Pandi (Pork) Curry might be its most emblematic dish but not many outside the region know that this dish was originally crafted with wild boar. The Kodagu (Coorg) district that shares its Southern borders with Kerala is not just one of the most scenic regions in Karnataka but boasts of its unique culture, language and above all one of India's most distinctive cuisines. For a brief while (1947-1956), this district was a separate state before it merged with the Mysore (Karnataka) state. Spread over 4,100 sq kms Coorg's delectable cuisine evolved with its unique landscape where farms and forests merged almost seamlessly.
Until recently most local farm owners supplemented their produce with bounties from the forest like wild pig, wild fowl, venison, wild yams, bamboo and colocasia leaves. Quite a few vegetables were not cultivated and animals were not actually reared. Much of that has changed with Coorg's changing 21st century landscape but it's still not unusual for wild mangoes and bamboo shoots to find their way to kitchens around the region even today.

Foraging for Food
For centuries Coorg was quite inaccessible - a landlocked region, making it almost essential for the locals to make the best use of local ingredients and spices, that spawned a cuisine like no other. Yoga Acharya Shanthala T Medappa grew up in Coorg before moving to Chennai where she set up Old Mercara that specializes in home-style preserves and ice creams. Her range is season-specific and completely natural akin to her culinary roots in Coorg where flavours are natural, spices are used judiciously and the food is light. A contrast to what Indian food has become in some parts - an overkill of spices and masalas that literally drown the meat or vegetables.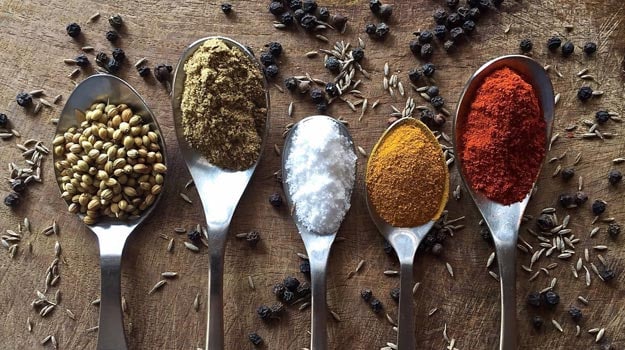 Image via Prarthana BidapaAuthentic Kodava cuisine retains the natural taste of its key ingredients - bamboo shoots for instance are allowed to sour in its own waters. Fat is also used sparingly, mostly to temper the food. According to Shanthala, seasons dictated what the Kodavas ate and when. Kitchens focused on food that produced thermal warmth during the cold and wet monsoon season. The preserved game meat was traditionally in wooden slatted frames placed horizontally over the cooking fire that didn't just keep the meat dry but also enhanced it with a wood-smoked flavour.
Another unique ingredient that you will find in most Kodava households is Kachampuli, their own version of a Balsamic vinegar (just much more tastier!) that is extracted from the ripe fruits of the Kodambuli fruit (the ripe fruits of the garcinia gummi gutta tree). These fruits are usually placed in baskets over large vessels to allow the juice to gently drip down (over a few days) as the fruit gradually becomes pulp. The extract thickens over time, this souring agent is typically used towards the end of the cooking process in many Kodava dishes (including the Pandi curry) and accentuates the flavours of the meat.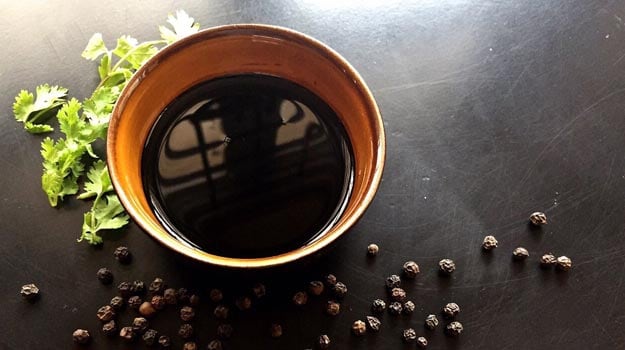 Image via Prarthana Bidapa
The Coffee County
Coorg might be a coffee county, but it's also known for rice - this is where the river Cauvery originates, and rice is the major staple and used for a number of preparations, whether it's the traditional steamed puttus or their payasams. The steamd puttus come in many forms - the Kadambuttu (ball-shaped puttus), Thaliya Puttu (flat puttus steamed in plates), Paaputtu (cooked with milk and shredded coconut), Nooputtu (thread puttu, pressed into noodle-like threads with a mould similar to the idiyappam) and Koovale Puttu (made with ripe bananas or jackfruit).
Coorg might be flanked by regions rich in culture and cuisine - like the Malabar region in Kerala, Mysuru and the Dakshina Kannada region in Karnataka, but their influence on Coorg's cuisine is quite minimal. While its possible to recreate some of the region's signature dishes like the Bamboo Shoot Curry (with canned bamboo available at many supermarkets and gourmet shops) and the Meen (fish) Curry, it doesn't quite taste the same without locally sourced ingredients. For that you have to dine in one of the Kodava households or be invited for a Kodava wedding in Coorg - the ultimate showcase of the region's cuisine. Quite a few homestays in Coorg or boutique properties are a great starting point to explore Coorg cuisine too. And before you get there, try your hand at making Coorg Pandi Curry.

Coorg Pandi Curry
(Recipe and Image Courtesy: Shanthala T Medappa - Yoga Acharya and owner Old Mercara)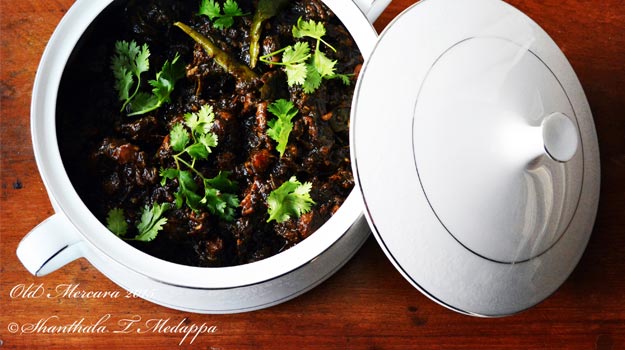 Ingredients:
1/2 kg pork (preferably with bones) cut into medium-sized pieces
1/2 tsp Kachampuli or 1 1/2 Tbsp thick tamarind pulp
A few curry leaves
1-2 tsp oil
For the marinate
1-2 tsp salt
1 tsp red chilli powder
1/2 tsp turmeric powder
For the dry masala
1 tsp cumin seeds
1/4 tsp fenugreek
2 Tbsp black pepper
1 Tbsp coriander seeds
For the wet masala
2 onions, sliced
6 ginger cloves (1-inch in size)
6 garlic
6-8 green chillies
A small bunch of coriander leaves

Method:
1. Marinate the pork with salt, turmeric and chilli powder, and leave it aside for 30 minutes.
2. Heat a little oil in a pressure cooker or a flat-bottomed vessel, and fry the curry leaves.
3. Make the 'wet masala' by grinding together onions, ginger, garlic, green chillies and coriander leaves. Add it to the pan and saute for a few minutes.
4. Add the pork and mix well. Continue sautéing for 5-6 minutes.
5. In a separate pan, dry roast the whole masalas - cumin seeds, fenugreek, black pepper and coriander seeds - on a medium flame until aromatic, then grind to a powder. Add it to the pork and mix well.
6. Add half cup of hot water and pressure cook the pork until done or let it slow cook on an open flame, stirring constantly.
7. Uncover the lid, add the Kachampuli and cook for 2-3 minutes, till the gravy thickens.
8. Garnish with coriander leaves and serve hot.About the Author:
Ashwin Rajagopalan is a cross cultural training expert and lifestyle writer. When he's not writing about food, he thinks about gadgets, trends and travel experiences. He enjoys communicating across cultures and borders in his weekday work avatar as a content and editorial consultant for a global major and one of India's only cross cultural trainers.

Disclaimer:
The opinions expressed within this article are the personal opinions of the author. NDTV is not responsible for the accuracy, completeness, suitability, or validity of any information on this article. All information is provided on an as-is basis. The information, facts or opinions appearing in the article do not reflect the views of NDTV and NDTV does not assume any responsibility or liability for the same.