Imagine dishes served in clay pots, lamb slow-cooked for hours, the magical aroma of whole spices and
khada masalas
and a burst of rich flavours. That's the Rampuri cuisine for you – the quintessential 'courtly cuisine' of India where every recipe has been secretly preserved for centuries by the
khansamas
of the
royal kitchens
and where every dish has a story to tell. We got a taste of this lesser-known Mughlai cuisine, recently, when a group of cooks from the royal kitchens of Rampur were brought to the city for a Rampuri food festival at Masala Art in Taj Palace, New Delhi. The history of the royal cuisine of Rampur goes back to 1774 when Faziullah Khan established the city under the protection of the British Commander, Colonel Champion. During this period, many cooks from the surrounding areas moved to Rampur to serve the Maharajas. Mughal cuisines are well-known for using a combination of cooking styles from North India and Central Asia. Rampuri cuisine, which is an integral part of the Mughlai cuisine, has also been heavily influenced by different cuisines such as Afghani,
Lacknawi
, Kashmiri and
Awadhi
. But, unlike the ghee-laden flavours and creamy textures of the famous Lakhnawi or Awadhi cuisine, Rampuri food is beautiful in its simplicity and has its own distinct flavours. "While Lackhnawi cuisine uses more
shakkar
and
dahi,
Rampuri cuisine uses a lot of fresh
dhaniya
and yellow chillies," shares Chef Bhura Khan who was hugely influenced by his father and started cooking for the royal
gharana
and then moved on to becoming the Nawab's personal caterer. (Also read:
Beyond Wazwan - A Peek Into The Cuisine of Kashmiri Pandits
)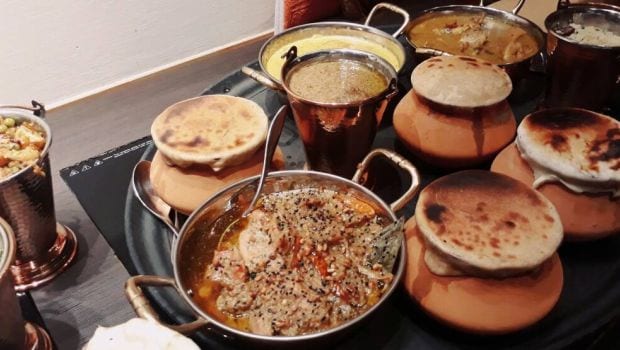 Ramouri curries and biryani made in clay pots
The other royal cook from Rampur, ​Chef Mehfooz Quereshi was influenced by the culinary expertise of his grandfather and great grandfather. When he joined his father in the royal kitchen, his cooking skills earned him praise from Nawab Quaziali Khan, who hired him as his personal cook. He tells us that the one thing which sets Rampuri cuisine apart from the other cuisines is the use of locally grown spices and vegetables. "Some of the local spices that we use a lot in our recipes include
saunf, dhaniya, tej patta, jaifal, javitri, dal chini, badan khatayi, safed elichi
, and
pilli sabud mirch
, which is only available in Rampur. Apart from using the locally grown vegetables, we use a lot of potatoes in our recipes," he says. Another distinguishing fact about the cuisine is the use of a special mix of spices for every dish. For instance, the Biryani in Rampur is characterized by the use of
ginger
, onions and a mix of
javitri
(mace),
jaiphal (nutmeg)
and
khus roots.
Similarly, the Rampuri Korma is identified by its robust red gravy which very different from the others with a white gravy that are rich in cashew nuts. Interestingly, it is also believed that the use of bottle gourd and papaya to tenderize the meat for succulent kebabs and also the use of
varq
was first discovered in a Rampuri kitchen.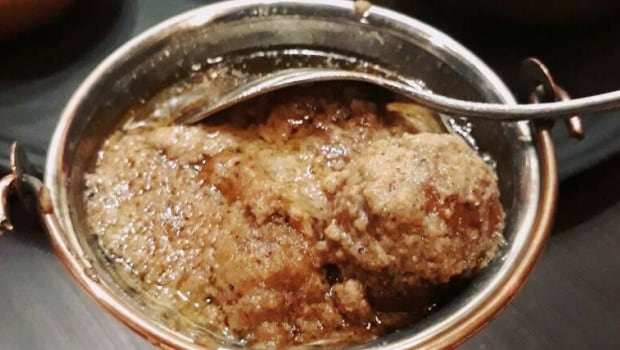 The famous Rampuri korma
The most fascinating aspect of the meal was, perhaps, the desserts that were so unique and surprising yet delicious. That's the beauty of
Indian desserts
, they can be anything but boring. Halwa is one of the most versatile dishes that has been adapted in different styles with different ingredients in various regions of our country. The earlier Nawabs of the city started experimenting with Rampuri cuisine, trying new flavors using traditional ingredients and hence came, Gosht Halwa, Macchi ka Halwa, Mirchi ka Halwa and the Adrak ka Halwa. Definitely, not for the faint-hearted. These delicacies of the yesteryear are popular even today as the tradition of making them has been passed on by generations of
khansamas
.(Also read:
The Fascinating Story of Halwa
)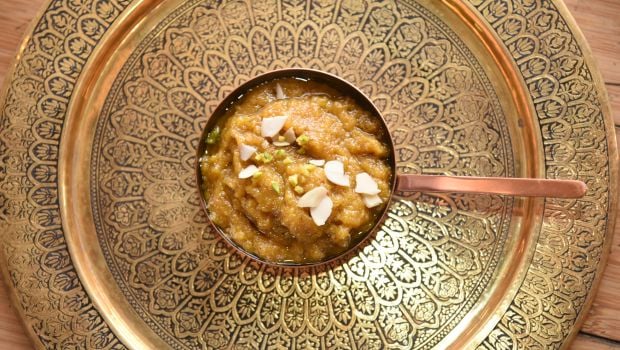 Browned and beautiful - Adrak ka Halwa
The Adrak ka Halwa is made with grated ginger, milk, sugar and
desi ghee
and is cooked for 3 to 4 hours to add the rich flavor. It is finally bolstered with
zaffran
and chironji to add a slight crunch to this otherwise gooey pudding-like dessert. It is believed that one of the descendants of Nawab Khan was advised to eat ginger in order to recover from an ailment and become healthy. Due to its pungent flavour, the Nawab would not have it and find excuses to avoid it. It's then that the cooks from the royal kitchen put their thinking caps on and concocted an indulgent sweet preparation to get him his daily dose of ginger. When served, the Nawab liked it so much that he tried the dessert twice and couldn't even make out that it was made with ginger! Soon, the Adrak ka Halwa became a royal tradition in the family. The Sabze Meetha, on the other hand, is a sweet mix of vegetables like beetroot, carrots,
gourds
, pumpkins and local produce. One would expect to find these vegetables in a savoury dish, but this traditional dessert from Rampur is full of their fresh flavours. The vegetables are all chopped in very tiny bits and then cooked with milk,
mawa
and lots of dry fruits. The taste is as unique and satisfying as the combination of ingredients. (Also read:
The Unique Use of Dals in Indian Desserts
)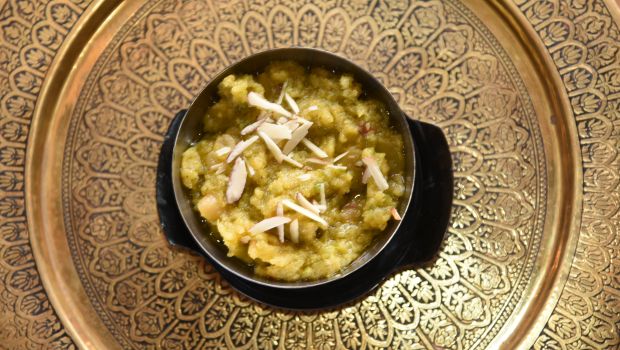 The bright and lovely Sabz ka Halwa
We admire how the simplest of ingredients in Rampuri cuisine are transformed into exceptional examples of culinary excellence. If you ever happen to visit Rampur, you must try them there.