Salads
can never really get out of fashion. They are light on the tummy, easy to digest, feel fresh on the palate and are so visually appealing. Experts believe that the more colourful your meal looks, the more nutritionally fulfilling it is. While making salads, you can go all out and explore different colours and textures. You can let loose the reins of creativity to mix together
lentils
, veggies, fruits, grains,
herbs
and even edible flowers.
When England-based vegan chef and fitness expert, Mitch Lee got in conversation with BodyPower, he shared some of his ingenious tips to make a bowl of salad incredibly healthy yet sumptuous. Mitch prides in being an expert at reworking "unhealthy recipes into nutritional yet truly satisfying treats, without losing any of the enjoyment or flavour," as he mentions on his official website.
"I have always loved salads and how colourful you can make them," he told BodyPower.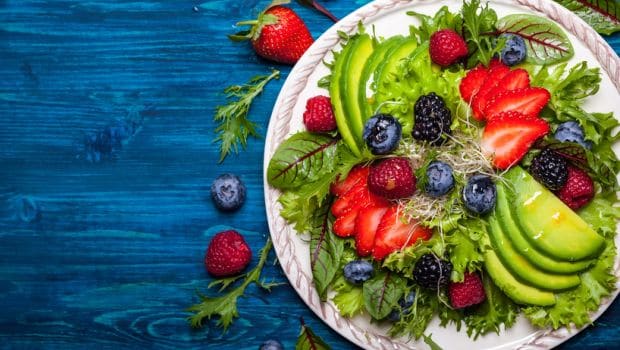 Lee shares easy tips and a fuss-free quinoa mix recipe which can be rejigged to arrive at wholesome salads and meals every single time. You can create your quinoa mix and add to it some salad leaves, fresh veggies, a bit of hummus, some nuts and seeds and fresh avocado for a dose of healthy fats. Top it all with a final drizzle of balsamic vinegar or sriracha and you are good to go.
Tips for Making Salads
1) Make you base wholesome. Grains are perfect for this. You can choose from quinoa (both red and white), rice, noodles or couscous.
2) Next come fruits and veggies. Always remember, the more colourful they are, the better. Throw in some peppers, spring onions, carrots, red cabbage, pomegranate, tomatoes, etc.
3) Herbs and spices can render a distinct character to your mix. Lee confesses being a lover of smoke and curried flavours. They work great in contrast to the sweet and fresh flavours of vegetables. Fresh basil and coriander are excellent choices as they add so much flavour and a visual character to any preparation.
4) Add some crunch. Nuts and seeds provide great texture and added nutrition. You can choose from an inexhaustible range, from pine nuts, walnuts, almonds to pumpkin seeds, sunflower seeds, basil needs and much more.
5) Sauces and oils are an absolute essential to lift up your meal. Give your salad a citrusy element by adding a bit of lemon or lime juice or even some oranges. One of the safest and most traditional options would be a drizzle of balsamic vinegar and olive oil. You can even add a dash of some hot sauce to give it a fiery touch.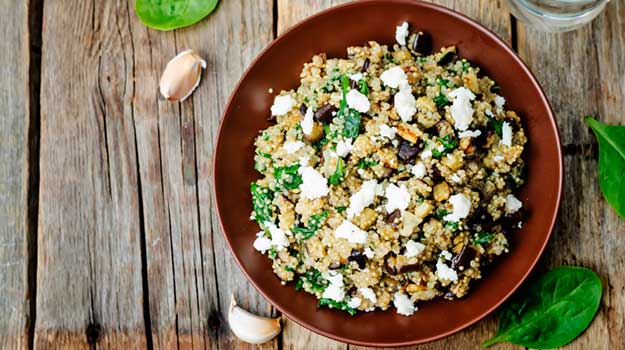 Salads are not just for people who are counting calories or trying to be healthy. It also doesn't mean that those who have it should do with a runny and bland mix of lettuce, tomatoes and cucumbers. It is possible to eat healthy yet have your meals suited to your demanding palate. You just need to learn to create a balance and opt for the right ingredients. Below is an example with the right amount of nutrition -
Ingredients:
150g white quinoa
100g red quinoa
250g mixed baby peppers
1 pomegranate
250g choice of seeds
A handful of fresh coriander and basil
20g sunflower seeds
Juice of 1 lemon
Juice of 1 lime
1 Tbsp cumin
1 Tbsp smoked paprika and turmeric
1 Tbsp agave syrup (or maple/ honey)
Balsamic vinegar
Salt and pepper to taste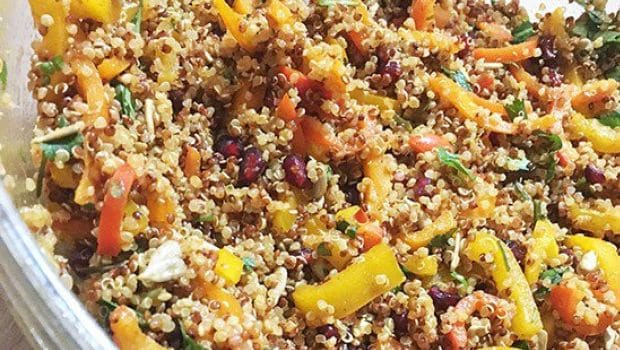 Image via Mitch Lee
Method:
1) Cook quinoa as per the directions listed on the packet.
2) Add chopped peppers, herbs and pomegranate seeds in to a bowl.
3) Mix in quinoa with all remaining ingredients, add salt and pepper. Put this mixture in an airtight box and refrigerate it until ready to serve. The mix can usually be used for up to 4 days and makes around 6 portions (200kcals each).
4) Add in salad, hummus, avocado, nuts and seeds to arrive at your yummy superfood salad. It'll serve you with some 400-500 calories and help you feel full of life!
"I recently made up my salad using 150g spinach and mixed salad leaves, 30g lemon and coriander hummus, 5g spicy seeds, 30g avocado, 50g cucumber and 6 tomatoes. I added in a dash of French dressing. 1 serving of my quinoa mix has around 195kcals, 4.1g protein, 31.7g carbs (4.9g fibre) and 4.4g fat (0.4 saturated)
1 bowl of my superfood salad (using the quinoa mix) gives close to 427kcals, 11g protein, 49g carbs (12g fibre) and 19g fat (3g saturated).
Powered by BodyPower
Disclaimer:
The opinions expressed within this article are the opinions of the author. NDTV is not responsible for the accuracy, completeness, suitability, or validity of any information on this article. All information is provided on an as-is basis. The information, facts or opinions appearing in the article do not reflect the views of NDTV and NDTV does not assume any responsibility or liability for the same.