Spicy Snacks Recipes: Who doesn't crave a hot and spicy plate of snacks to binge on in the evening? After all, a cup of tea isn't sufficient to satisfy our hunger pangs and sudden cravings. Even though I would be gasping for water after just a bite of spicy kachori, do you think I would let it go? Never! Spicy food is such that nobody can ever resist indulging into it. No matter what the dish is, the mouth-watering flavours of a host of spices would make it irresistible.


While the common notion might make you think that Indian food is the spiciest, other Asian cuisines such as Chinese would make you think again. From chilli chicken, satay, to a variety of fiery Sichuan dishes, all can make your taste buds go bonkers. A bit of spice not just enhances the flavour of the dish but also helps in keeping it fresh for long.
In the case of North Indian food, which was brought to India by the Mughals, it is said that Indian chefs, who were hired by Babur to cook Persian food here, added the spices to Persian cuisine to cope with the hot climate in India that would spoil the food soon. It is scientifically proven that hot spices prevent the food from spoilage since the bacteria and foodborne pathogens cannot survive in a hot environment that these spices provide. Thus, many countries with hot climate have a spicy cuisine. Another reason to spice up your platter more!


To give you a peek into some of the most popular spicy snacks that you can easily prepare at home, we've got you a list of those along with easy steps so you never run out of options! Whether you have unexpected guests at home or you just need a plateful of munchies to go with your tea or have a get-together with friends and family at home, these interesting snacks are perfect for every occasion!
Here are 7 Best Spicy Snacks To Prepare At Home:
Marinated in a delectable mix of spices, this paneer tikka recipe gives out juicy, smoky and aromatic flavours! A perfect vegetarian spicy snack recipe to prepare for starters at dinner parties, you can serve along with minty coriander chutney.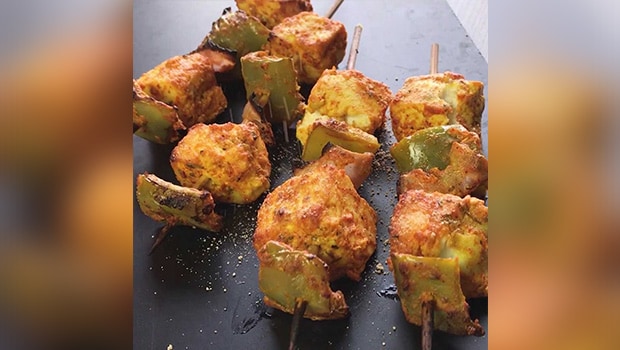 Spicy Snacks Recipes For Evening: Paneer tikka is a delicious must-have vegetarian snack at any party.
Classic chicken recipe from the kitchens of Southern India, chicken 65 is a deep-fried, spicy snack that is loved for its fiery flavour. The spicy flavour of Chicken 65 can be well attributed to the extensive use of red chillies in the preparation. It is a great option to cook for those who love fiery spicy snacks!


(Also Read: 10 Best South Indian Snacks Recipes | Top South Indian Snacks Recipes)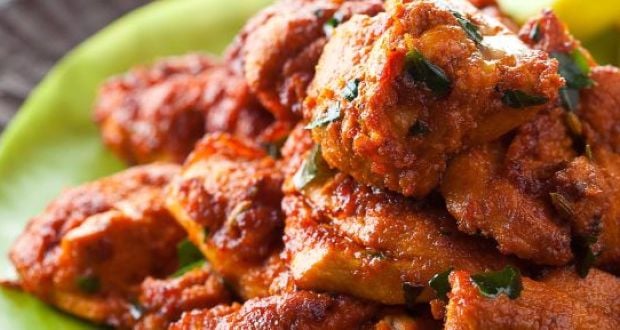 Spicy Snack To Make At Home: A delectable spicy snack recipe to prepare at your next dinner party.
With a burst of chillies, tamarind and host of other spices, Mysore chilli chops are succulent lamb cutlets, packed with sesame seeds and grilled to perfection. A super easy and quick recipe to prepare at home, this spicy snack can be prepared in less than an hour with just a handful of ingredients.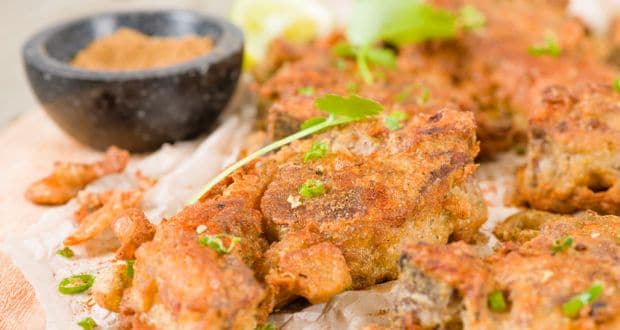 Lamb chops marinated in variety of spices with a burst of red chillies, wrapped in sesame seeds and grilled golden.
One of the most popular oriental dishes, chilli chicken is loved by kids and adults alike! With a burst of flavourful spices and sauces, marinated chicken chunks are fried and sautéed with soy sauce, vinegar, onion and chillies to have a juicy, crunchy and spicy snack to relish as a starter. Serve it at parties or just prepare as an evening snack for kids; it is perfect for any occasion.


(Also Read: 11 Best Chinese Chicken Recipes | Popular Chinese Recipes)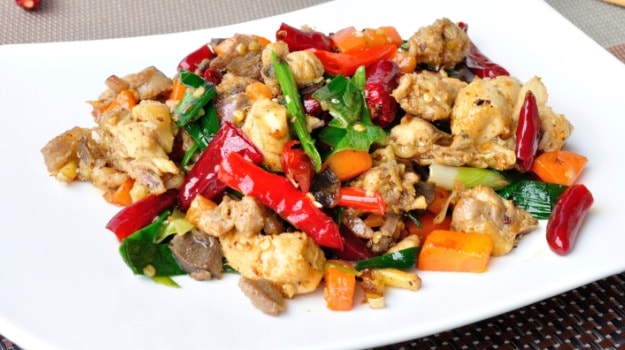 Spicy Snacks To Make At Home: Chilli chicken is one of the most popular Indo-Chinese style chicken appetizer.
The classic Indian snack to pair with piping hot chai, samosa is undeniably everyone's favourite snack. So much so that we don't even need a reason to binge on one. Rainy day? Mid-day hunger pangs? Tea break? Samosa would be an ideal snack for every occasion. Here is a spicy samosa recipe with delectable onion-masala stuffing, deep-fried to crisp golden!
Evening Snacks Recipes: Serve this spicy samosa with home-made chutneys and it would be the ultimate crowd pleaser!
One street food from India that none of us can ever resist, khasta kachori is a crispy fried, flaky snack that is loaded with spicy stuffing of lentils and spices such as cumin seeds, asafoetida, chilli powder, garam masala and mango powder. Best enjoyed during the rainy season, kachoris are most popular in the states of Uttar Pradesh and Rajasthan for breakfast, served with aloo ki sabzi.
Evening Snacks Recipes: Dough made of flour and ghee stuffed with a lentil mixture and deep fried till crisp.
With a fiery addition of peri peri sauce, this oriental dish of chicken satay would instantly tantalise your taste buds. Chicken satay is a mouth-watering preparation of boneless chicken thighs marinated in peri peri sauce along with flavourful spices and yogurt and grilled to perfection. This spicy snack recipe is just too easy and quick to prepare for a game night with friends.
Spicy Snack Recipes: The succulent chicken pieces slathered in spices and grilled to perfection would tingle everyone's taste buds.
Try each of these at home and let us know your favourite one in the comments section below.
About Aanchal MathurAanchal doesn't share food. A cake in her vicinity is sure to disappear in a record time of 10 seconds. Besides loading up on sugar, she loves bingeing on FRIENDS with a plate of momos. Most likely to find her soulmate on a food app.