The countdown to one of this season's most anticipated match, India vs Pakistan at the ICC World Twenty20, 2016 has begun and you can feel the enthusiasm pulsing through every cricket lover across the world. What makes this year's match even more exciting?
Fact 1 - India's never lost to Pakistan in a World Cup.
Fact 2 - India's never beaten Pakistan at Eden Gardens which happens to be today's venue.
To make tonight more memorable, we suggest you grab a bucket of cold beer, the television remote because nobody wants to get elbowed trying to find a table at your local sports bar, and food! And not just fried, snack-y food which you need to dab against a tissue before you eat it. The kind that lingers of Indian spice, Pakistani flavours and comes to you straight from our archives.
From an Indian Kitchen
1. Chicken 65 - Recipe by Chef Velu Murugan.P (Dakshin, Sheraton)
Get the recipe here.
Deep-fried chicken pieces tossed in a smashing South Indian spice mix: ginger-garlic, garam masala powder, nutmeg, lemon, cornflour, star anise, mace flour and more. This one's spicy, crunchy and a perfect evening snack for chicken lovers.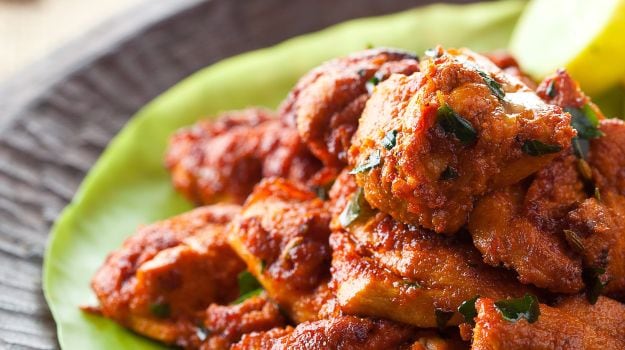 2. Aloo Tikki - Recipe by Bengali Sweet House
Get the recipe here.The quintessential Indian street food snack is here, and this time it's made at home and customised to your palette. A crisp thin or thick (whichever you prefer) tikki made with boiled potatoes, cashewnuts, melon seeds and cumin is fried to perfection and served with both sweet and sour chutneys and some chilled yoghurt.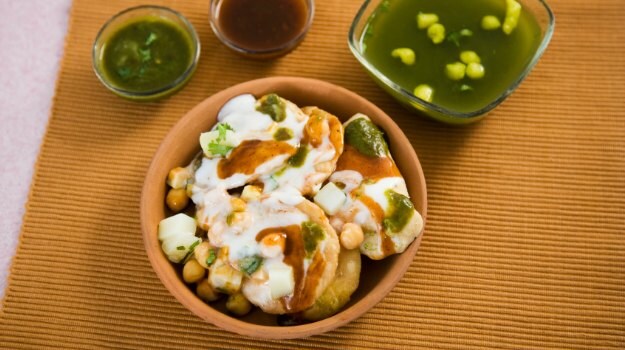 3. Cocktail Shami Kebab - Recipe by Niru Gupta
Get the recipe here.
This one's actually really easy to master, once you grind the meat right. Mix it with some onions, garlic paste, fresh ginger, channa dal and bind it with egg. Now, shallow fry it over low heat and serve with a garlic chutney.

4. Paneer Anardana - Recipe by Raheel Ahmad, Marriott Hotel Whitefield, Bengaluru
Get the recipe here.
Saturday-night snacking is incomplete without Paneer Tikkas, especially when they're this good! Succulent pieces of paneermarinated in chaat masala, garlic paste, ginger, hung curd, Kashmiri red chilli, turmeric and tossed in tomatoes and capsicum.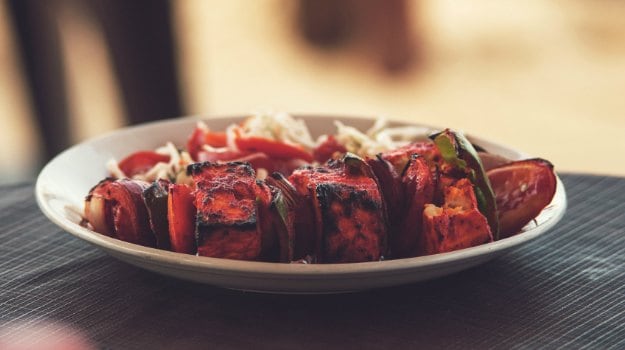 5. Dahi Kebab - Recipe by Chef Marut Sikka
Get the recipe here.
Made with hung curd, cheese and onions - these quick and easy vegetarian kebabs are a hit at every party. Flavour with ginger and pepper, and go straight to foodie heaven.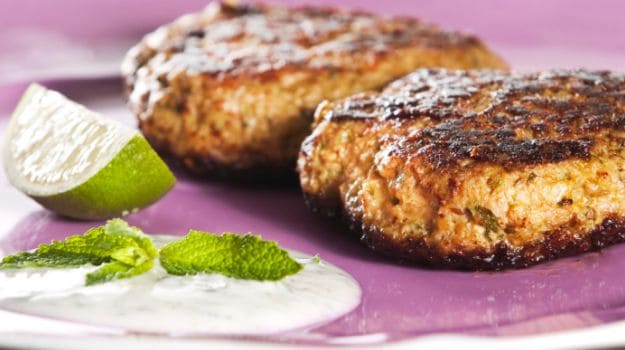 Flavours of Pakistan
Like India, Pakistani food also varies from north to south and cannot be described in just a few words. The food in some parts of Pakistan is heavily influenced by Middle Eastern flavours so you'll find a whole lot of meat cooked real slow, with beautiful sweet and sour undertones. Fruit, dairy and nuts are commonly featured in their food so you'll find luscious gravies made with walnuts, creams and more.
6. Beggars Purse - Recipe by Aamir Iqbal, Team Pakistan (Foodistan)
Get the recipe here.
Don't let the name intimidate you because this is actually a very creative dish. A beautiful combination of prawns, pine nuts and khoya is cooked perfectly and stuffed into equally divided filo pastry squares and doused in a beautiful sauce made with orange juice, sugar, ginger, star anise and cloves.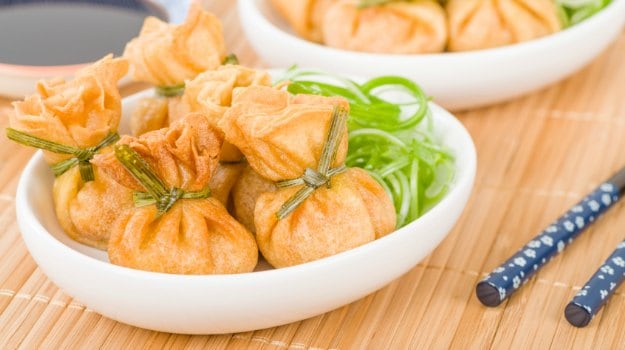 7. Classic Bhindi Bites - Recipe by Aamir Iqbal, Team Pakistan (Foodistan)
Get the recipe here.The gorgeous mix of flavours and textures will just blow you away! Deep-fried cubes of bhindi and zucchini are clubbed with a basic ginger/garlic masala and some paneer, and then served with a delicate fig chutney (made with chaat masala, no kidding!) on toast.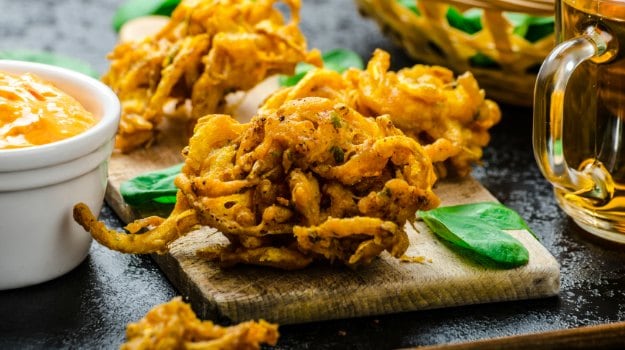 8. Potato Mushroom Kebabs - Recipe by Mehmood Akhtar, Team Pakistan (Foodistan)
Get the recipe here.
There are regular kebabs and then there is this: made with mushrooms, potato and gram flour, they are served with mango sauce, mango pickle, red chilli, salt, garlic and warm water.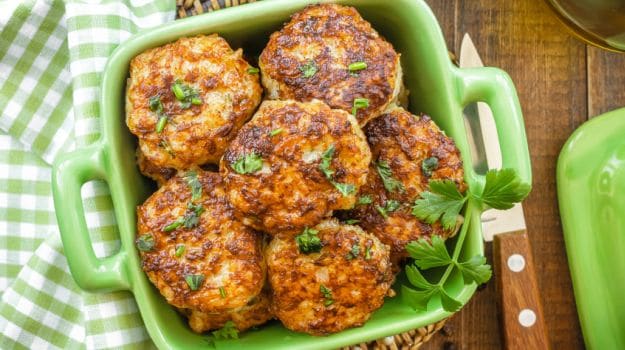 9. Paneer Balls - Recipe by Poppy Agha, Team Pakistan (Foodistan)
Get the recipe here.
You'd think these are any other paneer balls but no, absolutely not. Stuffed with lightly seasoned carrot rice, these Paneer Balls are coated with a thick besan and maida coating and served with a garlic, chilli, lemon, jaggery and tamarind-based chutney.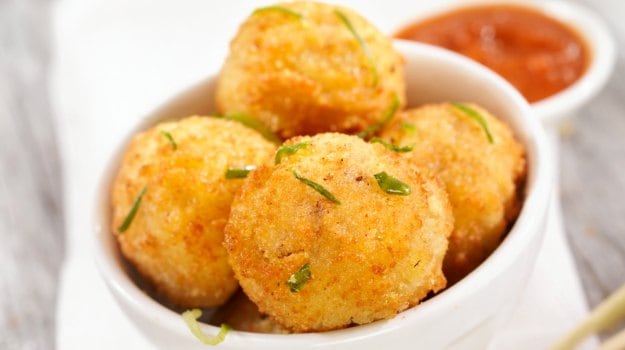 10. Masala Fish Bites - Recipe by Poppy Agha, Team Pakistan
Get the recipe here.
Marinate the fish in ginger, garlic and red chilli powder, and leave it aside while you prepare this simple yet unbelievable apple confit. Take some apples and dunk them in boiling water. Now, add some sugar, jaggery etc into the water and let it cook till the liquid becomes thick and syrup like. Finish the fish in hot oil and serve with the apple sauce and bowl of mint-y raita.