"My wife is from South Goa, I am from the north and we fight over whose food is better," says Chef Fernandez at the gorgeous Bay 15 near Dona Paula, quite in the centre of things as they stand. I am discussing the intricacies of
Goan cuisine
— one of the most touristy but also perhaps one of the least understood regional cuisines in India. And the chef is going over the finer details of how you would make a certain curry in homes in the north versus the same
curry
in the south. To an outsider, the finer points of when to use
haldi
, when to use tamarind and not vinegar, and whether or not to strain the coconut milk — preferences in different homes, depending on both their region and religion — while making the same style of dish can be bewildering. But then, of course, it is exactly this diversity that defines all
Indian regional cuisines
in their glorious complexity.So, here is what I garner from Chef Fernandez. North and South Goa may be fairly well defined, according to touristy preferences: If you want to party, you hit the beaches of
the north
, if you want a private, spa holiday, you look at the untrammeled sands of the south… but they are also distinct cuisine-wise. So before you rubbish a curry at a shack as not being "authentic", it may be better to know of the subtle differences in the way Goans in the north and the south treat their dishes. After all, it may be quite a legit dish, just done in a different
home style
."In general, the north curries have that oiliness on top," says Chef Fernandez, and that is because "we don't throw the coconut pulp. We use all of it." What I gather is the fact that since the north has fewer coconut trees per home, it is a valuable commodity and all of the fruit is used, unlike in the more refined way of cooking in the south, where only the second or third press of the
coconut milk
is used to flavour and thicken the curries.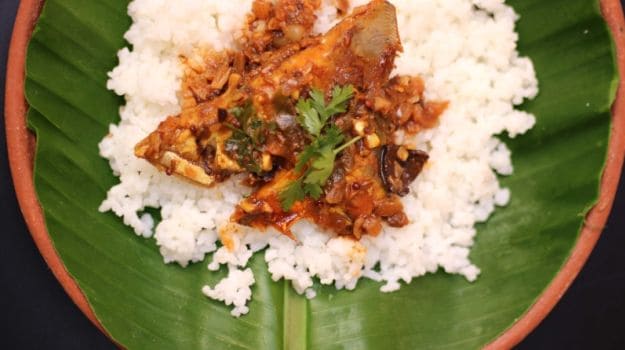 Goan Fish Curry
Because the south has been more fertile, also with more of those palm trees, there are more bakeries in the south. The fermentation of the bread, introduced by the Portuguese, is done with
toddy
—as opposed to the north, where yeast is used.The Vindaloo, of course, is inextricably associated with Goa—and has to be one of the most bastardised dishes on Indian restaurant menus all over the world. The spicy curry (with pork typically, but also sometimes lamb and potato) gets its name from the Portuguese words for wine and garlic and is an obvious Portuguese influence in
the cuisine.
The Portuguese introduced both the chillies and vinegar to Goa and the dish uses these, along with pork fat, garlic and
jaggery
to flavour the curry. In fact, the sweet, sour, and saltiness make it almost like a pickle, and the Vindaloo does taste better after a day as flavours assimilate more with the meat. For some reason, Chef Fernandes assures me, the
Vindaloo
of the south is heavier than the thinner curry of the north—something to do with relative prosperity, undoubtedly.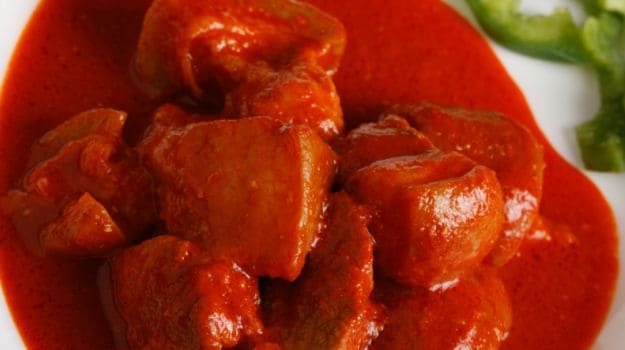 Pork Vindaloo
The other great divide in
"Goan" food
is, of course, dependent on religion. Though Hindu and Catholic cuisines of the region are quite close—and the Hindus eat fish and lamb (but not beef and pork), there are differences in the way they prepare the same dishes. For one, no vinegar is traditionally used in Hindu Goan food; the souring agents remain tamarind (for fish curries) and
kokum
(for vegetables). Catholic cooking on the other hand uses all three souring agents; typically, tamarind for
fish curries
, where the
seafood
has no strong odour; vinegar for heavier meats like beef or pork (but not chicken, which does not require strong marination); and kokum for oily fish like mackerel. The Hindu food is also spicier than the Catholic food with more chillies, and
curry leaves
are used in vegetarian dishes only.Chef Fernandes contends that there are subtly different ways in which Hindu and Catholic homes do a common
masala
like the
Xacuti
, one of my favourites in Goan food, with its strong, roasted spices. Hindu homes use more
haldi
and mix Kashmiri chillies with the small Goan button chillies and thus the
masala
is yellowish brown in colour as opposed to the darkish hue in Catholic homes. The regular Catholic "curry" is also totally reddish because they use only Kashmiri red chillies (less pungent and gives colour) unlike the Hindu
home-cooked version
, which uses
haldi
and the other chillies and thus has a lighter colour.Finally, here are some basics on the well-defined
masalas
that go into each of the well-known "Goan" curries. You can easily do these at home:
1. Cafreal:
This is a fresh green
masala.
Blend together fresh coriander and mint leaves with a little capsicum (for colour), ginger, garlic, turmeric, green chillies, onion and sugar. All the Goan
masalas
have a pinch of sugar added to balance the salty-spicy flavours. But the most important ingredient in all Goan Catholic
masalas
is the
coconut vinegar
(fermented toddy) that gives the cuisine a distinctive taste. If you don't have this, substitute with tamarind.
2. Goan curry:
Make this by blending freshly grated coconut, turmeric powder, coriander seeds, cumin seeds, a ball of de-seeded tamarind, red chillies,
ginger
and garlic paste and, of course, sugar. All Goan
masalas
are "colour coded"—this one ranges from yellow to orange, depending on which home you are having it in. With the Saraswat influence, the
masala
may incorporate more
haldi
and no onion and garlic.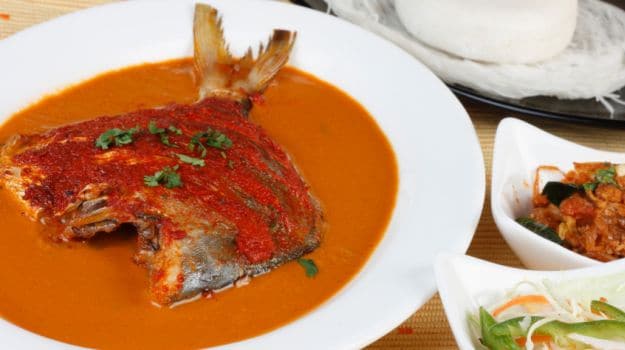 3. Xacuti masala:
It has a wonderful complexity thanks to roasted spices. First make a dry
masala
roasting and blending
cloves
, green cardamom,
star anise
, fennel,
cumin
,
cinnamon
, black pepper, Kashmiri
red chillies
and rice powder. Next make a wet
masala
: heat coconut oil and add onion, green chillies, ginger and garlic and fresh coconut. Add curry leaves and coriander leaves and a pinch of turmeric. When sauteed, blend and then mix with the dry spice mix. This becomes a
masala
to coat the heavier meats—pork, and beef, typically.
4. Peri Peri:
These are small Portuguese chillies, but you can make this
masala
with any chilli. Kashmiri red chillies, cloves, cardamom, cumin,
peppercorn
, cinnamon, ginger and garlic, turmeric, sugar, onion and Goan
vinegar
need to be soaked overnight. Grind everything together. This is a bright red paste and the basic
masala
for Sorpotel (to which pork fat is added), Vindaloo and even for Goan sausage.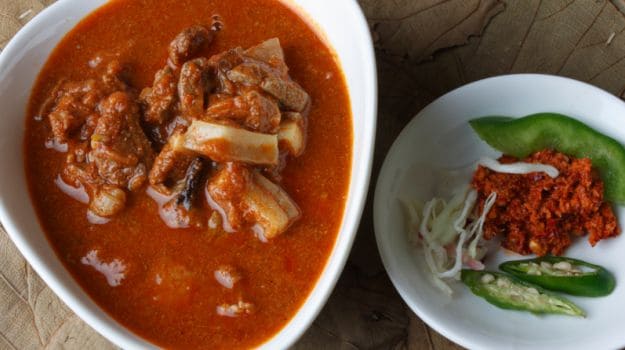 Disclaimer:
The opinions expressed within this article are the personal opinions of the author. NDTV is not responsible for the accuracy, completeness, suitability, or validity of any information on this article. All information is provided on an as-is basis. The information, facts or opinions appearing in the article do not reflect the views of NDTV and NDTV does not assume any responsibility or liability for the same.