I still remember my first meal at (my friend) Mythili Reddy's house in Chennai. We were all set for a
traditional Andhra meal
, and as I rolled up my sleeves, I looked around the table for Kandhi Podi (
dal powder or gun powder
), but I never found it. "You won't find
podis
or
chutneys
in my kitchen," said Mythili, and quickly re-set the context for the elaborate lunch.
Her family's culinary roots are in Mahabubabad in the heart of Telangana. Over the course of that meal I learnt the not so subtle differences between the cuisine from the Telangana region and the erstwhile Andhra state. This was in 2012, the Telangana state was formed only in June 2014, formally breaking away from what was Andhra Pradesh from 1956 to 2014.
Most people usually paint the entire region's culinary traditions with the same brush. More so in Chennai, which was the hub of the Madras Presidency. What we know as Andhra Pradesh today (after the bifurcation) with the Rayalseema and Coastal Andhra regions, it used to be a part of the Madras Presidency. Modern Telangana was essentially the hub of what was Hyderabad state - the largest princely state in British India with chunks of modern Maharashtra (Aurangabad) and Karnataka (Gulbarga). In 1956, the Telugu speaking regions were merged with Andhra Pradesh despite significant cultural differences. These differences extended to the region's distinct cuisines too.(Buy regional lip-smacking pickles and chutneys on SmartCooky!)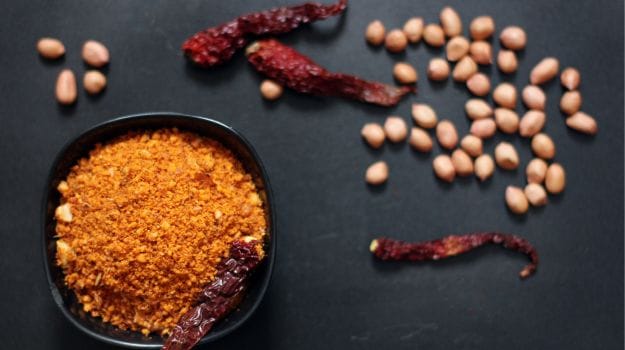 In Quest for Telangana Food
In 2014, I was in Hyderabad and searched high and low for restaurants that served Telangana cuisine. Bhanu Prakash Reddy, my B-school classmate and an avowed foodie accompanied me on the hunt that ended up in a dead end. We found numerous restaurants that served Hyderabadi cuisine from biryani to haleem but no restaurant that served some of the dishes I'd tried at Mythili's home. What was more interesting is many locals in Hyderabad (especially those who had moved from the Andhra regions over the past few decades) equated Telangana food with Andhra food.
The first thing I learnt about Telangana cuisine busted a big myth - the cuisine is not as spicy as Andhra cuisine. You will not find generous quantities of Guntur red chilies in fiery gravies here. The Telangana region has always been more arid compared to coastal Andhra Pradesh. One reason why meat (mainly lamb and chicken) is the mainstay of the cuisine. It's not unusual for all three meals at many homes to feature chicken or mutton on the menu. It is an affirmation of a recent report that identified Telangana as India's most "non-vegetarian state". Mythili reminisces about breakfast in her village where Chicken Pulusu (gravy) used to be served with Gatti Poori - pooris intentionally flattened (minus the usual fluff). Idlis and dosas (and even pesarattu) never used to be part of a traditional breakfast in Telangana.
(Looking for healthy breakfast options? Shop now!)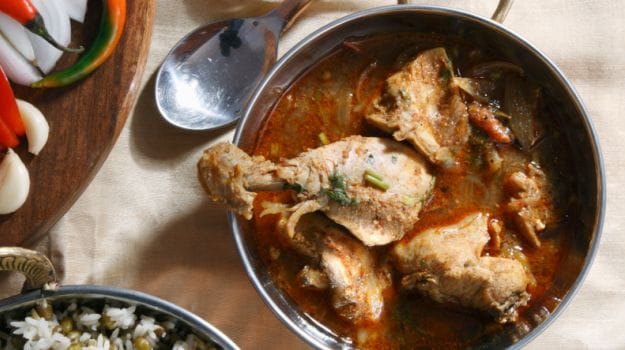 Telangana Food Vs Andhra Food
The Telangana Telugu has its own distinct identity with a liberal sprinkling of Urdu words. It's the same with the region's culinary traditions that have been shaped by the Deccan kingdoms (including the Nizams of the Asaf Jahi dynasty) and yet biryani is not a traditional dish except in Hyderabad. There's hardly any fresh coconut used although a few dishes add desiccated coconut. Again, you won't find too many vegetables that are part of regular diets. However, okra, ridge gourd and ivy gourd (Dondakkai in Telugu) are the notable exceptions. Murrel fish (the Telangana government recently declared this as a 'state icon') is one of the only widely used varieties of fish. It's not uncommon to find fish pickles in many homes, again the Andhra specialty Avakkai is not as ubiquitous here.
Between 1724 and 1763, Aurangabad was the capital of Hyderabad State. It's not tough to spot the Maharashtrian influences. There's Baksham similar to Puran Poli and Jonna Rote (Jowar Rotis). Another breakfast specialty is the super soft Atukula Dosa with flattened rice (poha), urad dal, rice and curd in the mix. One of Bhanu Prakash's discoveries was Pachi Pulusu, a raw uncooked version of the rasam that is very similar to the Kaccha Pulicha of the Thanjavur Marathas. It's almost a cold rasam that is a summer favourite - served with rice just before curd rice.
There are a few similarities between Andhra and Telangana cuisine like the Ugadi Pachadi that is prepared for the New Year or the Garelu (Dal Vada). I like the Mokkajonna (pounded corn) version from Telangana better. There is also the occasional overlap between Hyderabadi and Telangana cuisine - the Mutton Paaya (a Sunday breakfast treat) is not just common in Hyderabad but across the state. But there are more differences than similarities. Telangana has a rich and distinct culinary identity that clearly hasn't got its share of attention. Surely that will change.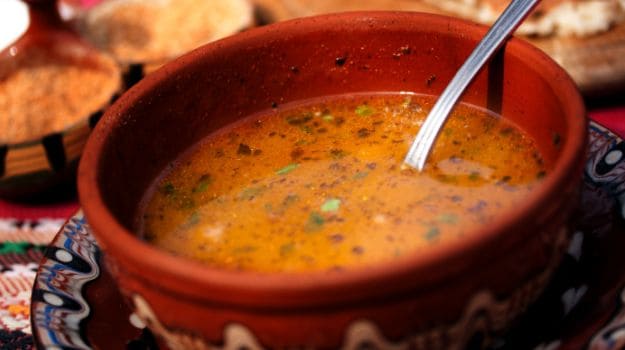 Telangana Recipes
1. Bagara Annam
Recipe by Bharathi Reddy
This traditional rice borrows bagar, the Urdu word for tempering/seasoning and is perfect for one of the region's Chicken or Mutton gravies.
Ingredients:
1 cup basmati rice or Sona Masuri
2 Tbsp ghee
2-4 cloves
2-4 cardamom
1-2 cinnamon stick
1 cup onion, roughly chopped
Salt to taste
2-3 green chillies
1 tsp ginger garlic paste
1 bunch mint leaves
A bunch of coriander leaves
1/2 cups water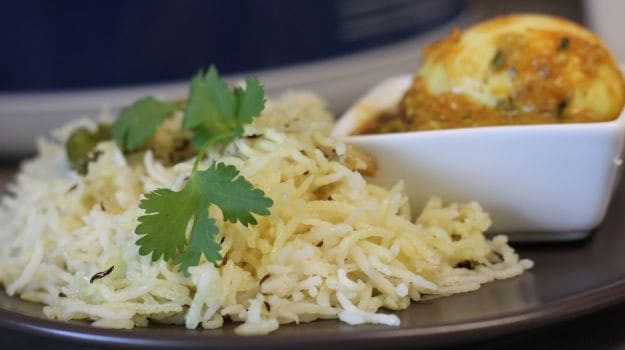 Image credit: www.booklesscooking.com
Method:
1. Soak the basmati rice for 30 mins in water.
2. Heat oil in a pan, add bay leaf, cloves, cardamom, cinnamon stick, black cumin seeds and sauté it.
3. Add onions, little salt, green chillies and sauté it.
4. Add ginger garlic paste and sauté it, cook for 1 minute until the raw flavour disappears.
5. Now add mint leaves, coriander leaves and mix it.
6. Add water, check for seasoning, add salt and boil it.
7. Add soaked rice and slightly mix and cook it initially. Once the moisture is reduced, place the lid and cook it until it is done
2. Podi Mamsam
Recipe by Bharathi Reddy
It is one of the most delicious mutton dishes from Telangana. Serve this with the Bagara Annam or with steamed rice (with a dollop of ghee).
Ingredients:
1/2 kg mutton
1/2 stick cinnamon
1-2 cloves
1-2 cardamoms
1 onion
1 1/2 tsp khus khus
1 tsp ginger garlic paste
1/2 tsp chilli powder
1/2 tsp coriander powder
A few sprigs coriander leaves
Salt to taste
1 Tbsp cooking oil
A small piece dried coconut
1/2 cup curd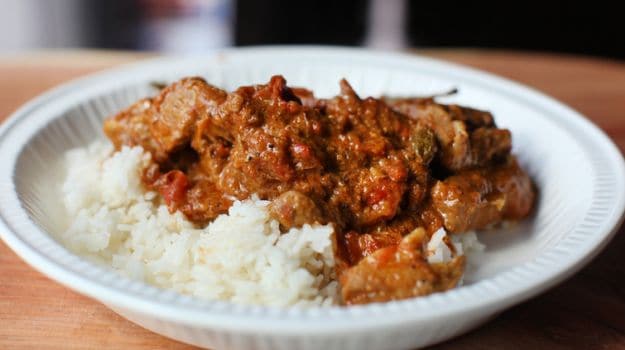 Method:
1. Pressure cook the mutton (at least 2-3 whistles) and keep aside.
2. Fry the cinnamon, cloves and cardamom and then add onions. Fry till the onions turn golden brown.
3. Add the dry coconut and khus khus seeds, ginger garlic paste and chili powder. Add a small quantity of water.
4. Add the curd fry for a few minutes and then the juice of half a lime.
5. Add the meat and keep frying constantly. This is the key step in this dish.
6. Add the dhania powder. Keep frying till dark brown. Add some coriander leaves as you finish the dish.About the Author:
Ashwin Rajagopalan is a cross cultural training expert and lifestyle writer. When he's not writing about food, he thinks about gadgets, trends and travel experiences. He enjoys communicating across cultures and borders in his weekday work avatar as a content and editorial consultant for a global major and one of India's only cross cultural trainers.
Disclaimer:
The opinions expressed within this article are the personal opinions of the author. NDTV is not responsible for the accuracy, completeness, suitability, or validity of any information on this article. All information is provided on an as-is basis. The information, facts or opinions appearing in the article do not reflect the views of NDTV and NDTV does not assume any responsibility or liability for the same.
About Ashwin RajagopalanI am the proverbial slashie - a content architect, writer, speaker and cultural intelligence coach. School lunch boxes are usually the beginning of our culinary discoveries.That curiosity hasn't waned. It's only got stronger as I've explored culinary cultures, street food and fine dining restaurants across the world. I've discovered cultures and destinations through culinary motifs. I am equally passionate about writing on consumer tech and travel.