There was a time when going out for a movie in
Delhi
was just that, a
movie
. Then, perhaps, it led to eating a meal before or after the show. Cut to the present and
dinner
-after-movie has now advanced to dinner-with-movie. Thanks to cinema halls' elaborate food menus, most moviegoers now don't find the need to make a quick stop at the food court or reserve a table at a
restaurant
anymore.Cinema owners have realised that a customer's experience can be so much more than what happens on the big screen. This revolution may have many participants, but one in particular is taking extraordinary steps to woo diners who are also movie enthusiasts. Renaud Palliere, CEO- International Development, PVR Ltd, explains this philosophy well, "Movies and food go hand-in-hand and food and beverages (F&B) are a great attraction for the audience." In this endeavour, PVR Cinemas has now introduced gourmet Japanese cuisine at Director's Cut and Gold Class in NCR. And as proof of their focus on this new endevour, they have brought on board internationally renowned Chef Yutaka Saito, from Megu, The Leela Palace, Delhi, who knows his sushi better than most.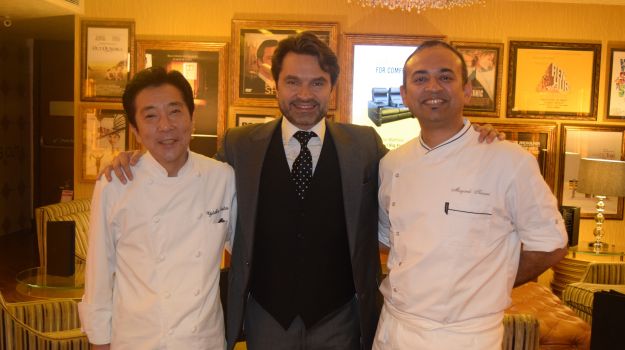 Chef Yutaka Saito, Mr. Renaud Palliere and Chef Mayank (From Left to Right)
From Popcorn to Pasta
"When Gold Class menus initially went beyond popcorn and nachos, expanding into pasta, pizza, dimsums - people actually liked it and we surprised ourselves. PVR now has a menu with about 100-120 food items featuring gourmet
salads
, mezze platters, shawarma rolls, the works. We have classified the food into sections like 'with finger', 'with fork', etc. The idea is to provide the facilities of a
restaurant
inside the cinema hall, but at the same time - the food should be convenient to eat while watching a movie. It's really important to make sure the food isn't too fragrant, since it's being served inside the theatre and you have to think of the other customers", says Executive Chef Mayank Tiwari, PVR Cinemas.
Sushi While You Watch Movies?
Japanese cuisine
has found tremendous popularity in India, and
sushi
is the flavour of the moment in Delhi, agreed. But sushi rolls inside a cinema hall? "It's bite-sized and cold, with a neutral smell. And there's no dripping, so you don't have to worry about your shirt getting ruined while eating in the dark. With our extensive menu, we're already dabbling a bit in many cuisines like
Italian
,
Chinese
,
Lebanese
,
Indian
. But Japanese? It's never been done before in this format, and that's what makes it so exciting. Chef Saito has been curating menus exclusively for Simply Sushi at PVR Director's Cut and Gold Class in Delhi. He's taking this endeavour to a whole new level, serving non-vegetarian and
vegetarian
sushi rolls, sashimi, nigiri in beautiful lacquer bento boxes - mostly cold offerings. Most of the produce is actually flown in from Japan".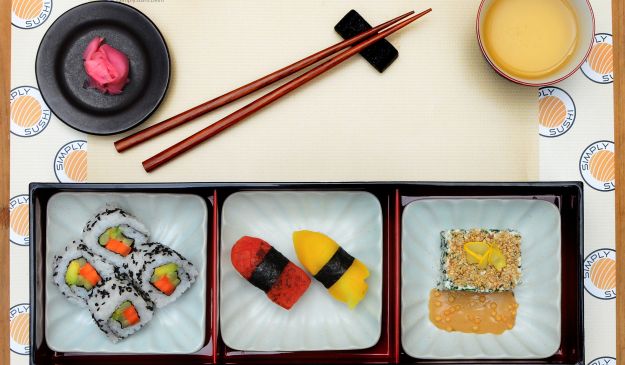 Japanese-Inspired Hot Dogs
It's not just about
sushi
though. If you love your hot dogs, you have to try the
Japadog
, good old-fashioned hot dogs with a Japanese twist. "Chef Saito has been playing around with ingredients and come up with ingenious ideas like a pork hot dog spruced up with freshly grated daikon and zesty soya, or chicken hot dog with
wasabi
mayo, teriyaki sauce and seaweed. The combinations are endless and beyond delicious", adds Renaud Palliere, CEO, PVR Ltd.
You can even choose to be seated at the live
kitchen
counter at Simply Sushi, placed strategically between Mistral and Director's Cut. This 9-seater sushi bar might be small, but it delivers on big promises. "With Simply Sushi, we aim to demonstrate that good quality Japanese food can also be popular and enjoyed in a casual setting, not necessarily in a five star hotel. Simply
Sushi
is open to the general public as well - not just moviegoers", Chef Saito says. We highly recommend the delectable Tofu Spinach with shiraya white season paste, sugar, soy, vinegar and a surprise crunchy element, and the Furumi Salmon Carpaccio with jalapeno and white miso. They make a mean
Mushroom
Nigiri, which comes second to their Spicy Salmon Rolls. If you want to opt for more variety, there's a bento box combo with 4 rolls, 2 nigiris and 1 appetiser available as well. "Under Chef Saito's guidance, we're also planning to open a restaurant in Mumbai where we'll be serving hot Japanese food as well", says Renaud Palliere.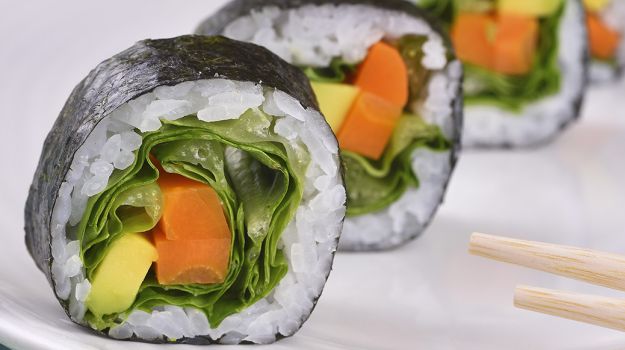 For the Sweet Tooth
"Chef Mayank will soon also be rolling out unconventional
Italian
gelato flavours as well, like
mango
and mascarpone,
basil
and
lemon
, organic cocoa and passion fruit, single origin
dark chocolate
with Cointreau, goji berries teamed with different herbs". Since PVR recently acquired majority stake of 4700BC, Chef Mayank has also been working with 4700BC's Co-Founder Chirag Gupta on ingenious popcorn flavours like black grape,
pineapple
, mango, orange, and more. "After all, popcorn is still the hero. You can even make a sundae with the gelato and popcorn as add ons", Renaud Palliere, PVR continues."We plan to launch PVR Director's Cut in the UK and the Middle East too. It will take about 3-5 years for us to set this up, but we think it's time to take the brand overseas. We are already looking at properties", Renaud told NDTV. While PVR Director's Cut changed Delhi's moviegoers' experience by elevating it to uber luxury, Simply Sushi promises to redefine your food experience while watching a movie. "We are gradually looking towards getting the same quality and standards at Gold Class theatres across India, Director's Cut was just a starting point", adds Renaud Palliere, CEO.So prepare to devour a freshly rolled salmon maki while you watch the next blockbuster, while sinking further into your plush recliner under a blanket, and get spoilt rotten with a hot towel (and an upcoming Japanese burger) just a button away.