Poori Recipes: If you've grown up in an Indian home, then you must be well-versed with a rich variety of deep-fried Indian breads that our mothers used to spoil us with. The expansive Indian menu boasts of a host of breads that you can pair with just about anything and everything - from tangy achar to chatpate aloo ki sabzi and chhole. From tawa roti, naans and parathas to Mughlai-special khamiri roti or rumali roti, one can never get enough of them. If you are a fan of deep fried, scrumptious treats, then piping hot pooris are the perfect delight for you.


Be it bedmi puri with aloo for a lazy Sunday breakfast and brunch or chole puri for lunch or dinner - pairing piping hot puris with almost any dish will be a palate-pleasing experience for sure. Puri is made like a roti out of puri-specific dough, rolled out and deep-fried in oil till cooked, rises and floats above the oil. Puri is a type of bread that comes in wide variety too. It can be made with different flours as well - from wheat to buckwheat or chestnut flour. Additionally, you can stuff a host of nutritious lentils and spices in your puris for a tantalising meal.


Besides an elaborative meal, pooris (or puris) are often cooked in Indian homes during many festive and religious occasions like Ashtami and Navami, where it is offered as prasad along with aloo, halwa and chane.
While a plain puri would perfectly compliment a bowl of raseele aloo or chatpate chole, you can still experiment with much more. We have curated a list of the best poori recipes that you can prepare at home without putting extra efforts.


(Also Read: Celebrate The Ongoing Festivities With A Range Of Different Puris)
Here Are 9 Best Poori Recipes To Try At Home:
Perfect for the fasting season, this poori recipe is made with kuttu or buckwheat flour. With just about three ingredients and a few minutes, you can relish these hot and crispy kuttu ki pooris during the fasting period of Navratri, Shivratri or Ekadashi. Since kuttu is known to be warm for the body, these puris are best eaten with a bowl of curd to balance a meal.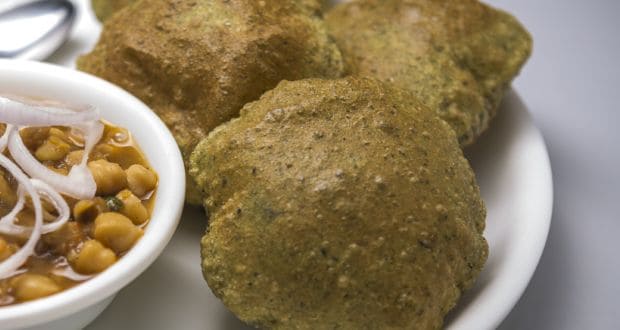 Poori Recipes: These crispy and tasty puris are made with buckwheat or kutta and goes well with curd.
A deep-fried delight from east of India, Luchi is a delicious treat found popularly in Bengal, Orissa and parts of Assam. Unlike puris, luchi is generally deep fried in ghee and is a popular dish during the time of Durga puja celebrations. Here is luchi recipe made with just maida, salt, water and ghee - pair it with a sabzi of your choice.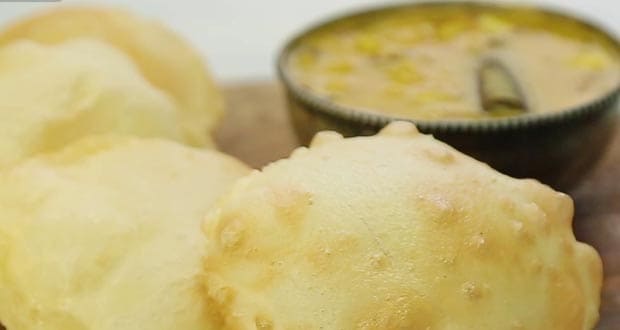 Puri Recipes: Luchi or Loochi is a deep fried Indian yeast free flatbread.
The good old traditional puri recipe! Made with whole wheat, semolina, salt and oil, this poori recipe is perfect to serve with chatpate chole, paneer or aloo ki sabzi. Fry these fresh, crispy puris for a lazy lunch over the weekend at home and your family will definitely love this heart-warming, fulfilling meal.
Poori Recipes: Wheat flour worked up in a dough, made into balls, rolled out and deep fried to perfect golden brown.
One of the most delicious stuffed Indian flatbreads, Radha Bhallavi has arhar dal blended with asafoetida and fennel powder, cooked with jeera, ginger paste and a pinch of salt, and then made into paste which is stuffed in the puris to deep fry. It's a great recipe to serve with curd and masaledar aloo.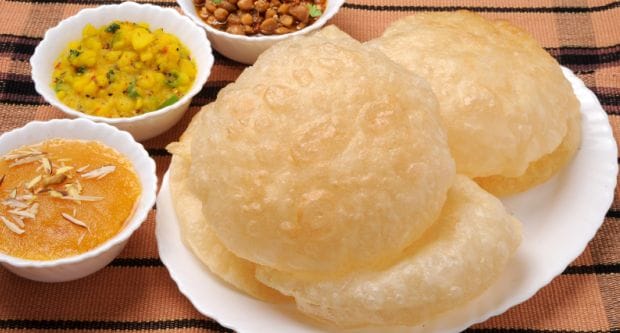 Puri Recipes: Delicious lentil stuffed puris that are hot, round, fluffy and will surely make your day.
A popular North Indian recipe, bedmi puri is a delectable street food mostly eaten for breakfast and brunch in Indian states like Delhi and Uttar Pradesh. The taste quotient doubles when these puris are paired with hing zeera aloo ki sabzi. The stuffing in Bedmi puri is made of urad dal, cumin seeds, asafoetida, garam masala and other spices.
Poori Recipes: The calssic Indian lunch, breakfast or brunch, Bedmi Aloo never cease to satiate a foodie's soul.
Reap in the goodness of spinach with this healthy and delicious palak puri recipe. Made with a paste of freshly blanched spinach leaves combined with chillies and salt. The dough for these puris is with whole wheat flour that is then cooked in canola oil, which makes it less greasy and lighter. Serve with curd or your choice of curry.


(Also Read: 11 Healthy Spinach Recipes | Palak Recipes)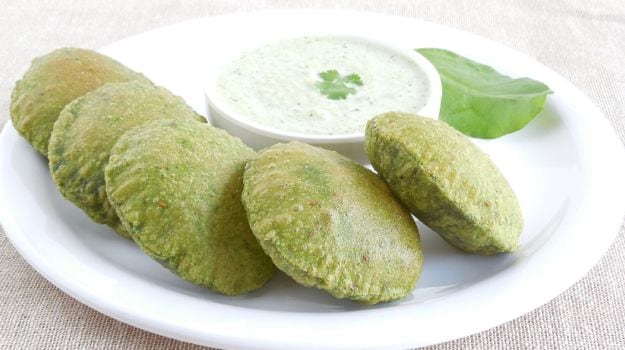 Puri Recipe: Packed with goodness of spinach, this is a great pick for you next breakfast.
Another healthy poori recipe that is perfect for the winter season. Beetroot is a winter vegetable that is lauded for its various health benefits. It is a versatile veggie that is used to prepare many sumptuous dishes like beetroot raita, smoothies, etc. Here is a beetroot puri recipe made with pureed beetroot mixed together with whole wheat flour, ajwain and salt, deep fried in oil till fluffy.
Brimming with the goodness of cauliflower, this stuffed puri is a yummy option to try at home.
Puris stuffed with a flavorsome moong dal mixture. These crsipy puris are ideal for lunch along with some aloo sabzi alongside a bowl of kheer.
Get your weekend brunch sorted with these appetising puri recipes that you can easily prepare at home. Let us know your favourite one in the comments section below.
About Aanchal MathurAanchal doesn't share food. A cake in her vicinity is sure to disappear in a record time of 10 seconds. Besides loading up on sugar, she loves bingeing on FRIENDS with a plate of momos. Most likely to find her soulmate on a food app.