Easy Pasta Recipes: Nothing like the comfort of digging into a bowl of pasta for a scrumptious treat! Packed with flavours, there's so much you could do with the much-loved Italian staple. While pastas are available in different shapes and sizes, you can also cook them in a number of sauces, veggies and meats to create some lip-smacking dishes. Of the vast repertoire of pastas, the one kind that is immensely popular across the globe is penne. The tube-shaped pasta is not only easy-to-cook, but also soaks in the flavours from the sauces really well. Top it with some grated cheese and fresh herbs, and you have a quick meal right there.


While Penne Alfredo and Penne Pesto are commonly available in the restaurants, you can also use it in a number of other ways at home, such as a wholesome salad with a seafood mix, or as a main with rich sauces. You can even bake it with meats and veggies, or give it an Indian touch with a sprinkle of masalas. Point to remember: play around as much as you can with herbs, cheese, sauces, veggies and meat, and you will never run out of options to dish out interesting options with penne pasta.


Just in case you need a little push to kick-start your stint with penne pasta, we have 11 super easy recipes to help you get started at home.
Sicilian spicy pasta made the traditional Italian way using olive oil, chilli, broccoli and some cheese. It's low fat, it's vegetarian, and it's easy to cook.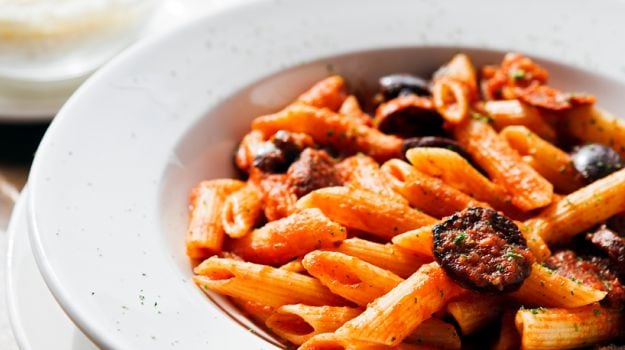 This pasta is low fat, vegetarian, and easy to cook as well
An all-time favourite, this pasta recipe is simple and quick to toss up at home. Loaded with cheese, you can even toss in some smoked salmon or sausages for some added flavour.
Penne pasta, eggplants and yellow squash are tossed with a light and herby dressing to make this a wholesome lunch treat. Finish with a shaving of Parmesan on top.

Nothing like fresh pesto sauce! Toss it up with penne and throw in some smoked chicken and plump cherry tomatoes, and you have an immensely satisfying treat right there!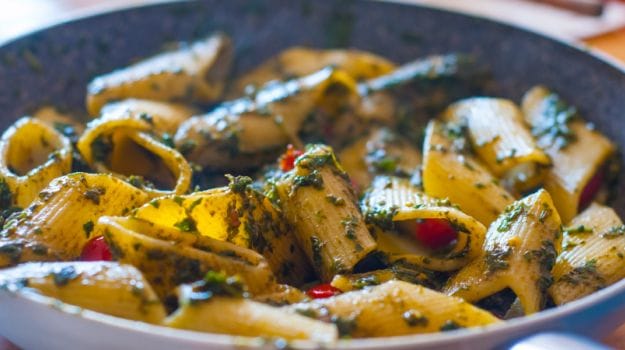 Toss it up with penne and throw in some smoked chicken to make this appetising treat
A hearty bowl of pasta bursting with the flavours of garlic, oregano, basil, cheese and lots of veggies. What's not to love? Try this at home and impress your family and friends with your culinary skills.
This recipe is for the lazy cooks and pork lovers. All you need to do is add all the ingredients in a pan, and let the chorizo do its magic. It is quite appetising to the eyes and palate as well.

A simple, speedy and scrumptious pasta loaded with cheese. If you happen to have a special liking for cheese, then this one is definitely for you. The cheese sauce is quite dense and has a very rich texture.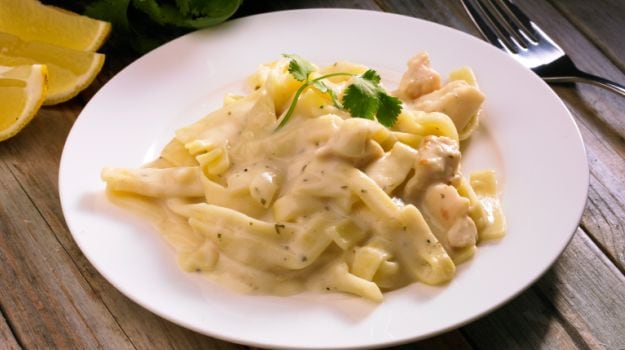 A simple, speedy and scrumptious pasta loaded with cheese
Whole wheat pasta rolled in delicious creamy spinach sauce, and served with walnuts and parmesan. The parmesan cheese in this pasta recipe adds a rich texture and flavour to the Italian delight.


Penne pasta tossed with parboiled vegetables and a flavorsome tomato sauce. Topped with cottage cheese, Parmesan and bean sprouts.


A mouth-watering pasta recipe with cream and a splash of vodka. Do not worry about the vodka as all the alcohol burns out in the cooking process.
If you are hungry and feel too lazy to prepare an elaborate dish for yourself, this pasta recipe is sure to be of great help. It just cannot get simpler than this. Penne tossed with fresh parsley and Parmesan, this mid-week snack is absolutely delicious.
So if you're craving for some authentic Italian pastas, bring these recipes to your rescue and get going.