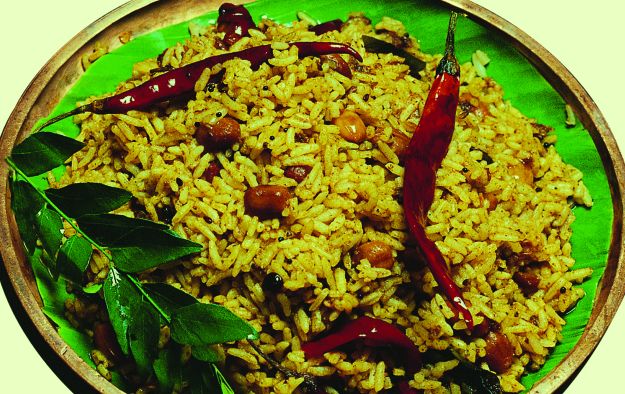 PuliyodharaiSadham. Image Credits: Viji Varadarajan
There's also the slightly complex and time-consuming Iyengar Puliyogare version:
For the Tamarind paste (Puli Kaachal):
1. Fry about 20 red dried chillies in 1 cup of sesame oil till they almost turn black.
2. Add 1 tablespoon of mustard seeds and 2 tablespoons of Bengal gram; wait till it splutters.
3. Add a small piece of asafoetida or 1 teaspoon of asafoetida powder.
4. Add one cup of white channa or red channa and then add a small bunch of curry leaves once the chenna becomes golden brown.
5. Soak a ball of tamarind (The size of an orange) in warm water for about 10 minutes and add this water to the pan along with 1 ½ tablespoons of salt and 1 teaspoon of turmeric.
6. Add a small piece of jaggery – aside from the flavour this also helps the mixture to thicken.
7. Stir the mixture occasionally on a low flame for about 30 minutes.
8. Roast (without oil) 1 teaspoon of peppercorns, 1 teaspoon of fenugreek, 2 teaspoons of coriander seeds and 2 teaspoons of black sesame separately and then grind them together in a blender.
9. Mix this powder to the paste.