Image Credits: Plavaneeta Borah
My stocks always went up during
lunch time
trading (not the Dalal street variety) when my lunch box was filled to the brim with Puliyogare (or Puliyodharai in
Tamil
Nadu). Most of my classmates would be happy to trade anything for a few spoonfuls of this moist, flavourful delicacy. To call this
tamarind rice
for want of a better description, might actually be the greatest injustice to describe a dish that is very deep rooted in
Tamil Nadu
and
Karnataka
's 'foodscape'.
Tamarind
might be the major ingredient for this rice dish, but it's the interplay of a whole bunch of spices and generous quantities of
sesame oil
that lend this dish its rich almost complex flavours. From Thanjavur in Tamil Nadu to Tirumala (Tirupati), Puliyogare is also a popular temple food that is offered as 'Temple prasad'. The Tirumala temple also has a few other iterations that are served on special occasions – like the Yellorai (sesame rice without tamarind) and Molagorai (
pepper
rice without tamarind) that follow a similar cooking style. The classic Puliyogare is spicy yet tangy and it tastes better a few hours after its cooked. This might well be why it is a standard offering at many temples and why it's always been a preferred option for road trips and
lunch boxes
way before microwave ovens became a norm at office pantries. It's also a meal in itself like a
biryani
and is served with
appalams
(in Tamil Nadu) or
sandige
(rice crackers) in Karnataka.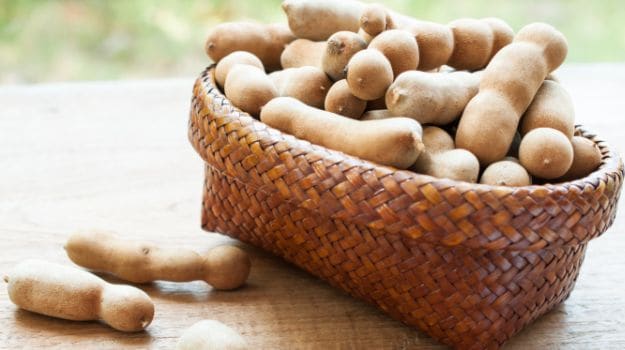 The Puliyogare is one of those rare
South Indian dishes
that tastes good at room temperature and almost an exception in Karnataka where you find quite a few dishes with a 'Bisi' (hot in Kannada) prefix. The Puliyogare certainly doesn't taste the same across
South India
(it's also served in many homes in
Andhra Pradesh
and Telengana). The
Mysore
version incorporates an extra dose of
jaggery
and also features desiccated
coconut
while some Andhra versions are flavoured with mustard oil. In Tamil Nadu, this dish is interpreted in many ways based on the cooking process – from the quick-fix Puli Saatham (literally tamarind rice) to the more laborious Puliyotharai. The Srirangam temple's Puliyotharai is probably the most delicious you can find at any temple.The Iyengars (in Tamil Nadu and Karnataka) love their Puliyogare, it's an integral part of festive menus and their
wedding feasts
. There's Puliyogare point in the Basuvangudi area in
Bengaluru
, a small eatery that serves an authentic Mysore Iyengar version. Then there are brands like MTR that have packaged versions of the Puliyogare mix (both paste and powder versions) that make it somewhat simpler for first-timers to make a Puliyogare in quick time. The Iyengars in Tamil Nadu prefer using a paste – (Puli Kaachal) which has a similar shelf as
home-made pickles
. Viji Varadarajan, a well-known culinary expert and author, believes that the Puliyogare is a prime example of South Indian-style 'slow food' – where the flavours get better a few hours after the dish is cooked. Her flavourful recipe slants more towards the Iyer version in Tamil Nadu and is relatively easy to make:
Puliyodharai Sadham
(Recipe courtesy: Viji Varadarajan – Culinary expert and author)
Ingredients:
2 cups rice
½ cup thick tamarind pulp
¼ tsp turmeric powder
½ tsp asafoetida powder
½ cup roasted peanuts, skinned (optional)
½ cup sesame oil
2 tsp salt
For The Seasoning -
¼ tsp mustard seeds
½ tsp Bengal gram/chana dal
5 dried red chillies, halved
15 curry leaves
Method:
1. Cook the rice in 5 cups of water; each grain of the cooked rice should be separate. Then set aside to cool.
2. Heat a tablespoon of oil, add the mustard to pop. Add the Bengal gram, stir for 10 seconds until it turns golden.
3. Add the chillies and fry till it turns a bright red. Add the peanuts and sauté for 20 seconds.
4. Add tamarind pulp, a cup of water, turmeric powder, asafetida powder and salt. Cover and simmer over a medium flame for 5-7 minutes.
5. Open the lid and cook until it becomes a thick sauce. Add the remaining oil and take it off the stove. This is called 'puli kaachal'.
6. Mix the sauce and rice well without mashing it. Wet the curry leaves, crush and add. Stir for 5 seconds. Serve after two hours and add ½ teaspoon of jaggery to balance the hot and tangy flavour of the tamarind rice.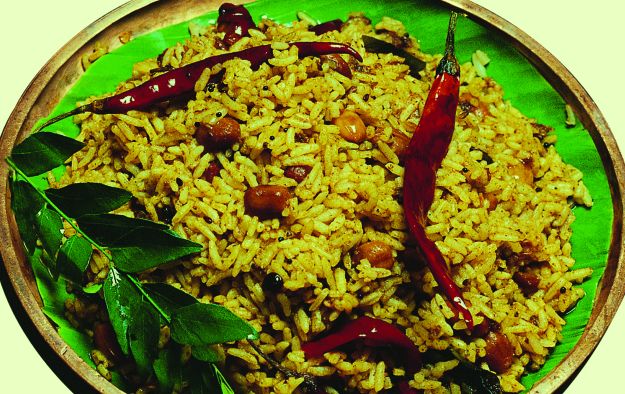 PuliyodharaiSadham. Image Credits: Viji Varadarajan
There's also the slightly complex and time-consuming Iyengar Puliyogare version:
For the Tamarind paste (Puli Kaachal):
1. Fry about 20 red dried chillies in 1 cup of sesame oil till they almost turn black.
2. Add 1 tablespoon of mustard seeds and 2 tablespoons of Bengal gram; wait till it splutters.
3. Add a small piece of asafoetida or 1 teaspoon of asafoetida powder.
4. Add one cup of white channa or red channa and then add a small bunch of curry leaves once the chenna becomes golden brown.
5. Soak a ball of tamarind (The size of an orange) in warm water for about 10 minutes and add this water to the pan along with 1 ½ tablespoons of salt and 1 teaspoon of turmeric.
6. Add a small piece of jaggery – aside from the flavour this also helps the mixture to thicken.
7. Stir the mixture occasionally on a low flame for about 30 minutes.
8. Roast (without oil) 1 teaspoon of peppercorns, 1 teaspoon of fenugreek, 2 teaspoons of coriander seeds and 2 teaspoons of black sesame separately and then grind them together in a blender.
9. Mix this powder to the paste.

For the rice:1. Cook 250 grams of rice and spread this out on a flat plate.
2. Sprinkle ¼ teaspoon of turmeric, fresh curry leaves, ½ cup of sesame oil, ¼ teaspoon of asafoetida powder, ½ teaspoon of jeera on the rice.
3. Mix the paste (About 1/3 of the total quantity; you can use the remaining quantity for your next attempt).
4. Add 1 cup of fried peanuts (you can also do a mix of cashew nuts and peanuts) fried in sesame oil with some mustard seeds and Bengal gram to the rice.
5. Serve after a couple of hours.About the Author:Ashwin Rajagopalan is a Chennai-based writer who writes on topics related to food, gadgets, trends and travel experiences. He enjoys communicating across cultures and borders in his weekday work avatar as a content and editorial consultant for a global major and one of India's only cross cultural trainers.Disclaimer:The opinions expressed within this article are the personal opinions of the author. NDTV is not responsible for the accuracy, completeness, suitability, or validity of any information on this article. All information is provided on an as-is basis. The information, facts or opinions appearing in the article do not reflect the views of NDTV and NDTV does not assume any responsibility or liability for the same.