It's impossible to think of Italian food without a warm plate of pasta and some great wine. Made with flour, pasta can be formed into sheets, strips or any other shape. In fact, you'll find over 600 pasta shapes across the globe.

On those super busy weeknights, a beloved plate of pasta can come to your rescue. There's no denying the fact that it is easily the ultimate comfort food. Just bung in your favourites, simmer the sauce, sprinkle some cheese and you're sorted! Pasta dishes are an easy way to please even the most finicky eaters. The varieties are endless. You can choose from spaghetti, penne, gnocchi, farfalle (bow ties), fettuccine (flat strips) and many others. We'll show you how to get that perfect plate of pasta every time.

How to cook pasta?

This may seem fairly simple, but sometimes it may leave you with lumpy and limp results. To avoid it, cling to these tips. Use adequate amount of water and a large vessel to avoid sticking. Wait for the water to boil and then add the pasta. As soon as you place it in water, the starch granules on the pasta swell up and the surface become sticky.

To keep pasta from sticking, stir it gently in the beginning. You can also add a pinch of salt. Salt helps in making the surface rough so that it doesn't stick. It is suggested to cook your pasta just a tad more than al dente (bite-like). Avoid rinsing the pasta, after it is cooked. Place it in a colander and let the excess water drain. Rinsing may wash away all the flavour.

You can even make pasta from scratch. Here's a simple recipe - Pasta Dough.

Tips to make the sauce

Behind every perfect plate of pasta is a great sauce.There's nothing better than a homemade pasta sauce. The sauce is the most important aspect of the recipe and it differs from region to region. Recipes from North Italy use white sauce while sauces like tomato, arrabbiata and carbonara are popular down south. Also, you must know that tomato based sauces stick better to round pastas while flat pasta is better with a cream based sauce. You must use a bit of olive oil in tomato-based sauces to add a rich texture. If your sauce becomes too sour, adding a pinch of baking soda may help. Stir the sauce often to avoid sticking.

One thing that you must always keep in mind is to add pasta to the sauce and not the other way round. You can also add some leftover pasta water to the sauce to enhance the flavour. The starchiness will also help in binding the sauce. Make the sauce first and let it simmer. You pasta should be added to the sauce as soon as it is cooked. The sauce should be just enough to coat the pasta. A traditional Italian pasta is never too saucy. You can even hide pureed vegetables in the sauce for those picky eaters. Learn how to make the basic tomato sauce with this recipe - Tomato & Basil Sauce.

If you're looking for a meal in minutes, our best pasta recipes are waiting for you. Have a look.


1. Four Cheese Pasta
Recipe by Chef Vicky Ratnani

Pasts made with four different types of cheese - Parmesan, Cheddar, Brie and Emmental. Sounds like a dream!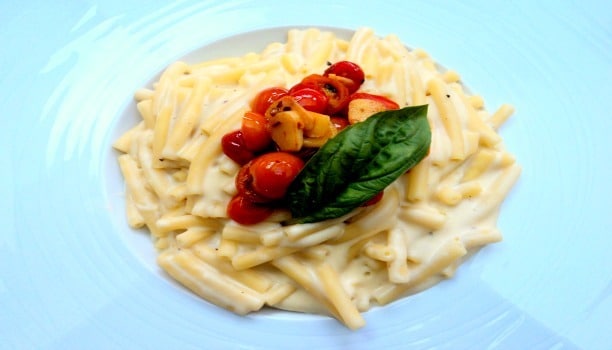 (Get the taste of authentic Italian, shop now from a wide range of organic seasonings at SmartCooky)

2. Pasta Carbonara
Recipe by Chef Ritu Dalmia

This simple Roman pasta dish derives its name from 'carbone' meaning coal. It was a pasta popular with the coal miners. The original recipe calls for guanciale, which is pig's cheek, but since its not easily available, the chef has used bacon instead.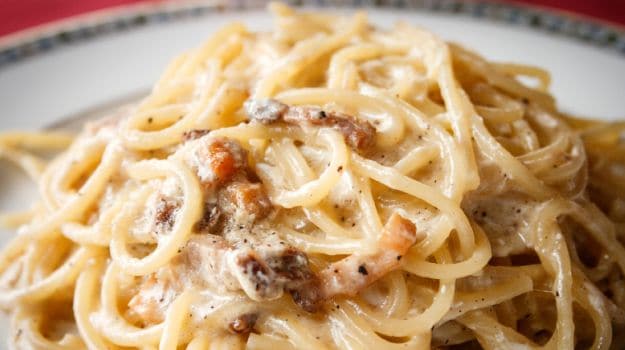 3. Gnocchi with Tomato Sauce
Recipe by Chef Manju Malhi

Gnocchi is a type of pasta in the form of dumplings which are usually made with wheat flour, potato, semolina, egg and breadcrumbs. They can be served with various sauces, this recipe uses a freshly-made tangy tomato sauce.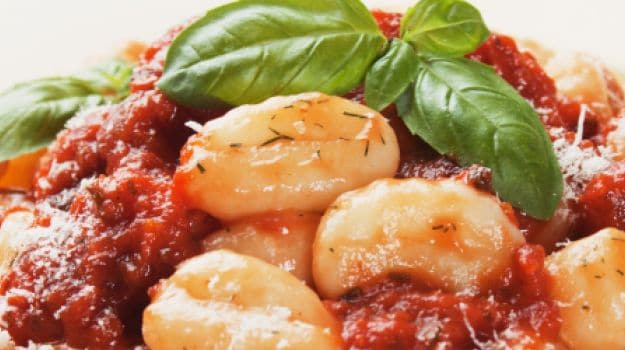 4. Pasta Con Pomodoro E Basilico
Recipe by Chef Ritu Dalmia

Pasta with the quintessential tomato and basil sauce. This is the most basic and simplest cooked pasta sauce, hence it is the benchmark of a good Italian home cook.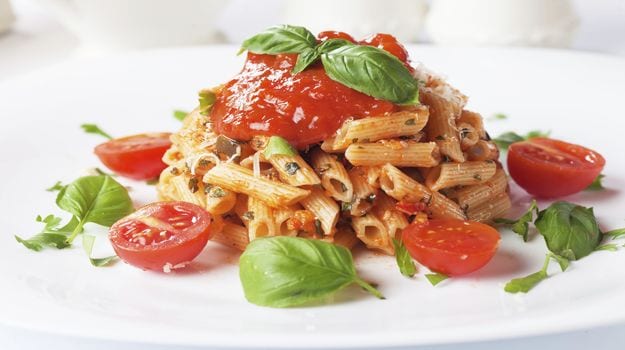 5. Home-Style Baked Pasta
Recipe by Chef Vicky Ratnani

You can never go wrong with this home-style baked pasta. Pasta, layers of cheese, veggies and a tangy tomato sauce, all baked till golden and glorious. (Recipe Video)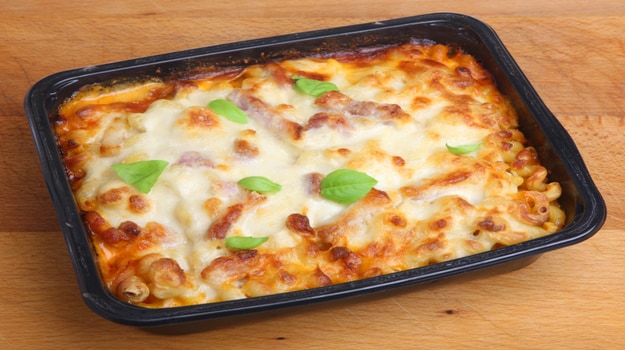 6. Ravioli with Coconut Milk & Lemongrass
Recipe by Chef Nikhil Chiband Natasha

With this recipe you learn the art of making ravioli. Ravioli is type of pasta where sheets of dough are filled with a mixture. In this recipe, ravioli is stuffed with a veggie mix and then drizzled with a smooth sauce made with coconut milk, spring onions and fragrant lemongrass. (Recipe Video)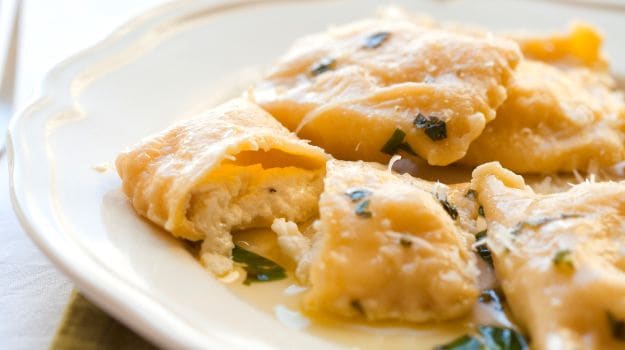 7. Whole Wheat Pasta in Mushroom Sauce
Recipe by Chef Ritu Dalmia

For all those fungi lovers, this recipe is just the ticket! This recipe calls for shells made with whole wheat flour laced with a mushroom and white wine sauce.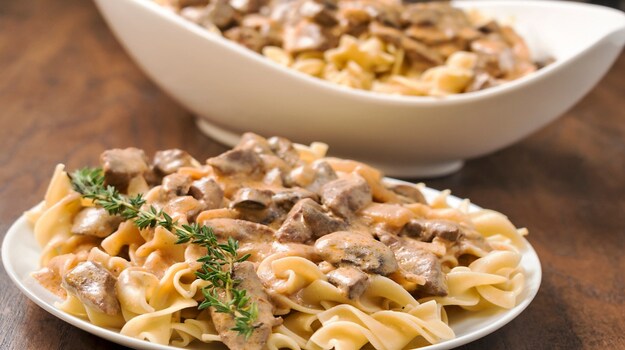 8. Spaghetti Bolognese
Recipe by Chef Manju Malhi

Bolognese sauce is a meat-based sauce for pasta which originated from Bologna, Italy. This recipe uses minced lamb meat, onions, tomato, lots of Parmesan and the warmth of nutmeg.
(Recipe Video)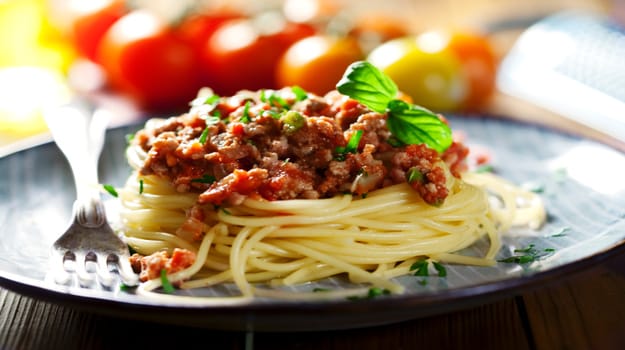 9. Lasagna
Recipe by Chef Joey Matthew

Layer after layer of cheesy explosion and gorgeous meat, this comes quite close to heaven. Lasagna is known to be one of the oldest types of pastas which originated in Naples, Italy.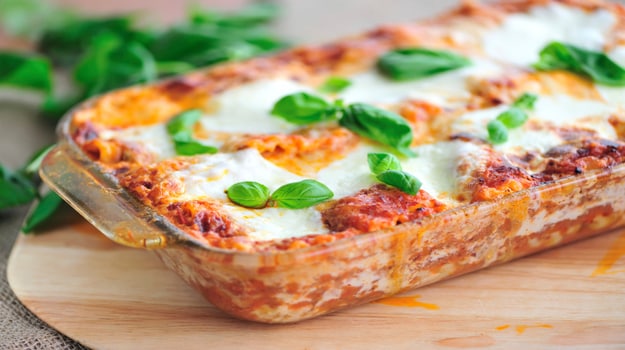 10. Penne Ala Vodka
Recipe by Chef Divya Burman

A recipe that has always been a crowd pleaser! A palatable pasta tossed with tomatoes, cream, cheese and a splash of vodka. Do not worry about the vodka as most of the alcohol burns out in the cooking process.