With the monsoon hitting the door, the festive vibe has also started to knock up. With the festival of Teej just around the corner, needless to say, it is the time to ring in the festivities. In India, the season of monsoon is tied up with lot many festivals. With teej just around the corner, raksha bandhan and janmashtmi follow soon after. All these festivals are celebrated in the rainy season and nothing without an array of sweet and savoury delicacies. Teej is a Hindu festival, celebrated by women in parts of northern Indian states of Rajasthan, Uttar Pradesh, Madhya Pradesh, Bihar, Chhattisgarh, Gujarat and Himachal Pradesh. Decked in pretty clothes, jewellery and henna, women celebrate hariyali teej in all hues of green colour, which is the significant colour of the teej festival. Women observe teej fast for their husbands' good health and marital life. They gather together to offer prayers to Lord Shiva and Goddess Parvati since the month of Shravan (or Sawan) is considered to be a holy month to worship them, and hariyali teej symbolises the reunion of both of them. Women gather to play under trees and on swings, and sing folk songs together.


(Also Read: Teej 2019: Date, Significance Of Hariyali Teej Fast And Foods To Celebrate)


Teej festival is celebrated widely across the country in three forms - Hariyali Teej, Hartalika Teej and Kajari Teej. This year Hariyali teej falls on 3rd August 2019. Hariyali teej apart from all the rituals is celebrated by a sumptuous feast of delicacies from sweet to savoury. Everything from fried, sugary, greasy and good is upon the table to gorge on and ring in the festival. If you are holding a feast for teej festival at your home, then we've got a host of teej special food or teej recipes for you to prepare at home and relish with your family.
10 Best Teej Recipes To Prepare At Home
Start the feast with a refreshing and aromatic drink of jaswant sharbat. With the goodness of hibiscus flowers, milk and a tang of lime, this cooling beverage is simply the best you can get at the table.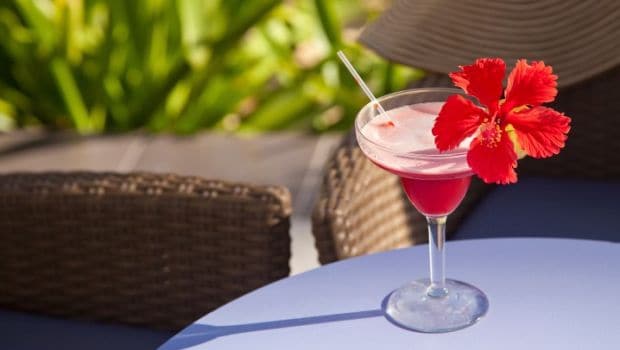 Teej Recipes: A fragrant drink made with hibiscus flowers, milk and lime juice.
Hariyali Teej is known to be huge festival in the state of Rajasthan. And what is even a festival in Rajasthan without the addition of fiery spices? Here is a Rajasthani mirchi vada recipe made with a chilli-potato filling, deep fried to perfect crisp, this is a perfect teej special food to add a bit of spice to your teej festival!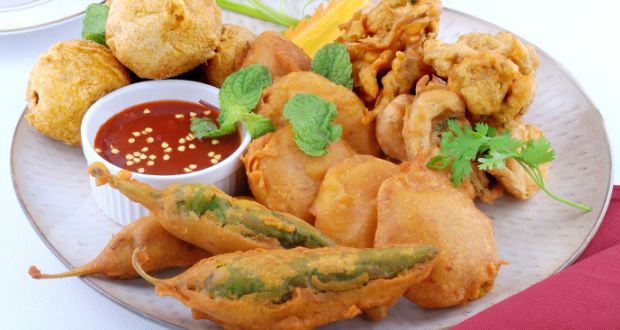 Teej Recipes: This is a popular street snack of Rajasthan also known as Jodhpuri Mirchi Vada.
Who can ever resist flaky, crunchy and greasy kachoris? This popular Indian snack has dal sautéed with a host of spices and stuffed in a cover of flour, which is deep fried to utterly delicious crisp snack that can top the list of your teej dishes.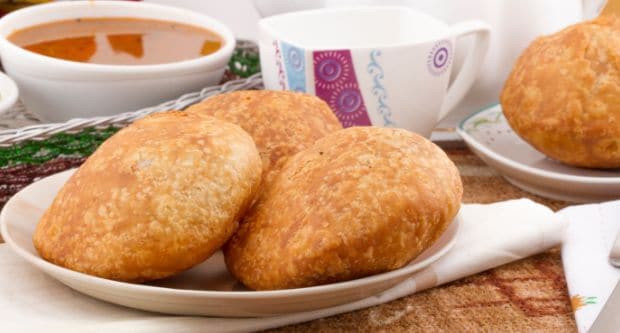 Teej Special Food: Flaky and tasty kachoris made with spiced moong lentil stuffing.
This is one of the most quintessential brunch dishes across India; bedmi puri with aloo is a satiating meal that has tantalising flavours of aloo curry made with a host of spices cooked in tomato gravy. Served with an Indian bread, bedmi is made with semolina and stuffed with aamchoor, urad dal, chillies and other spices that make this whole meal an unmissable one!
Teej Special Food: Bedmi Aloo never cease to satiate a foodie's soul.
A vegetable cutlet snack that is perfect to begin festivities with, hara bhara kebab is a melt-in-mouth appetiser bursting with spices and packed with the goodness of veggies such as spinach, peas, tomatoes and potatoes along with tangy chaat masala and lemon. This is a super easy and quick one to prepare at home as a hariyali teej food.
Hariyali Teej Food: This is every vegetarians favourite, go-to kebab recipe.
Start your main course with ghee-laden stuffed baatis that you can serve with simmering hot dal or sweet choorma. This Rajasthan special treat is a heavenly combination to serve to guests on festivities such as teej and other special occasions.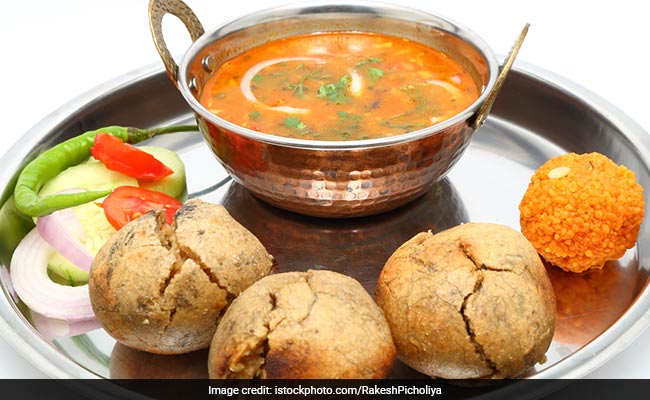 Hariyali Teej Food: Rajasthan's local favourite, dal baati is a heavenly combination often served with a sweet dish of choorma.
Mention kadhi and there's absolutely no one who doesn't get watery mouth thinking of the tangy preparation of besan, hung curd, spices and chillies, topped with little pakodis. Serve this dish of kadhi pakoda with steaming hot rice and you'll have a simple crowd pleaser of all times.
Teej Dishes: A popular lunch meal across Indian homes, kadhi is best relished with some cooked rice.
Is any festivity ever complete without a rice dish? Think of rice dish and a steaming vegetarian pulao is what comes to everyone's mind. Here is an easy pulao recipe that is brimming with a whole lot of dry fruits like raisins and nuts such as pistachios, almonds and cashews along with the aroma of cinnamon, saffron and rose water. This is a perfect rice dish to add in the list of teej dishes.
Teej Dishes: Rich with nuts, saffron and rose water, this is the perfect recipe to celebrate festivity.
No, of course we didn't forget the quintessential teej festival sweet that is, Ghewar. It is a honeycomb like round-shaped Rajasthani sweet, dipped in sugar syrup. It is made and sold across the country in huge numbers around the time of teej festival. This time around, skip the store-bought ghewar and show off your culinary skills by preparing it right at home with this super amazing ghewar recipe. Here is a ghevar recipe that is rich with malai and topped with nuts that is sure to make all the guests crave for more.


(Also Read: Hariyali Teej 2019: 5 Ghevar Toppings to Devour this Festival!)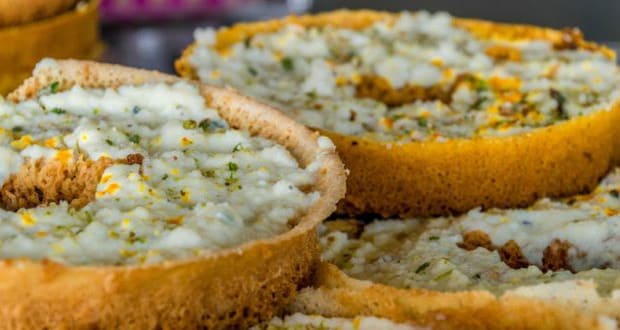 Teej Festival Sweets: Ghewar is one of the most popular sweets served around the Teej festival.
The classic Indian dessert of all seasons, kheer is one Indian dessert you can have both hot and cold and thus can have in any season. Payasam, in southern India, is a rice and milk pudding like dish that is significant to many festivals and special occasions across country, and teej festival is no different. There are many different ways of making this dessert and even different names to it, but here is the classic kheer recipe which is a heavenly combination of rice, milk, dry fruits and nuts.
Teej Festival Sweets: Kheer is the most loved Indian dessert to prepare for any and every festivity across the year.
With these delectable teej recipes, we are sure to make your festivities a scrumptious affair. Do let us know your favourite one in the comments section below.
Happy Hariyali Teej 2019!