Thanks to its odd appearance and elusive history, the Mexican sour
gherkin
is always confused with a cucumber or pickled
cucumber
. To confuse matters even further, it is also referred to as "cucamelon" or "mouse melon". And did you know: A commercial London skyscraper is also nicknamed gherkin due to its resemblance to the fruit?But we need to say it upfront: The
Mexican
sour gherkin is NOT a
cucumber
. Yes, they both belong to the same gourd family "Cucurbitaceae" and the gherkin is often called a "miniature cucumber" but they are from different cultivar groups. Only one species i.e. Cucumis Sativus is considered a cucumber, but the Mexican sour gherkin which is 1-3 inches in size belongs to Melothria, another genus entirely. So it is not an actual cucumber, but an honorary one.
Now, a "
pickle
" is basically any vegetable that has undergone the process of pickling (using vinegar, water and
salt
). It can be made from a large variety of foods such as cauliflower, mango, chilli,
prawns
- you name it. But it gets confusing because in
America
,
Canada
and Australia, the term 'pickle' is usually used to refer to pickled cucumbers. So, gherkins are pickles but pickles are not gherkins (just pickled cucumbers). It takes four or five hours to pickle a
cucumber
, but to pickle a gherkin - it could take up to 30 days. Some varieties of gherkins can be stored at room temperature in dark cupboards or pantries for up to two years, while others should be refrigerated as soon as the pickling process is finished. Since gherkins have high water content, the texture changes after being soaked in a brine solution because the solution replaces the water. The brine solution is often infused with different spices and
herbs
such as rosemary, tarragon, mustard seeds and even sugar to make it garlicky, spicy, sweet or tangy.Note: Gherkins are best at a tender age, as the matured ones become bitter and spiny. They are low in saturated fat and cholesterol, but contain high amounts of sodium. Gherkins are also high on potassium,
vitamin A
and K.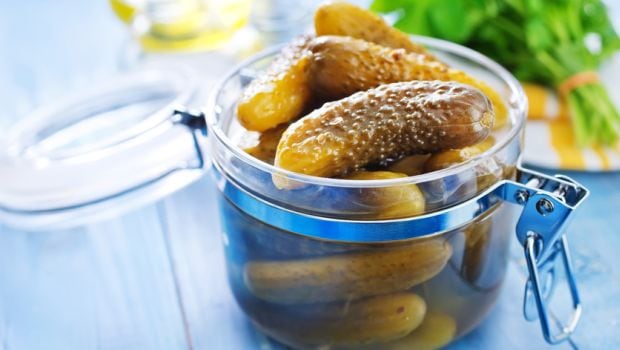 The gherkin is in fact smaller and crunchier than pickle. Simply put, a pickled gherkin is crispier than a pickled cucumber. That's perhaps why
salads
are being built around gherkin and it's recently been popping up in food blogs, in
cocktail recipes
by gardener-mixologist Amy Stewart, and making the rounds on Instagram. It tastes even better than it looks and is easy to grow. In the US, Canada and Australia, gherkins and pickles are usually eaten as a side dish or accompaniment with
sandwiches
, hot dogs and
burgers
for added flavour. You can also just sauté them briefly with oil and
garlic
and serve as a vegetable. They can also be enjoyed as
desserts
, if the gherkins are soaked in sugar syrup.
Pro Tip: When you're buying pickled gherkins, they should be bright green and the vinegar should be clear. If you're buying fresh gherkins, look for small, firm, unblemished ones.