Popularly known as karela in India, bitter gourd or bitter melon is primarily found in tropical and sub-tropical regions across the globe. It belongs to the cucurbits or the gourd family that includes watermelons, cucumbers and a variety of squash and gourds. It is mostly cultivated across Africa, Asia and the Caribbean islands.

Unfortunately, bitter gourd is one of the most underrated vegetables across the globe. Owing to its sharp bitter flavour, it ranks very low on the popularity charts. However, bitter gourd is widely used in Asian countries like India, Bangladesh, Pakistan, Japan, China, Thailand, Vietnam, Indonesia and Philippines. The Chinese make use of it in some of their most delectable stir-fries, herbal teas as well as a flavouring agent in some of their traditional beers. It holds a significant importance in Japan's Okinawan cuisine (cuisine prevalent in the Okinawa islands of Japan). In other countries, bitter gourd is put to use for making drinks, preparing dishes with meat and sea food like prawns and shrimps, pickling, quick stir-fries and even roasted into snacks.

(The Most Underrated Veggie: The Infamous Story of Bitter Gourd)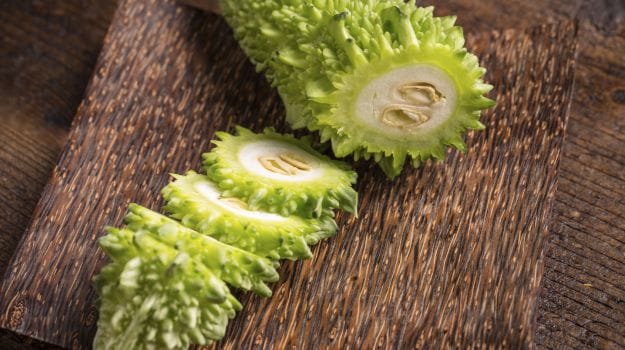 An important point to keep in mind while cooking with the veggie is to ensure that one tones down the bitter flavour. Interestingly, bitter gourd, when treated the right way, can make way for some of the most delectable preparations. Different people have different ways to tame the bitterness quotient of karela. One such thing that I have learned from my mother's kitchen is to include a bit of jaggery at the final stage of cooking. Teaming it with other vegetables like onions, potatoes, tomatoes can also help in bringing down the bitterness. Some other tips are -

- Scrape the veggie properly
- Remove all the seeds, especially the big ones
- Wash properly, cut and marinate with salt and leave aside for at least half an hour
- Squeeze the juice out
- Wash properly ensuring the removal of excess salt
- You can also boil cut pieces in a solution of water and lemon
- Soaking the veggie in tamarind juice for at least half an hour before cooking can also help
Once the excess bitterness is done away with, cooking with this vegetable becomes easy. Its complex flavour when teamed with aromatic spices and other veggies can make you fall in love with it. Not only this, bitter gourd consumption is also great for your health and promises the following:

1. Is good for the stomach and bowel-related ailments such as gastro-intestinal infection, intestinal worms, ulcerative colitis, constipation and so on.
2. Is also known to be good for the skin and can help in treating skin disorders like psoriasis.
3. Is enriched with Vitamin A, C, E, K; thiamine, beta carotene, riboflavin, niacin, calcium, iron, manganese, magnesium, potassium, zinc and folate.
4. Consuming bitter gourd juice first thing in the morning on an empty stomach is known to help in treating diabetes, high blood pressure, elevated blood sugar levels and cholesterol.
5. It is also good for patients suffering from kidney stones or liver-related ailments.
6. It is low in fat and calories. Every 100 grams has close to 0.18 grams of fat and serves you with 20 calories.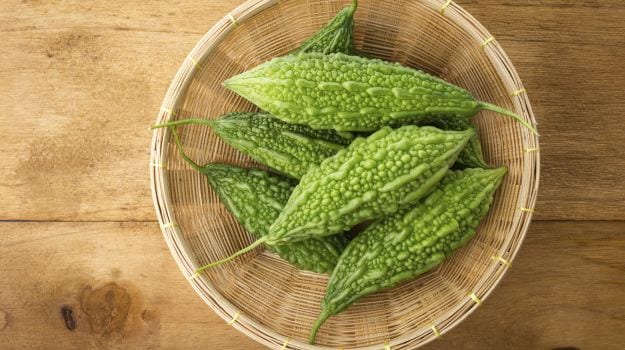 In many Asian countries, it is also used as a part of traditional, herbal medicines to treat conditions like rheumatism, cough and flu. Bitter gourd has hypoglycemic properties, which means that it can rapidly reduce blood sugar levels. Diabetics who are already on medication should consume it in moderation. Pregnant women should also be careful with its consumption as it can induce complications by triggering contractions and bleeding.
Cooking with bitter gourd is not for the faint-hearted. It requires precision, finesse and of course, a bit of creativity to make it palatable and appealing at the same time. Just in case you need a little push in your culinary creativity, our best recipes from India's top notch chefs will get you cooking.

1. Stuffed Karela with Cheese
Recipe by Chef Vicky Ratnani

Karelas are stuffed with a mouth-watering filling of cheese and and pan-fried.

2. Bharwan Karela
Recipe by Chef Niru Gupta

Bitter gourd pieces are cut length-wise and stuffed with a filling of local spices. Cooked cover till done.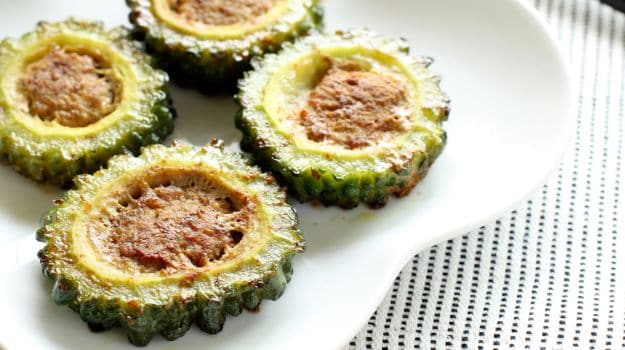 3. Karele aur Baingan ki Sabzi
Recipe by Chef Niru Gupta

Chunky bitter gourd pieces are teamed with aubergines an cooked in a mix of flavourful spices.

4. Karele ka Achaar
Recipe by chef Niru Gupta

A piquant, tangy addition to your everyday meals. This karela achaar is easy to make and absolutely lip-smacking.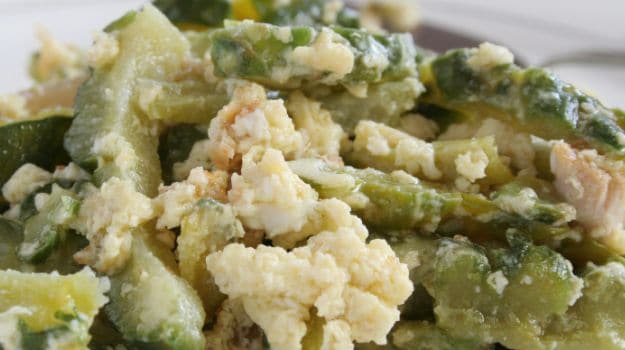 5. Karela Dahiwala
Recipe by Chef Niru Gupta

Bitter gourd pieces are tossed in a handful of masalas along with creamy hung curd.