Crumble Recipes- The world of desserts reserves a special place for the humble crumble. The spellbinding masterpiece is nothing but a heartwarming combination of four simple ingredients - sugar, butter, flour and fruits of your choice. It is so simple to cook that that anyone can pull off the recipe and impress you. Crumble is believed to be a product of the World War as an inexpensive and fuss-free replacement for pastry. The simplicity of the traditional recipe travelled all over the world and got its touch of improvisations. People started experimenting with a variety of flours an exciting ingredients, but one thing that remained constant was the way to make it. "Never cook the two parts separately or deconstruct the crumble in any way. This is an abomination," noted food columnist Henry Dimbleby in one of her published pieces.
Cooking a crumble is fairly easy - flour and butter is blitzed till a crumbly consistency is achieved and then sugar is added to this mix. You then move on to prepping your fruit mix by bringing together fruits of your choice and mixing them with melted butter or stewing them. While some people like to bake their fruit mix separately and them team it with the crumb mixture to bake it further, the traditional recipe calls for the entire preparation to be mixed and baked together. Once you master the art of perfecting the simple crumble, spread your culinary wings and try ingredients like cider, maple syrup, cinnamon, nuts, dry fruits, cookies and coconut shavings.
Try your hand at 6 of our best crumble recipes and you definitely won't be disappointed.
The traditional crumble recipe gets a healthy twist. This one used singhara atta or water chestnut flour.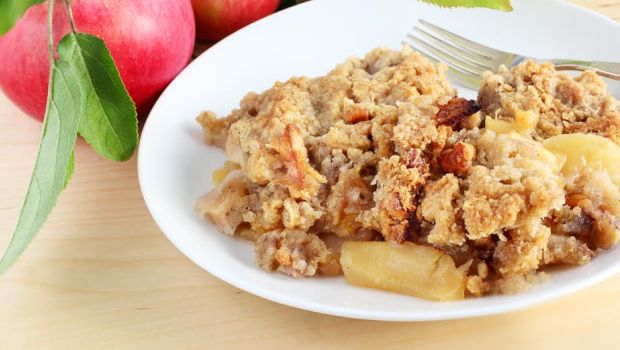 A perfect Navratra delicacy.
Love strawberries? Here's how to rustle up the good ol' crumble loaded with sweet berries. Perfect for breakfast binge or for those mid-day hunger pangs.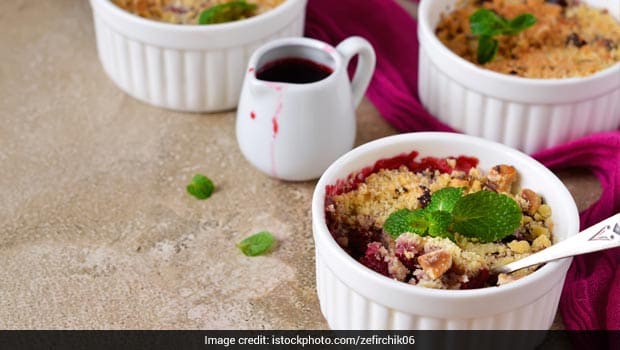 Juicy strawberries topped with a almond, flour, brown sugar crumble and baked perfect in this delightful dessert.
This one is delightful mix of dates, berries and mixed fruits like peaches and plums. A sprinkle of cinnamon and a drizzle of wine takes it up a notch.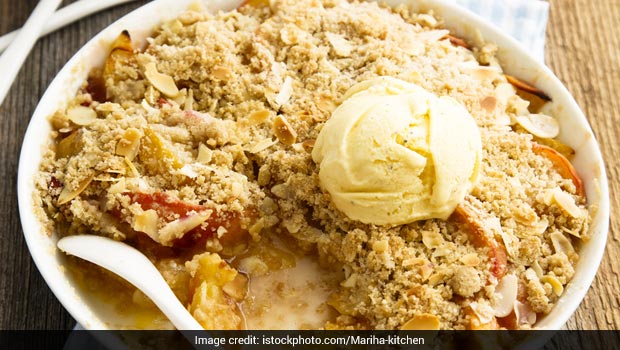 Beautiful plums, peaches, mixed fruits, berries and chopped dates cooked with cinnamon and red wine, sprinkled with crumble and baked.
We bet this crumble recipe will make you fall in love with pumpkin! It's so delicious that you won't even come to know.
The traditional apple crumble recipe meets the goodness of jowar flour and lots nuts. A healthy dessert to give your kids.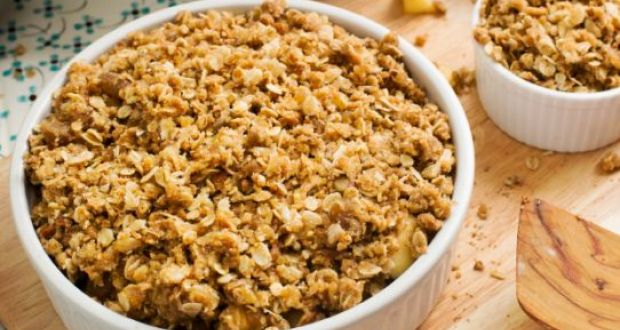 Bringing a healthy spin to the much-loved apple crumble.
Tender chicken mingled with a creamy coconut sauce and topped with breadcrumbs. Chicken Crumble is the perfect supper recipe!
Delicious dish to serve for Sunday brunches or a side dish at you next meal.