"Fish is good for you. Have plenty of it,"
said the doctor.
"Oh, I have lots of fish. I go to the Khar (a Mumbai suburb) station market and buy fish on Sundays and this lasts us for two weeks"."But you are Bengali,"
said the doc with a sigh. "
You people fry your fish before any preparation!"
I looked on, suitably chastised, as the good doctor, a
Maharashtrian
Saraswat Brahmin (a fish eating community), went on to speak for the next forty five minutes on how they buy fresh fish and cook it on the same day. That this fish is never fried when added to curries in their house. That fish should not be over cooked. He then went on to speak about fish that he has eaten across the world. From the Tokyo fish market to dining rooms in luxury cruise liners. He waxed eloquent on fish and their benefits and on
fish recipe
s and on
how to cook them
. All this while, patients lined up outside. I am used to visiting doctors who love talking to me about food after quickly finishing off with whatever ailment I have come to discuss. Forty five minutes was a new record though!Yes, I admit that we
Bengalis
usually fry our fish before adding it to
our curries
. In fact, even my mother, who is very watchful of her diet, can't stand fish which hasn't been fried. "It's smelly," she pouts like a 6 year old, if we ever give her
grilled fish
when she visits us. Don't give up on us Bengalis though, Doc. There are times when we don't fry fish. We steam it too. Which takes me back to the other day when I was at a five star hotel in Juhu and had to come up with a quick recipe on the spur of the moment. Why was I thinking up of recipes at a hotel? Well, some 30 odd executive chefs had got together at the hotel that afternoon from across India. Some of us bloggers had been invited to cook with them. The brief was to go out and shop within a budget and then cook up a local Indian home-styled meal. Toine Hoeksel, culinary director of Marriott Asia Pacific, said that they have observed an interesting trend of the new millennial traveler seeking out local food when they travel. He wanted his chefs to think local.Coming back to the cook off, it was no surprise that the precocious Bengali blogger, your columnist, took over despite the presence of seasoned chefs. The menu that we decided on, was a Bengali one -
Prawn Malai Curry
, Fish Patoori and Parathas with Jaggery. Patoori (from the word
paata
or leaf) is a Bengali preparation, where the fish is marinated in a pungent crushed mustard,
turmeric
, green chili and salt paste, wrapped in a banana leaf and then steamed and eaten with plain rice.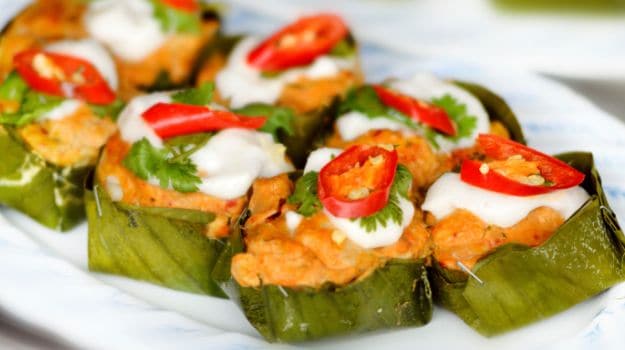 There is also a dish called 'Bhaapa Maachh' where the fish is marinated in a similar mustard paste and mustard oil and steamed in a closed cooking utensil (I use a stainless steel tiffin box) on a pan of hot water. Rajeev Neogi, co-founder and culinary in charge of the Bengali restaurant chain Bhojohori Manna, says that the
practice of steaming
(
bhaapa/ patoori
) fish possibly started in East Bengal (present day Bangladesh). It then spread to the west (Indian part of Bengal) while Bengal was still one province before it was partitioned. While turmeric, mustard and chili is the base formula, Neogi has also seen examples where
poppy seeds
, curd, cumin and even ginger and tomato pastes are used in the marinade. This flexibility to me is the beauty of Bengali and Indian cuisines. The fact that each house has its own recipes makes trying to discover Indian food similar to diving into the Rig Vedas. The journey is endless.Living in the fast paced city of Mumbai, I am always on the lookout for
quick fixes
. So instead of doing the
marinade from scratch
in the cook off, I used the pungent Bengali
mustard sauce
,
kasundi
, as a marinade. Luckily they had
kasundi
as well as banana leaves in the kitchen. Bengalis use fresh water fish such as
Ilish (Hilsa)
, Betki (barramundi) or Pabda (a form of catfish) or prawns for patoori or bhaapa. We didn't have access to these fish in the supermarket next to the hotel, so we bought the local Mumbai favourite, pomfret instead. The fish in patoori is usually filleted which was thankfully not a problem this time with so many executive chefs around and we soon had our pomfret patoori (with no oil) ready.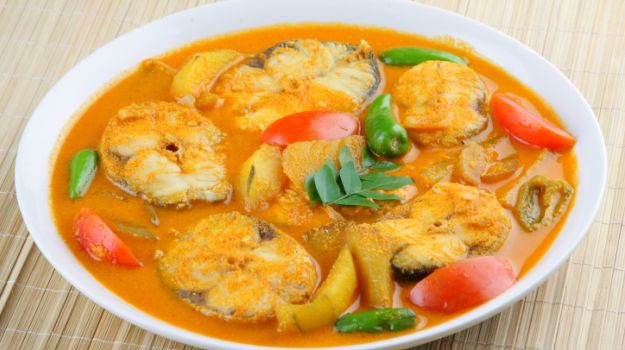 Talking of fish steamed in banana leaves, one can't be married to a Parsi (like I am) and not talk of their flagship dish,
Patrani Machhi
. In patrani, the fish of choice is
pomfret
(on the bone and not filleted unlike in patoori) and the core marinade has
grated coconut
, crushed green chilies, coriander and mint leaf paste, lime juice and sugar. Patrani Machhi looks green in colour versus the turmeric hued yellow Bengali Patoori or Bhaapa Maachh.I have lived in Iran as a toddler in the pre-Islamic Revolution years. We lived at Rasht on the Caspian Sea. My mother tells me about how locals would bake or spit roast salt and lime juice smeared fresh fish from the lake. There was no Patrani Machhi in sight according to her! Dr. Kurush Dalal, an archaeologist and Parsi caterer, runs Katy's Kitchen which was started by his mother, the late Katy Dalal. It was
Navroze
, the spring festival recently, and we had a Parsi dinner at home catered by Katy's Kitchen. Kurush's conjecture is that the Patrani Machhi is possibly something the Zoroastrians picked up after they moved into Gujarat from Iran.While there is no documentary evidence for this, Kurush feels that copra (dry coconut) marinade is a local Indian coastal influence. As is the
idea of steaming
in a banana leaf, which was prevalent in coastal India. "Think
idlis
steamed in banana leaf or the
Gujarati
banana leaf steamed panki (you get this in Soam and Swati Snacks in Mumbai)," says Kurush. "The banana leaf adds all the flavour. Plus, as Kurush points out, the Iranians prefer fresh water fish when they use fish, while
pomfret
is part of the seafood repertoire of coastal India. It is worth keeping this story in mind while debating on the authenticity of
Patrani Machh
i at various restaurants. The dish is the result of a migratory and evolving culture after all.My point, and my doctor will be happy to hear this, is that you can steam your fish and yet have a delicious traditional dish. But don't give up on our Bengali
Machher Jhol (fish curry)
just yet.Before I sign off, I will share a little cheat trick that we do at home these days. Our latest acquisition is an air fryer which I use pretty often for fish. I smear fish (rawas, pomfret, rohu, mackerel) with spices, add literally a drop of oil and put it in the air fryer for 15 to 20 min at 200C. The fish comes out as if it's been fried. I am sure that my mother will not have a problem if I add this to our curries as they will still remain Bengali enough for her!
About the author:
Kalyan loves to eat and he loves to talk about all that he eats. His wife urged him to start writing about it, otherwise she would have to hear it all. He blogs as 'finelychopped' and is the editor at large for the India Food Network.Disclaimer:The opinions expressed within this article are the personal opinions of the author. NDTV is not responsible for the accuracy, completeness, suitability, or validity of any information on this article. All information is provided on an as-is basis. The information, facts or opinions appearing in the article do not reflect the views of NDTV and NDTV does not assume any responsibility or liability for the same.