Have you heard the story of how the Earl of Sandwiches, John Montagu, once asked for some beef to be placed within two slices of bread, because he was too busy working to stop and eat a proper meal. Other people at his
London
clubs, intrigued by his choice of snack, began ordering it too and soon, the
sandwich
became quite famous. But
English sandwiches
were usually dainty things. For instance, in Barbara Pym's delightful books, prim English ladies were always offering vicars plates of finely-sliced
cucumber sandwiches
and pots of tea. There is something quintessentially English about a sandwich. But it took an American to transform it into its gargantuan cousin, the massive club sandwich.
How the Club Sandwich was born
"The exact origins of the club sandwich are unknown. Some say it was first made in 1894 in the kitchens of the Saratoga Club, a casino in New York. Others suggest it may have originated in 1895 on the club-cars of the US railroad. Another explanation is that it originated at home. In 1916, when the club sandwich was still just about a novelty, Marion H. Neil told the legend of it being created when a man returned home one night from his club 'after the family and servants had retired' and ransacked the pantry for something to eat. He found butter, mayonnaise, a tomato, some cold chicken and some cold-cooked bacon, oddments which he layered between two slices of toast," writes Bee Wilson in Sandwich - A Global History.
The club sandwich was not a benign thing; it inspired immense passion. Wilson tells us of a stormy debate in the US Congress, in 1930, when the size, quality and price of the club sandwich served in the cafeteria were roundly denounced by one Mr Murphy from Ohio. "Murphy argued that it was an outrage that the restaurant should be asking for a subsidy when it charged the exorbitant sum of 70 cents for a club sandwich, a price not exceeded by the swankiest Washington hotel. He extracted the piece of chicken from the House club sandwich and held it up to show that it was not worth the price. Many murmured assent with Murphy," writes Wilson.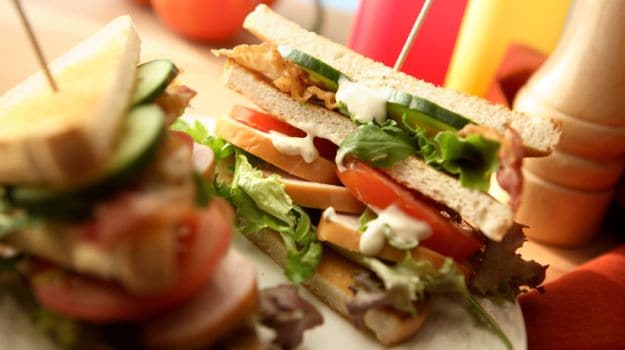 What is a Club Sandwich
What is this sandwich that can inspire America's finest minds to such lofty exuberance? At its simplest, a club sandwich is made with three slices of bread, lightly toasted (some prefer it untoasted). The crust may or may not be lopped off, depending on how soigné the establishment that you are dining at, is. Inside, there must be slices of chicken (or turkey), tomatoes, crisp bacon, iceberg lettuce and mayonnaise. That is all. There is no place for cheese in a classic club sandwich. But of course, the sandwich now has various versions. The staple remains white bread, but you may make it with whole grain or multi-grain bread as well. Many club sandwiches come with egg. Some sandwiches have mustard, some abstain from the bacon and use ham instead, some make it with beef, some use avocado (delicious!), some glaze the bacon, some pop in chicken salad instead of slices of chicken. Many people use turkey in their sandwiches, but culinary authority, James Beard, insists on the use of chicken. The variations are endless but the side servings are usually the faithful thick-cut potato chips or fries, and a salad of some sort.
The club sandwich is a staple on hotel room service menus everywhere; it is stodgy comfort food and when you order it, you know more or less, what you will get. That is its charm. It is also fairly easy to throw together at home, on those nights when you can't bother cooking or when you are cooking for yourself only.
How to make a club sandwich
First of all, you will need sliced sandwich bread. No fancy baguettes and such for a club sandwich. Lightly toast the bread - you don't want to toast it too much or else when you take a bite, it will splinter in your mouth. Spread some mayonnaise on both slices of bread, then spread another layer. You will need more of it than you think, because most of the other ingredients are dry. Make sure not to apply too thick a layer though. You don't want the bread to become all sludgy. Put in a slice of bacon and bacon only. This is not the time for prosciutto or back bacon or anything else. Next, put in a thin slice of roast chicken (or turkey). Then place two thinly-cut slices of tomatoes and on top of that, the iceberg lettuce. The lettuce should be crisp and fresh and torn into bite-sized pieces, otherwise you will have to suffer the indignity of trying to bite through the unwieldy piece of lettuce. There is no point using arugula or watercress or anything fancy in a club sandwich. The bland, simple iceberg lettuce gives the proper amount of freshness and lightness to combat the heft of the chicken and the saltiness of the bacon. Put in a slice of bread and then rinse and repeat all the ingredients. That is the redoubtable club sandwich.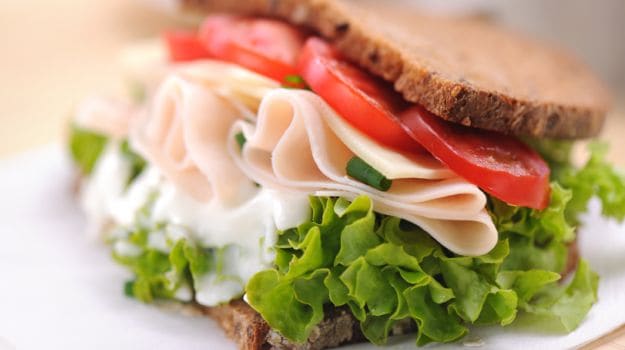 Without the extra bread and the repetition of ingredients, it is just a sandwich. If you have properly constructed your sandwich, it will look like a masterpiece and not a wobbly skyscraper stuffed with too many or too thickly-cut ingredients. Then cut it in to triangles and devour.
About the author: Meher Mirza is an independent writer and editor, with a focus on food and travel. Formerly with BBC Good Food India, she loves anime, animals and artsy things but also comics, technology and death metal.
Disclaimer:
The opinions expressed within this article are the personal opinions of the author. NDTV is not responsible for the accuracy, completeness, suitability, or validity of any information on this article. All information is provided on an as-is basis. The information, facts or opinions appearing in the article do not reflect the views of NDTV and NDTV does not assume any responsibility or liability for the same.