Milk Chocolate and Pistachio Fudge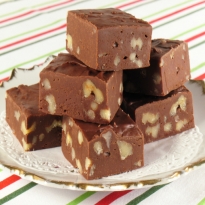 Chocolate and pistachio sweet treat for tea time.
Ingredients
200 gm milk chocolate
125 gm butter
3 eggs
3 egg yolks
150 gm sugar
75 gm chopped pistachio

Method
Melt chocolate and butter on double boiler. Whisk eggs, add egg yolks and sugar till you get a frothy mix, pour the chocolate mix into it.

Fold in the chopped pistachio and pour into a baking tray. Bake at 160 C to 170 C for 25-30 min.