Vietnamese Rice Paper Wraps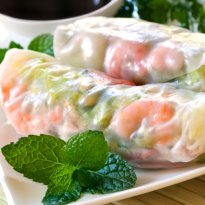 Julienned vegetables, glass noodles and fish sauce dressing wrapped in rice paper.
Ingredients
For the spring rolls:
4 rice paper
1 cup glass noodles or mung bean noodles
1/2 radish, shredded
1/2 carrot, shredded
1/2 cucumber, shredded
1 tsp fish sauce
1 tsp soy sauce
1 tsp lime juice
1 tsp toasted crushed peanuts
2-3 mint leaves
2-3 large Iceberg lettuce leaves
Black pepper, to taste
Salt, to taste

For the dipping sauce:
3 Tbsp fish sauce
1 red chilli, chopped
1 Tbsp lemon juice

Method
For the spring rolls:
On a wet kitchen towel, lay out the rice wrappers. Layer the iceberg lettuce on to the rice wrapper.

Pile the salad to the lower half of the rice paper and wrap to form a roll.

Cut into 4-5 pieces and serve with the dip.

For the dipping sauce:
Mix together all the ingredients. Serve.

Key Ingredients:
flat noodles
,
radish
,
carrot
,
cucumber
,
fish sauce
,
soya sauce
,
lemon juice
,
peanuts
,
mint leaves
,
lettuce
,
Black pepper
,
Salt
,
red chilli