Whole Roasted Fish Recipe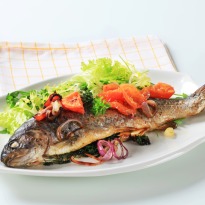 Fish rubbed with a lemon based marinade and oven baked.
Ingredients of Whole Roasted Fish
1 whole fish, rawas (weighing around 1 kg)

For the wet masala:
10-12 cloves garlic
2" knob of ginger
2-3 preserved lemons (Can be substituted with)
1 Tbsp zeera powder
1 Tbsp cinnamon powder
Coriander leaves, a handful
Parsley, a handful
1 tsp olive oil
Salt, a pinch
Pepper, a pinch

How to Make Whole Roasted Fish
Clean, gut and scale the fish. Wash and pat dry.

In a food processor, blend all the ingredients to a paste. Rub all over the fish inside and out.

Lay the fish onto a baking tray and bake for 45 minutes in a moderate oven.
Serve with a ratatouille.

Key Ingredients:
Fish
,
garlic
,
ginger
,
lemon
,
coriander leaves
,
parsley
,
olive oil
,
salt
,
black pepper
,
cinnamon
,
cumin seeds